HTC One vs. iPhone 5s: 7 Reasons the iPhone 5s is Better
The iPhone 5s is still the best smartphone for most people to buy despite the introduction of the HTC One M8. This new Android phone has a lot of features that aren't available on the iPhone 5s, but the HTC One isn't as complete as the iPhone 5s. iPhone users looking to upgrade to a phone with a larger display might be tempted by the HTC One, but should hold out until Apple introduces the iPhone 6 later this year before jumping ship if they're otherwise satisfied with their iPhones.
HTC ranks a distant second to Samsung in the Android smartphone marketplace. The company announced the HTC One M8 Tuesday and began selling it almost immediately through Verizon retail stores. The new HTC One M8 is similar to the original HTC One that was introduced in 2013. The new HTC One model features a larger display, a microSD slot that can expand storage up to 128 GB and improved software.  While the new HTC One doesn't pack as many features as the Samsung Galaxy S5, its aluminum design and Sense software make it arguably a better phone.
Read: 8 Ways the HTC One Beats the iPhone 5s

The iPhone 5s might not match the HTC One feature by feature, but the iPhone 5s is easier to live with. Here are seven reasons why:
 Better Support for the iPhone 5s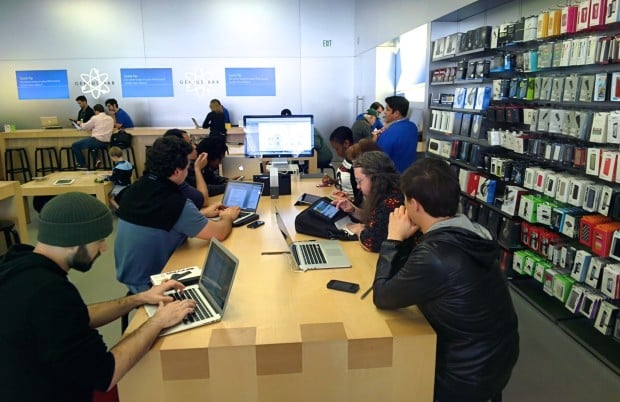 Apple offers the best support in the industry thanks to responsive call center employees and a small army of  Geniuses that staff hundreds of stores.  Malfunctioning iPhones are usually swapped out for replacements immediately at Apple retail stores so long as they're under warranty. iPhones covered by AppleCare+ that are physically damaged are also replaced on the spot with a $79 deductible.  AppleCare+  doubles the iPhone 5s warranty to two years, which is exactly how long most iPhone users are on the hook for with their wireless carriers. Apple also offers classes in its stores that help people get more out of their iPhones.
HTC's support is based in North America, but are only available via chat and telephone. That means HTC One M8 users aren't going to get the same kind of hands-on help with setup or when something goes wrong with the device. The new HTC Advantage program is a nice bonus that comes free with the HTC One M8. It covers one free cracked screen replacement during the first six months of ownership, but the company doesn't offer any protection plans that last the length of users' wireless contracts.  It takes eight to 10 business days to get cracked screens replaced under the program unless you're willing to pay a rush fee.
iPhone 5s: A Better Camera
The iPhone 5s has better optics and a better sensor than the HTC One M8's. As much as we like the HTC One M8's camera apps, Zoe highlight features and the Duo Camera function that lets users re-focus pictures, good old fashioned still photos just don't look that good compared to the ones the iPhone 5s produces. Filters and effects are fun, but it'd be great if we could rely on the HTC One M8 to deliver crisp, clear pictures without having to edit them. Both devices capture photos that are passable when viewed on a phone display, but the HTC One M8's photos look soft and dull when viewed full size on bigger screens. There's a reason why the iPhone is one of the most popular cameras on photo sharing sites.
Pretty much every smartphone out there can produce nice images in bright sunlight, which is why marketers almost always show off pictures of happy people outdoors rather than shooting inside dimly-lit restaurants and living rooms. Above is an example of an iPhone 5s photo shot inside of a furniture shop that wasn't lit too well.  Notice that the entire image is sharp from foreground to background and you can see crisp details in the shadows and lighter areas.
Above is the same scene shot with the HTC One M8. The image is overexposed and everything on the left side of the frame is blurry. Notice that the lamp in the middle of the photo is fuzzy, while the one in the iPhone 5s camera is nice and sharp. I'm not 100% what went wrong with this photo, but I can actually make any part of this image sharp with the UFocus editing tool. However, when I made the left side sharp, it over-blurs the rest of the image.
FaceTime

Video chat isn't really anything new and you can certainly video chat on both the iPhone 5s and HTC One M8. The difference is that on the iPhone 5s is that FaceTime comes pre-installed on the iPhone 5s and it's easy to transition from a voice call to a FaceTime call. There's no setup required and it just works with anyone that's using an iPhone, iPad, iPod touch or Mac. Obviously the more Apple users in your social circles, the more critical FaceTime can be.
There's no standard video chat app for the HTC One M8. The most logical choice is to use Google's Hangout service, which works with iPhones, Android smartphones, iPads, PCs and Macs. The problem is that most people simply don't have the Google Hangouts app installed from their phones. Instead of just inviting someone that's already on a voice call to a video chat, you need to ask them if they have Hangouts installed. If they don't, you'll have to walk them through downloading and installing the app on their iPhone or Android device, ask them for their email address, hang up from your call, invite them to a hangout and then wait for them to join.
 Best Apps Available on the iPhone 5s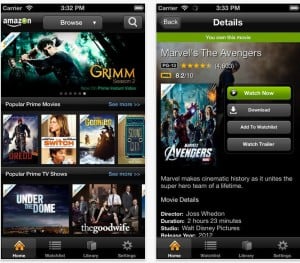 It's no secret that Apple customers are willing to spend more money on apps in the App Store than Android users are willing to spend in the Google Play store. Developers almost always push their apps to iPhones before launching Android versions. Often times, apps simply never make their way to Android devices. Many popular paid apps and games introduced on App Store make their way to the Play Store as free apps and games, but are laden with ads.
While we can live without the latest and greatest games for toddlers on the HTC One M8, there are a lot of examples of major app publishers treating Android users like second-class mobile citizens. Take for example Amazon Instant Video, the app that lets users watch all the movies and TV included with Amazon Prime memberships as well as videos rented or purchased from Amazon.com. The app is readily available in the App Store for the iPhone 5s, but missing in action on Google Play. Amazon does offer the app on its Kindle Fire devices, but won't let you install it on other Android devices.
There are countless apps sold on the App Store that are optimized for both the iPad and iPhone. That means iPhone 5s users essentially get a free copy of purchased apps that can be used on their tablets. While there's a flood of Android tablets out there, the Play Store doesn't have anywhere close to the number of quality optimized apps found in the App Store. If you already own an iPad, you probably don't want to have to re-buy apps for the HTC One M8 or any other Android device.
iPhone 5s Rules the Accessory Market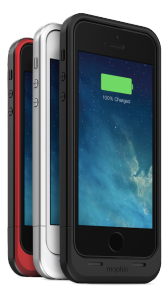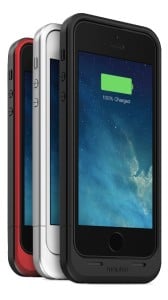 Hundreds of companies make accessories for the iPhone 5s. Walk into any electronics retailer or wireless store and there'll be iPhone-specific cases, speaker docks and other miscellaneous accessories than you can count. Want a pink waterproof case or a luxurious leather wallet case for your iPhone 5s? You'll be able to find both. How about a case that doubles as an extended battery? There's several of those to choose from. Want to buy the Nike FuelBand+? There's an iPhone app that'll work with it, but none available for the HTC One M8. Your next car will probably have Apple's CarPlay available as an option, which is only compatible with iPhones.
At the launch of the HTC One M8, you can buy the HTC Dot View case (if you can find one) and a handful of mediocre cases that don't do anything except cover up the phone.
Read: Best iPhone 5s Cases
Handle the iPhone 5s with One Hand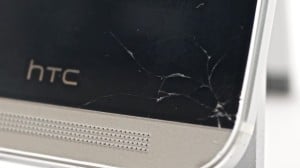 The iPhone 5s Retina Display is smaller than we'd like, but at least the device is easy enough to handle with one hand. Users can easily tap anywhere on the screen without stretching their fingers, even with most cases installed.
The HTC One M8's display is gorgeous and it's much better to watch videos and movies on it than the iPhone 5s, but the device is too big to handle comfortably with one hand, even for users with large hands. Users need to hold the device in one hand and tap with the other in some situations. Adding a case makes the whole HTC One M8 package even more unwieldily, but the Dot View case does add some much-needed grip. The HTC One M8's slick metal design slips out of users hands way too easily, resulting in cracked displays and other damage.
iTunes is Better Than HTC Sync Manager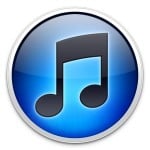 iTunes has become a bloated mess over the years as Apple crams it with more and more features, but at least it works. That's a lot more than I can say for HTC's Sync Manager. HTC shipped me a new HTC One M8 after I dropped the one I bought the day the device launched. I backed up the original phone using the HTC Sync Manager, plugged in the new phone and asked it to restore from the original phone's backup. All appeared to be going well as a progress bar went from black to blue on my Mac. When it was complete a message popped up confirming that the phone's settings, apps, photos, videos and other files had been successfully restored. But when I unplugged the new phone it didn't have any of the data from the old one. I tried it a second time with the same results.
I ended up pulling the old HTC One M8's data to the new one wirelessly using HTC's Android app. I was happy with that the app worked as advertised, but what would've happened if I'd lost the original phone or damaged it to a point where I couldn't grab sync it wirelessly? I would've been out of luck and had to start fresh with the new phone and whatever I'd backed up to Google's servers.
I've restored countless iPhones from iTunes and iCloud backups and have never run into a problem like I did with the HTC Sync Manager. HTC's desktop software is half-baked and needs serious improvements before it can be trusted.

As an Amazon Associate I earn from qualifying purchases.