HTC Patent Reveals Competitor to iPod Touch, Galaxy Player
After having been in the smartphone business for over a decade, HTC may be looking to expand its product portfolio. A recent patent application filed in early 2011 reveals that HTC may be looking to expand its ecosystem and create a media player, or phone-less handheld device that connects to the Internet only via WiFi, to compete against the likes of Apple and Samsung.
Apple, which dominates market share with its iPod line of portable media players, or PMPs, have expanded the capabilities of its music player to play back videos, handle gaming, and even run all the iOS apps with a touchscreen-based iPod Touch that eschews the iPhone's cellular connectivity. Samsung has since entered the market by leveraging the power of the Android operating system and ecosystem with its Galaxy Player, which is essentially similar to a Galaxy smartphone, but lacks the cellular connectivity and opts for WiFi.
HTC's media player will not merely be a variant of its smartphones, however, as the patent application suggests that HTC will be centering its player around multimedia content. With the kickstand that the company had popularized with the launch of the HTC EVO 4G for Sprint a few years ago, this device can be propped up with a built-in stand allowing users to view photos and content and watch video. The device also has stereo speakers that can expand on the side and rear to provide for a more rich experience.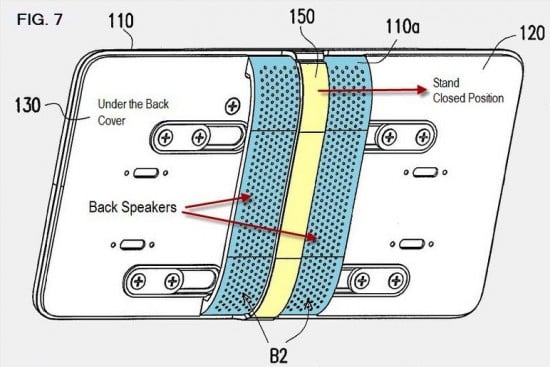 The audio-enhanced media player shouldn't come as a shock as HTC had partnered with companies like Dolby and SRS Wow to deliver better audio experiences. The company is also now focused on its most recent investment and partnership with Beats Audio, so perhaps we'll see a Beats-enhanced media player with side speakers that can slide outwards and expand to provide a richer experience.
Via: Phandroid
Source: Patent Bolt