HTC Radiant 4G LTE Windows Phone Appears in First Image
We knew that the Nokia Lumia 900 wasn't the only 4G LTE Windows Phone on the way to AT&T and late last night, the first image of another such device, called the HTC Radiant, leaked out courtesy of the folks over at Pocketnow. Yes, what you see here looks very similar to the HTC Titan – one of AT&T's current Windows Phone devices, but this is apparently something different.
What exactly is different?
Well, it appears that the HTC Radiant houses a bigger camera lens than the HTC Titan and the volume rockers are further down on the right hand side.
In addition, the dual-LED flash is now on the right side of the device, it has a non-removable battery, a different color than the HTC Titan, and there is a curve to the HTC Radiant's aluminum design.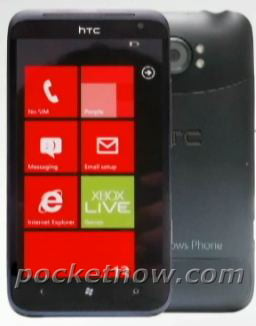 Unfortunately, there are no definitive specifications at this point but it looks like the phone will have similar ones to the HTC Titan. That means a 4.7-inch WVGA display and quite possibly a 1.5GHz processor and 512MB of RAM.
Essentially it's a 4G LTE version of the HTC Titan with some tweaking which isn't such a bad thing if you're into phones with massive displays.
The HTC Radiant is rumored to be arriving at CES alongside the Lumia 900 and the Samsung Mendel although nothing is set in stone at this point. But if true, we should everything about this phone in just a few days.

As an Amazon Associate I earn from qualifying purchases.