HTC Rezound Review – Skip The Beats, Give Me The Phone
Pros
A well-designed smartphone that offers speedy performance, a fast 4G connection, a crisp 720p display and a good camera.
Cons
It's thicker and heavier than other phones in this class, Beats Audio only works with two apps and the design lacks a kickstand.
The Scoop
Beats Audio is way over-hyped, but despite that the Rezound is a great smartphone. It offers robust and speedy performance, good call quality and a camera that won't embarrass. It can't boast a razor-thin design. Still, the comfortably curved sizes, solid feel and attractive accents make up for that. The $299 price tag is high, but the included Beats headphones retail for $99 alone. Even if you don't use the Rezound as your MP3 player, you can use this great set of earbuds with anything.
HTC Rezound | $299 | Verizon Wireless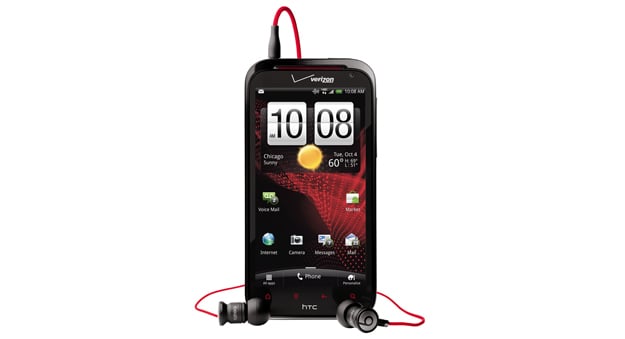 The Beats Audio phone has finally made it to the U.S. in the HTC Rezound from Verizon Wireless. This dual-core smartphone boasts the ability to make music sound the way the artist intended, as well as speedy performance and blazing connectivity. It also boasts a higher than average $299 asking price. With a 720p HD display, an 8MP camera capable for 1080p recordings, and the promise of Ice Cream Sandwich in the near future, the Rezound hopes to make you forget the Droid RAZR, the Galaxy Nexus and even the Thunderbolt. Will Dr. Dre be the one to affect that selective amnesia, or will the phone have to offer more than just some good beats? Read on to find out.
Beats Audio
The inclusion of Beats Audio is supposed to be the Rezound's biggest selling point. However, unlike Monster headphones or HP computers, the advantage Beats brings isn't all that significant. Certainly not enough to get people to abandon their iPods or other dedicated MP3 players. Beats' sound enhancements activate when users plug in headphones or external speakers (via the jack). Though it only turns on when you play tracks via the stock Music app or video clips via the Gallery. Want Beats Audio while listening to Pandora, Google Music, your favorite podcasts or while watching Netflix? You're out of luck.
Audio sounds better with Beats Audio on, especially if you use the included iBeats headphones. You get a full, rich sound that's heavy on bass, but not overwhelmed by it, and more clarity in the treble range. This also proved true when using other Beats headphones. With non-Monster/Beats headphones the sound was more bass-heavy, but still fuller than with Beats off. Thing is, Beats Audio doesn't make all music sound better. Rock and Hip-Hop do well, classical and folk not so much. That's because the audio enhancements are nothing more than equalizer (EQ) settings on the phone. And Beats' particular EQ curve enhances some genres better than others. Owners are better off downloading an EQ app that allows you to fiddle with settings yourself (and they won't be limited to two apps). Beyond the Beats Audio disappointment, this phone doesn't have any trappings of a music-centric device. The Music app has no meaningful enhancements and there's no obvious way to sync tracks and playlists with your computer. There aren't even music-based HTC themes or lockscreen skins, though there is a Beats Audio wallpaper.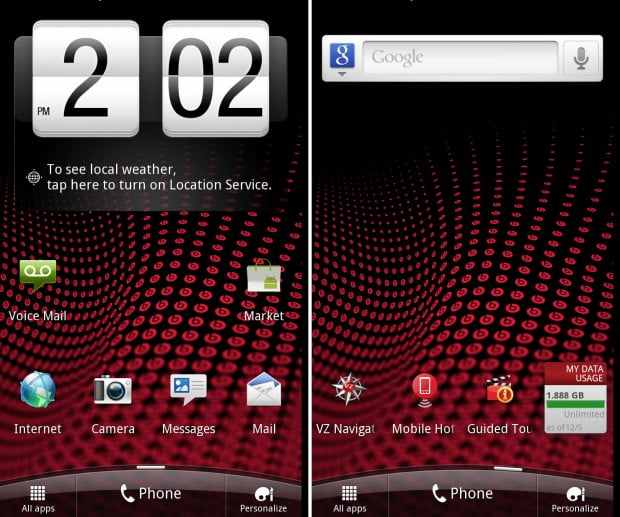 There are no play/pause and skip buttons on the phone itself, though there are player controls on the headphone cord. If you lose the iBeats, you'll have to turn the screen on to access them. If Beats Audio is a bust, are there any other reasons to go for this phone?
Design
The HTC Rezound measures 5.0 x 2.6 x 0.54 inches and weighs 6 ounces — not the skinniest phone around. With toothpicks like the Motorola Droid RAZR (0.3-in thick) and the Samsung Galaxy S II (0.4-in thick) on the market, the Rezound comes off like Kate Winslet sharing a photoshot with Laura Flynn Boyle and Kiera Knightley. Honestly? I prefer Kate.

I like my phone to have a solid presence when I hold it and in my pocket. 6 ounces is enough that I know it's there, but not so much that it weighs me down. My delicate wrists can stand to hold it. And a thinner phone doesn't offer any discernible advantages. Will that extra tenth of an inch mean the difference between it fitting in your inside pocket or not? No. This is also a good-looking phone. It resembles the HTC Thunderbolt done over in black with red accents — around the rear camera lens, lining the front speaker, and under the soft-touch buttons at the bottom. The curved edges and soft-touch back with grippy ridges in the center make it comfortable to hold and less likely to slip from fingers.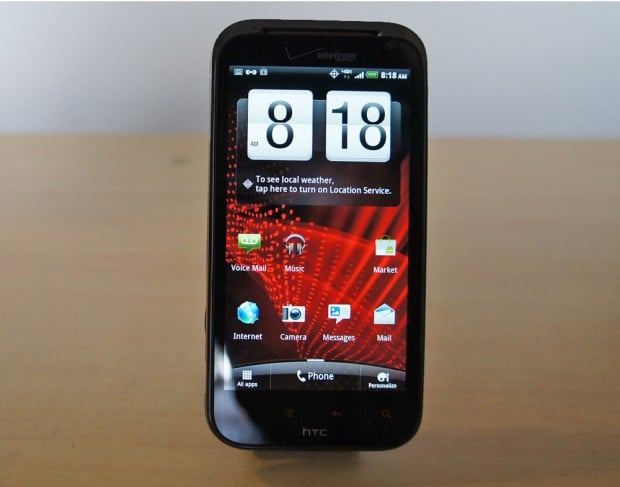 I only have two complaints: the power and volume buttons are hard to find by feel (and press) because they're too flush with the phone; this phone could really use a kickstand.
Display
4.3-inch displays are ubiquitous now, but the Rezound stands out thanks to the Super LCD's HD resolution of 1280 x 720. The resulting high pizel density has several benefits, including beautiful HD video playback, crisper fonts at small sizes, and less scrolling and page turning in web pages and eBooks. Despite the higher res, the icons, fonts and other Android elements aren't small or squint-making. Viewing angles are wide enough for a phone. The screen is viewable in sunlight, though you have to turn brightness to 100%.
Performance, Battery Life, and Call Quality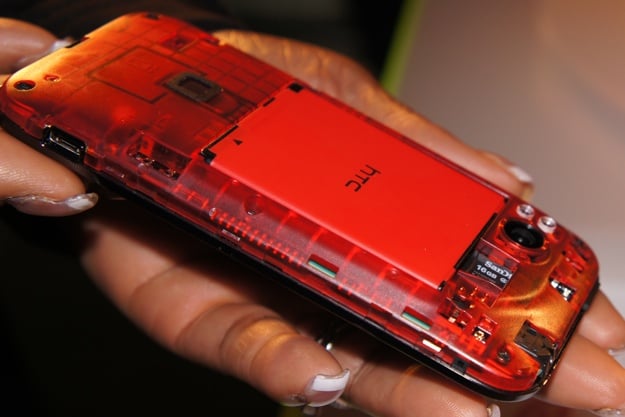 The Rezound runs on a 1.5-GHz Snapdragon CPU and 1GB of RAM plus Verizon Wireless' 4G LTE mobile broadband, so it's fast all around. On top of the base Android 2.3 (Gingerbread) operating system sits the Sense 3.5 user interface. The Sense skin is what gives the software on the Rezound its visual eye-candy and smooths some of the rough edges off of Android. This eye candy is resource intensive, especially if you load up on widgets. The robust internals handle it all well, and I didn't experience any lag or stuttering, even with multiple apps open. The Rezound runs smooth, even when using apps that task it. Verizon's LTE network didn't disappoint, delivering an average speed of 29.3 Mbps downloading and 6.55 Mbps uploading as measured by the SpeedTest.net app in multiple locations.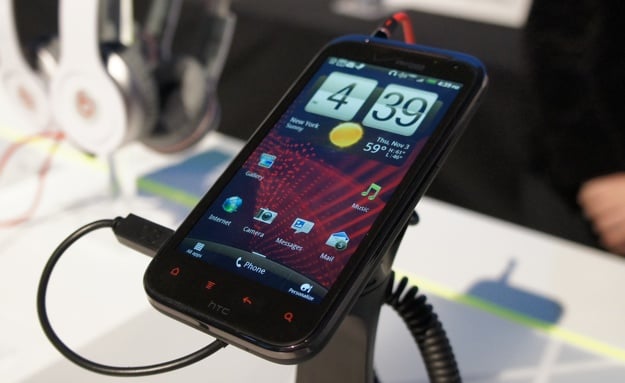 While not as bad as the HTC Thunderbolt, I didn't see impressive battery life. I was able to get 12 – 15 hours of battery life with medium usage, including streaming some video. Stepping up to heavy usage with around 10 apps pulling down data in the background every hour I made it about 7 hours before the battery got down to 15%. Calls came through clear on the Rezound both when listening through the speaker or through the Beats headphones. Outgoing call quality also gets high marks. Everyone we talked to said they could hear our voice clearly for a mobile phone.
Sense 3.5 and Apps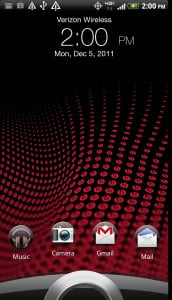 HTC's Sense is the best of the manufacturer-specific Android skins. It provides a robust set of useful widgets, nice visuals, and little enhancements scattered throughout the operating system. Version 3.5 is the newest and currently only found on the Rezound and the HTC Rhyme. On the Rezound, you get a much more traditional look, similar to the skin on the Thunderbolt and the Evo. That full-screen widget with the app drawers featured on the Rhyme isn't available for this phone. Sense 3.5 includes a customizable lock screen. Users can add four of their favorite apps and launch them when unlocking the phone. Certain notifications, like text messages, missed calls, and alarms, will also show up on the lock screen and allow users to go right to those apps or dismiss the messages. Lock screen themes allow users to place current weather, stock information, an analog clock, status updates from FriendStream, or even pictures from the gallery right above the apps. Verizon didn't load the Rezound with too many CRAPPS, though that annoying Blockbuster app is back. V CAST Music and Video is on board, of course. Media from these services will play in the stock music and video apps, so you'll get the benefit of Beats Audio when you play. Plus there's My Verizon Mobile, which offers information on your plan usage, including minutes and data.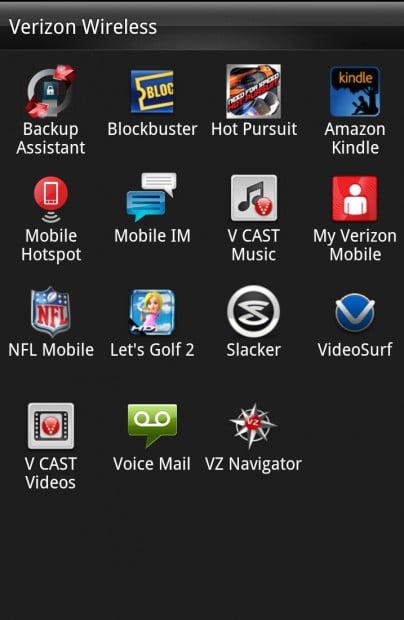 HTC also pre-loaded a few:
Footprints
Friend Stream
Polaris Office
Scan (barcodes)
Task Manager
Tasks
Watch
Camera and Camcorder
If having a good camera on your smartphone is a high priority, this is the Android for you. The 8MP rear-facing camera is as speedy as the rest of the phone, focusing and taking shots fast. The camera app has a wealth of settings so those who know what they're doing can fine-tune their photos. Most won't need to do this, as indoor shots came out decently with little fiddling. I didn't need the flash much, but when I did I was pleased to see that it actually helped instead of just blowing everything out. Outside shots also look good but are a hair less vibrant than I'd like.
The camcorder can record at a maximum of 1080p. At that setting you'll lose some detail, especially at high speeds. Shooting at 720p resulted in better overall quality.
HTC added simple editing and enhancement tools to the camera app, allowing users to add effects to pictures and trim video after recording. The front-facing 2MP camera is good enough for video chats and the occasional self portrait, but won't wow you.
The Competition
| | | |
| --- | --- | --- |
| | HTC Rezound | Motorola Droid RAZR |
| OS | Android 2.3.4 | Android 2.3.5 |
| Display (size/res) | 4.3-inch / 1280 x 720 | 4.3-inch / 960 x 540 |
| CPU | 1.5-GHz Qualcomm MDM9600 (dual core) | 1.2-GHz TI OMAP 4330 (dual core) |
| RAM | 1GB | 1GB |
| Internal Memory | 16GB | 16GB |
| Expansion | microSD | microSDHC |
| Mobile Data | 4G LTE | 4G LTE |
| Radios | Wi-Fi 802.11 a/b/g/n; Bluetooth 3.0; GPS | Wi-Fi 802.11b/g/n; Bluetooth 2.1 EDR; GPS |
| Camera (rear/front) | 8 MP / 2 MP | 8 MP / 1.3 MP |
| Size | 5.0 x 2.6 x 0.54 inches | 5.2 x 2.7 x 0.3 inches |
| Weight | 6 ounces | 4.5 ounces |
| Ports | microUSB; 3.5mm headphone | microUSB; 3.5mm headphone |
Specs-wise, these two phones have few differences, and most are minor. The RAZR is obviously the thinner and lighter of the two and offers the same speedy performance on the same speedy network. For those who care about having the thinnest, lightest phone, the RAZR comes out ahead. Where the Rezound trumps this competitor is in screen resolution and camera quality. That high pixel density is great if you're a media lover. And having a nice camera that works both indoors and out is a big bonus. One other big difference: HTC Sense vs. MotoBlur. As I said in my RAZR review, Motorola's Android skin is much less annoying than in previous iterations and now includes some useful widgets and decent eye-candy. However, Sense remains the better and more robust skin overall.
| | | |
| --- | --- | --- |
| | HTC Rezound | Samsung Galaxy Nexus |
| OS | Android 2.3.4 | Android 4.0 |
| Display (size/res) | 4.3-inch / 1280 x 720 | 4.65-inch / 1280 x 720 |
| CPU | 1.5-GHz Qualcomm MDM9600 (dual core) | 1.2-GHz TI OMAP 4460 (dual core) |
| RAM | 1GB | 1GB |
| Internal Memory | 16GB | 32GB |
| Expansion | microSD (32GB max) | none |
| Mobile Data | 4G LTE | 4G LTE |
| Radios | Wi-Fi 802.11 a/b/g/n; Bluetooth 3.0; GPS | Wi-Fi 802.11 a/b/g/n; Bluetooth 3.0; GPS |
| Camera (rear/front) | 8 MP / 2 MP | 5 MP / 1.2 MP |
| Size | 5.0 x 2.6 x 0.54 inches | 5.3 x 2.7 x 0.35 inches |
| Weight | 6 ounces | 4.8 ounces |
| Ports | microUSB; 3.5mm headphone | microUSB; 3.5mm headphone |
With the Galaxy Nexus right around the corner, many Android fans may be reluctant to buy something new before checking out the newest "pure Google" phone. How dos it compare to the Rezound? First, the screen is a bit bigger. If you don't think that 0.35 inches will make that much difference in screen size, you haven't seen 4.0 and 4.3-inch phones side by side. If the Rezound's size is just about what you find comfortable, the Galaxy Nexus may be too big. Do note that they both have the same resolution. Another big difference is OS: the Nexus will come with the latest and greatest, Android 4.0, from the start. The Rezound will get an update sometime next year. However, as Adam Mills points out, the Nexus will be more likely to get updates faster since it's the flagship phone for Android. Often updates come slower to phones that have a skin, like Sense. And finally: NFC. Near Field Communication is still one of those features that will be more useful in the future than it is now, yet it's a bonus for those who do have it since you get to try all the cool new stuff first.
The Bottom Line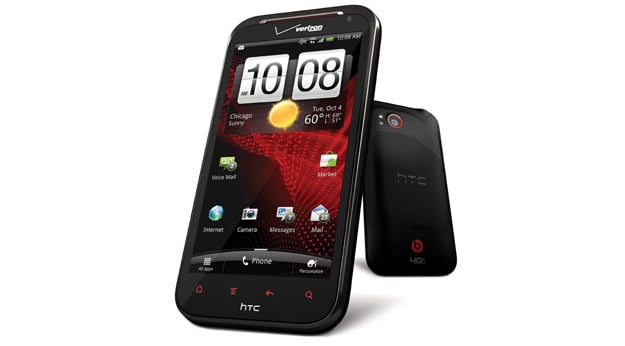 Beats Audio is a wash, but that doesn't make the HTC Rezound a bad phone. It's quite capable and has many excellent qualities, including speedy performance, good call quality, and a good camera. However, with the Galaxy Nexus imminent, it's worth waiting if you want the latest and greatest. $299 is expensive for a phone on contract. If it's too rich for your blood, check third party sellers. Right now it's only $199 on [amazon_link id="B0061R3DVO" target="_blank" container="" container_class="" ]Amazon Wireless[/amazon_link] with a new 2-year contract and $229 if you're eligible for contract extension. Wirefly has it for $219 / $249. And as the holidays progress these sites may offer even deeper discounts. Don't forget that the phone comes with a pair of iBeats headphones, which cost $99 on their own. These are probably the best pair of included earbuds you'll ever get with a phone. And even if you don't bother using the Rezound to listen to music they'll work just as well in your iPod or other MP3 player.