HTC Sensation About to Get A Massive Update?
The HTC Sensation has only been out on the market for a little while now and it already has the latest version of Android for phones, Android 2.3 Gingerbread with HTC Sense 3.0, but it looks like the popular device is about to get a massive update that as of right now is a complete mystery.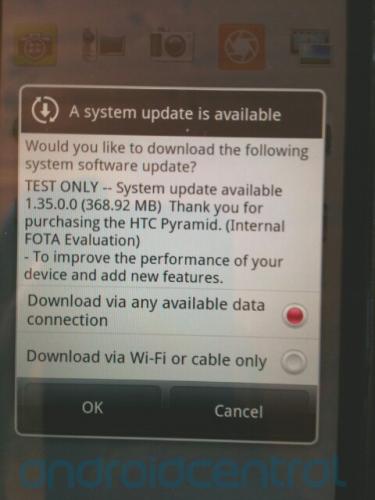 Android Central has shown off a screen shot showing a 368.92MB update for the HTC Pyramid aka HTC Sensation which only has one hint when it comes to the features on board:
To improve the performance of your device and add new features.
What those improvements and features are is currently unknown but the fact that this update is pushing 400MB means that they will be significant. Another unknown is whether this update is headed to European HTC Sensation owners or HTC Sensation 4G owners on T-Mobile USA. Or both.
In any event, it looks like someone is about to get a massive update that might just make a fantastic and currently cheap phone, even better.