HTC Sensation Launching on June 8th?
If you type in 'HTC Sensation' into Google and hit Search, take a look at the ad on the very top. There is a very good chance that you might see 'HTC Sensation 4G – On 6/8 – Complete With HTC Watch & HTC Sense' which means that June 8th is now the first specific release date we've heard of so far for the dual-core powered device.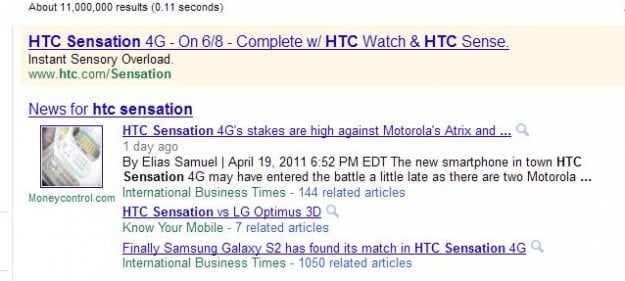 For those that want to type it in themselves, it might not show up the first time. However, I managed to get it to show up after mashing on Search for about 10 seconds.
The HTC Sensation aka HTC Pyramid was introduced by HTC earlier this month at a special event that took place in London. And while we know all of the juicy details about the device's innards, HTC didn't fill us in on when we could expect it other than to say Q2.
It just so happens that June is in Q2 which makes the June 8th date pretty darn viable. There is also the possibility that this is just a placeholder so those of you on Vodafone and T-Mobile USA should circle the date in pencil for now.
As for the device itself, it's going to have a 4.3-inch SLCD touchcreen with 540×960 resolution, a dual-core 1.2GHz processor (same as the Samsung Galaxy S II), a rear 8MP camera, a 1.2MP front facing camera, and it will be running Android 2.3 Gingerbread with HTC Sense 3.0 over the top of it.
(Via Android Central)

As an Amazon Associate I earn from qualifying purchases.