HTC Sense 6 on the HTC One (M7) Review
Before last year's HTC One smartphone arrived on store shelves there were a lot of questions. Could HTC, which was once one of the world's leading smartphone makers, craft an Android device that could compete head to head against the understated gorgeous design of the iPhone 5s and the power and features of Samsung's Galaxy S4? Once users got that now year-old smartphone in their hands, they found out the answer pretty quickly. The HTC One was then, and still is, a fantastic piece of Android hardware, maybe even more attractive than the HTC One M8 that replaced it.
Now HTC is throwing HTC One M7 owners the Sense 6 software from that new flagship smartphone.
That's key, because in all honesty, the HTC One was mostly held back by the Sense 5 software included on it. There were new ideas everywhere. More than other companies would like to admit, they were not available anywhere else. Take the rear-facing UltraPixel camera that took reasonably attractive shots but had a completely confusing interface. There was BlinkFeed, a half-hearted attempt at surfacing the information users care about, and the Live Tiles concept that has made Windows Phone, and Windows 8, the talk of the town. Each were good ideas that felt like HTC needed more time to flesh out.
The HTC One M7 with Sense 6 is exactly what the company should have delivered last year when it first debuted the device.
Read: HTC One Sense 6 Update First Impressions & Performance
HTC One Sense 6 Apps & Interface
All over Sense 6 on the HTC One there are tiny nips and tucks, slightly redesigned apps and new features that make this a worthy upgrade.
BlinkFeed
Frequent users of BlinkFeed: you'll want to download this update if it's available on your carrier, immediately. BlinkFeed is much more useful than it was a year ago. Whereas BlinkFeed used to be a mere shell, the BlinkFeed included in Sense 6 on the HTC One feels vibrant and full of life. Users can add content from hundreds of sources by swiping from the left to right side of BlinkFeed and selecting Add Content. There are tons of news sources and apps that'll allow users to get food recommendations, Instagram updates and more.
Browsing BlinkFeed is easier thanks to the tabs menu that also opens with a swipe from the left side of the screen. It helps that users can also assign a theme to make BlinkFeed feel more personal too. Unfortunately, those themes are just window dressing since users can't assign their own color choices. Instead, they have to go with one of the four pre-made themes available in Sense 6 on the HTC One.
Overall, BlinkFeed feels more like a fleshed out answer to a real user's problem in Sense 6.
Camera & Zoes
Sense 6 on the HTC One also does a remarkable job of making the UltraPixel camera on the rear of the HTC One more usable. In fact, pictures often came out better with Sense 6 on the HTC One. To be clear, that's not because there's some new software making the still iffy rear-facing camera better than it's been. No, pictures often come out better because users will find themselves less confused about what they need to do to get a better picture. Tapping on the three dots in the Camera app reveals all the camera settings and users can see those changes on the screen in real-time. It feels like HTC paid more attention this time around.
HTC has also put more emphasis on the different modes the HTC One camera has. They are now showcased in large giant buttons called up by tapping the icon on the right side of the screen. It's a subtle change, but it's definitely resulted in more Zoes.
Yes, Zoes are still here. But HTC Sense 6 on the HTC One also reveals that HTC is planning on breaking out Zoes into a separate app and possible social network, perhaps like Vine. Unfortunately, the app Sense 6 installs is just a place holder until the real one arrives. When it does arrive, HTC says that it'll be available on other Android devices too. Why HTC wants to have less exclusive reasons for users to buy its devices is unclear, but that's a topic for another time.
TV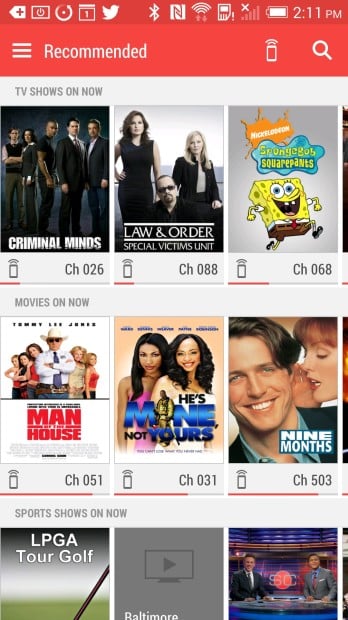 There's no doubt that every user who opened the TV app that controls the IR blaster at the top of the HTC One fond that the process of sharing their favorite shows, and even finding them, slightly daunting. In Sense 6, HTC has done a lot of work here. There's a cleaner interface and support for sharing information about your favorite shows directly to Twitter and Facebook. Pressing the phone's volume buttons in this app actually changes the channels on the corresponding television too. It's a small add-on, but one that makes the entire experience better. For the sports fans HTC has integrated live scores into TV.
Gallery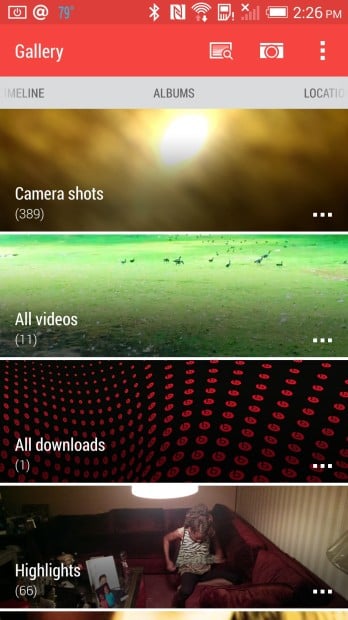 No single other aspect of Sense 6 for the HTC One is cooler than the new Gallery. It's easier than ever to see a slideshow of photos you've taken, mostly because HTC puts them front and center. There's a timeline for seeing photos in order, while albums are for the different photos scattered across a user's device and a screen that separates photos by the locations they were taken. A slideshow complete with music can be produced with just a simple button press.
Honestly, it's the best pictures and video viewing experience available on any device. Watching one of the pre-made slideshows of photos taken with the device almost feels surreal sometimes, like you're experiencing your memories they way they were meant to be experienced digitally.
Others Apps
Other apps have received some attention too. The Mail, Message, Calendar and Phone apps look more consistent overall. Each application has its expanded options on the right in a menu, and users can scroll to the right for more information or different views. Music actually looks so good you'll want to use it — that is, you would if HTC had somehow managed to get the Google Play Music Store and subscription service going here. Still it's a great music app, the visualizations look good and everything is much easier to navigate than in past versions.
Each app's menu bar is now a different color too. This makes the whole operation feel livelier.
Extras
There are small extras scattered behind the scenes, too. Emergency Alerts are now included in the update, that way the HTC One can sound an alarm the moment there's a serious weather warning from the National Weather Service or a missing child in the area. BlinkFeed now includes custom restaurant recommendations too.
It's my opinion that it's the behind the scenes places where Sense 6 for the HTC One really shines. In making Sense 6 experiences consistent, it seems HTC spared no engineers or designers.
The app drawer features the same menu bar as apps themselves and rearranging, hiding or changing the app grid size is only two right thumb presses away now. Ditching the extra cruft and random bars from Sense 5 did the app drawer all sorts of favors. Diving into the settings no longer feels like a user interface study. Settings that should have a switch have a switch, though users can deep dive into each for more information. Users can now change the font the entire phone uses too, though why HTC chose to add that, and not a way to make custom themes for BlinkFeed, boggles the mind.
Lastly, there are a ton of visual tweaks to the widget panel customization screen and lock screen. They're not really functional advantages per se, but they do look better and functions are more obvious. Also, there's a new setting for scheduling when your phone will and won't accept phone calls.
HTC One Sense 6 Performance & Bugs
Bugs with Sense 6 on the HTC One have been very, very hard to find.
There does seem to be an issue with Bluetooth stereos not correctly connecting to the device. That is to say, they'll connect but refuse to automatically play music in situations where it's warranted. The HTC One with Sense 6 also defaults to the new Music app instead of Google Play. I don't remember that being an issue, but disabling the app should fix that problem if it crops up for anyone else.
There wasn't noticeable lag to speak of with this update. It is worth noting that screenshots seem to take longer to capture than it used to.
The battery life of the HTC One has always been pretty decent, but Sense 6 for the HTC One takes this a step further by adding an Extreme Battery Saver Mode. It can be auto triggered when the battery reaches a certain point.
Conclusion
Overall, Sense 6 for the HTC One delivers on the promises HTC made a year ago. Whereas the HTC One M7's body felt consistent and well machined, Sense 5 was a mess. It was a hot mess that felt confusing, threw multiple designs in user's faces with no regard to continuity and felt very, very cluttered.
No, Sense 6 isn't a revolution for the HTC One. Instead, it's a simple evolution of what users had last year. It's an evolution that's absolutely worth downloading for every HTC One owner.