HTC Shift News Just Keeps On Coming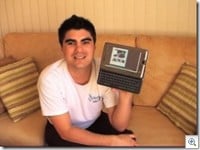 The HTC Shift is huge news in the Ultra-Mobile scape these days and I'm thinking it will be for awhile as this looks like a game changing device. Of course Hugo's InkShow of the HTC Shift has contributed to a lot of the discussion on this one and has gone crazy wild with viewings. (He should get some sort of advertising payment from HTC, or maybe they can just send the entire GBM Team each one of the devcies.

All drooling aside Steve ""Chippy" Paine has tracked down some more info that looks very interesting. First up, he says the European price point looks to be around 1200 Euros, which if it crosses over well would be about $1650 US. He also notes that a possible launch will take place at GITEX in September. Caveat: This all could change.
Intriguingly, for all those wondering what the native screen resolution for the device running Vista is, Steve seems to be running into non-answer land on that. So we'll have to stay tuned on that info.

As an Amazon Associate I earn from qualifying purchases.