HTC Sync Manager: How to Transfer iPhone Data to HTC One
It's clear from the form factor and the ability to transfer data from an iPhone to the HTC One that HTC created their all metal Android handset with iPhone users in mind. We want to show how easy it is to transfer content from an iPhone to an HTC One using the HTC Sync Manager software when the user plugs the HTC One into their computer via USB.
Upon installing the software, users with iTunes and an iPhone will see the wizard pop up to offer to let them import their content.
The HTC Sync Manager transfer wizard will ask users to first back up their iPhone in iTunes. Do this by clicking on the iPhone's name in the left hand column of iTunes and click the Back Up Now button in the middle of the screen.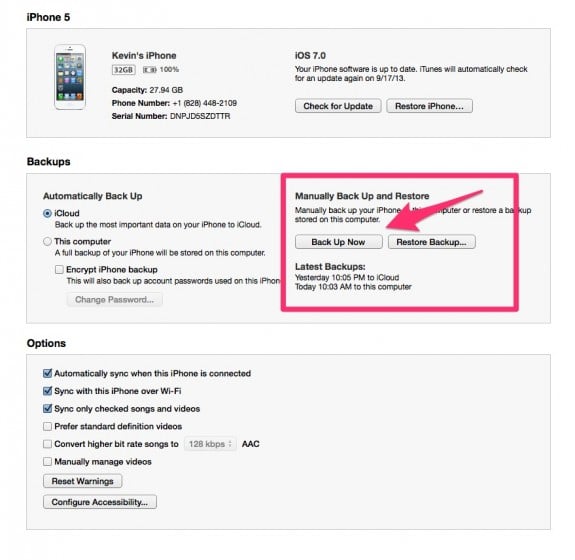 When finished, go back to HTC Sync Manager and hit the Next button. A list of iPhone back up dates will show up. Select one, most likely the most recent, and click OK.
Now select content to transfer from the iPhone to the HTC One from the list on the next screen. Remember that users who synced their iPhone with a Gmail account will not want to transfer the same data to their HTC Once since they've likely already added it during the HTC One set up. The person's Gmail account get added during the phone's typical set up. This already adds things like Contacts, Calendar and even Bookmarks from Chrome stored online in the Gmail account.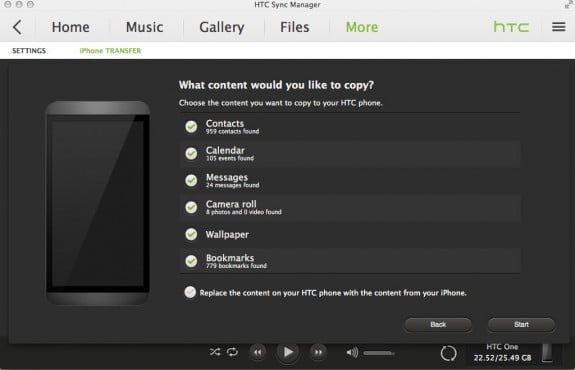 Now hit the Start button and the transfer will begin. It took a couple of minutes to transfer our content.
Some users will now want to also sync music from iTunes. The HTC Sync Manager will find the music in iTunes and offer to transfer the music files and playlists. The software also offers to set the phone up to automatically transfer content with iTunes each time ther users syncs with the computer. Users can copy all their music automatically, if their library is smaller than the phone's storage.
We like to use the iTunes sync feature to take iTunes U audio files and put them on the HTC One. Go to the Music tab on HTC Sync Manager and then select "Sync selected playlist." Now scroll through the list of playlists below that option and choose "iTunes U" which was our first playlist. It's the best way to get iTunes U audio files on the HTC One.