HTC Teases Voice Control App For HTC Sense
It looks like HTC won't let Samsung have all the Siri-cloning fun. The manufacturer is teasing its own voice control app in a not-so-subtle way.
Today HTC posted an image to its Facebook page of what looks like a voice control app with some Sense design. The image shows a dog "talking" to the app, and it responding with "Good morning Spot. What can I do for you today?"
The image shows Spot presumably asking about the time and his appointments (his master comes home in five hours), and the weather in the dog park (30 degrees Celsius and sunny).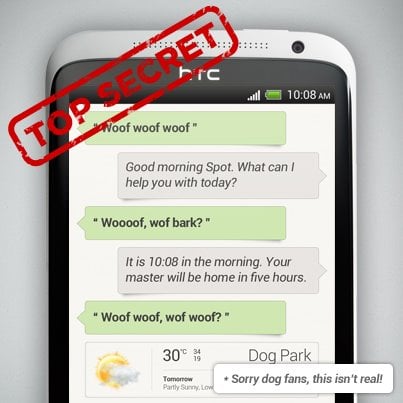 HTC puts a disclaimer at the bottom of the image telling dog fans the app isn't real, so there's unfortunately no app that can translate dog barks into English. We assume the actual voice control app is real, however. HTC's biggest competitors (Apple and Samsung) both have voice control apps, so it makes sense that HTC wants one as well.
Given that HTC shows the app on the One X, we hope it means the app will come as part of an update to the One series instead of a feature in a future phone. The trend to voice control apps is an interesting one. Some users hate talking to their phones, while others use services like Siri quite often for common tasks.
We like the idea that HTC is trying to create its own version of voice control, though we can't help but feel that it would be better if Google made a default Siri-clone for Android (one that works like Siri, not like the voice actions it has now). Then again, we're sure manufacturers would just take it out and replace it with their own, anyway.

As an Amazon Associate I earn from qualifying purchases.