HTC Thunderbolt Details, Review & Hands-On Video Roundup
The HTC Thunderbolt is one of the most anticipated phones of the year, with countless Android fans waiting for an official release date so they can upgrade. Verizon hasn't set an official release date, but rumor is that the phone will be available as early as tomorrow (February 24). If you're thinking of buying an Android phone soon, you might just want to wait until the HTC Thunderbolt hits store shelves.
HTC Thunderbolt Reviews (update)
The HTC Thunderbolt was officially launched on March 17, 2011 and we rushed out to pick up a pair for review. We're working on a comprehensive HTC Thunderbolt review, but have some early thoughts to share. We have been very impressed with the Thunderbolt's 4G LTE wireless performance. As you can see in the video below, it is extremely fast. The HTC Thunderbolt battery life score was disappointing, clocking in at less than four hours.

What is the HTC Thunderbolt?
The HTC Thunderbolt is a smartphone that resembles the HTC EVO 4G, the first phone to run on a 4G network. The EVO 4G ran on Sprint's WiMax Network, while the HTC Thunderbolt runs on Verizon's LTE 4G network. It's been about a year since the EVO 4G was introduced, which means there's been time for Android phones to evolve. The HTC Thunderbolt is more feature-packed than the EVO 4G and has beefier specs.
The HTC Thunderbolt is the first phone to run on Verizon's speedy LTE network. The Verizon LTE Network promises average download speeds of 5-12 mbps and average upload speeds of 2-5mbps. Thunderbolt users will be able to make calls and use the data connection simultaneously, something that is not possible on the Verizon version of the iPhone 4.
HTC Thunderbolt Hands-On, Review Videos (Hands-on, Reviews)
Our own Chuong Nguyen got his hands on an HTC Thunderbolt at CES 2011 and shot this video overview of the smartphone.  In the video, the speed of the Thunderbolt and Verizon's LTE network are demonstrated.
Android Police also took a nice video of the HTC Thunderbolt at CES 2011.
Aaron from PhoneDog shot a video of the Thunderbolt's introduction at the HTC press conference. He also got to spends some quality hands-on time with the phone.
The guys from MotoDroidLife recorded the highest fidelity video of the HTC Thunderbolt we could find. Shot in 1080p with what appears to be a DSLR, it's about a sharp of a look at the Thunderbolt you'll get without playing with it yourself.
HTC Thunderbolt Unboxing Videos
There aren't that many HTC Thunderbolt unboxing videos floating around quite yet, but we did find two good ones.
https://www.youtube.com/watch?v=O0Mx-nkvQUA
HiTekData.com got their hands on a pre-release Thunderbolt and run through the unboxing and setup process in this video.
Wirefly does the same in this video.
HTC Thunderbolt Commercial
Wow, great, comprehensive review. Lots of information packed in here, you basically answered every question I might have had. Thank you …
Verizon released an HTC Thunderbolt commercial yesterday, which is more entertaining than informative. The release of the HTC Thunderbolt commercial hints that the official release date is imminent.
HTC Thunderbolt vs HTC EVO 4G
Wirefly, a wireless reseller, compared the HTC Thunderbolt to the HTC EVO 4G in the above video. If you're about to pull the trigger on the EVO 4G, you'll definitely want to watch this video. As you can see, the HTC ThunderBolt is very similar in appearance. If your family is tied into a Sprint contract, don't fret too much as we expect HTC to build something comprable for Sprint in the near future.
As you can see in the above video, the Thunderbolt is much faster than the EVO 4G.
The HTC Thunderbolt thicker than the EVO 4G.The HTC Thunderbolt has a much sturdier kickstand and rear speaker placement is different.The thicker kickstand allows the Thunderbolt to stand up in portrait mode, which is great if you want to video chat hands free. The EVO 4G's battery is larger than the Thunderbolt.
One huge advantage the HTC Thunderbolt has over the EVO 4G is that it comes with 8GB of internal storage and a 32GB microSD card pre-installed for a total of 40GB of storage for apps and data. The Thunderbolt has 50% more system memory than the EVO.
HTC Thunderbolt Availability and Pricing
The HTC Thunderbolt will be available through Verizon.com, Verizon retail stores and all authorized Verizon resellers.
Best Buy is the only retailer taking pre-orders of the device. In order to place a Thunderbolt pre-order, you'll need to visit your local Best Buy and fork over a $50 deposit. Best Buy is not taking Thunderbolt pre-orders through its website. The HTC Thunderbolt will retail for $249.99 with a new two-year Verizon contract or eligible upgrade.
Wirefly is another major mobile reseller that is promising it will have Thunderbolts available the first day they go on sale.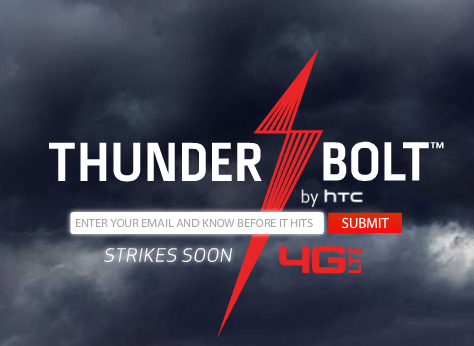 Verizon is playing coy with the official release dates, despite the ads, online promotions and Best Buy pre-orders. The company is offering more info about the device at Verizon.com, where you can also sign up for alerts about the Thunderbolt.
HTC Thunderbolt Specifications (Verizon Wireless LTE)

| | |
| --- | --- |
| Networks: | LTE 700, CDMA EvDO revA |
| Operating system: | Android™ 2.2 + HTC Sense |
| Display: | 4.3" WVGA TFT capacitive touch screen |
| Camera: | 8MP with autofocus, LED Flash (2x LED), 1.3MP front facing camera |
| Memory: | 8GB emmc + 768 RAM Memory card, preinstalled 32 GB microSD™ |
| WLAN: | 802.11 b/g/n |
| Bluetooth: | 2.1 with EDR (3.0 when available) |
| GPS: | GPS/AGPS |
| Battery: | 1400 mAh |
| Special features: | Dual mics with noise cancellation, Surround sound, Compass sensor, G-Sensor, Proximity sensor, Light sensor, 3.5mm audio jack, MicroUSB, FM radio, LTE SIM slot , TI audio DSP |
| Chipset: | Qualcomm® MSM8655, 1GHz, Qualcomm MDM9600 |

As an Amazon Associate I earn from qualifying purchases.