HTC Thunderbolt for $149 after $50 Coupon at Wirefly
Wirefly is offering the HTC Thunderbolt for $149.99 through Sunday thanks to a $50 coupon. This is a full $100 cheaper than purchasing the HTC Thunderbolt directly from Verizon and $25 cheaper than purchasing it from Amazon Wireless.
In order to get this deal, you'll need to visit Wirefly.com and use coupon code THUNDER0418 by midnight on April 18. Thunderbolt buyers will need to be eligible for an upgrade or sign up for a new two-year Verizon contract to get this pricing.

The deal is limited to one Thunderbolt unit per order, which means you'll have to pay the full $199.99 price on additional units if you're upgrading the whole family. It includes free FedEx shipping and you won't have to pay tax upfront in most states.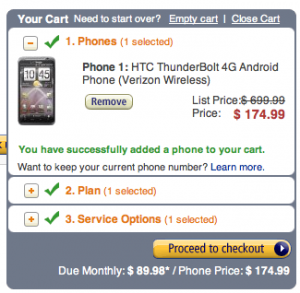 Amazon Wireless is currently selling the HTC Thunderbolt for $174.99, which is $25 more than the Wirefly deal. The one advantage of buying it from Amazon is that you don't have to rush to buy it by the end of the week as $174.99 is the price isn't part of a time-limited promo.
No matter where you buy the HTC Thunderbolt, you'll get to use the WiFi Hotspot feature for free through May 15. The feature allows users to get online with laptops and other devices using the Thunderbolt's speedy 4G LTE wireless connection.
Verizon's 4G LTE service isn't available everywhere yet, but it is extremely fast. In our testing, it is actually faster than many wired broadband connections, such as the DSL and Cable services found at many homes and businesses.
The HTC Thunderbolt is the first phone to run on Verizon's 4G LTE network. It is impressing many phone enthusiasts, including a few GottaBeMobile writers. You can read the top 10 reasons the Thunderbolt is better than the iPhone 4 here.
Visit WireFly.com to get the deal and remember to use coupon code THUNDER0418.

This article may contain affiliate links. Click here for more details.