HTC Thunderbolt vs iPhone 4 Speedtest (video)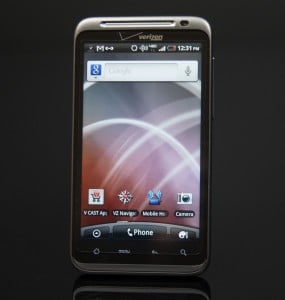 The HTC Thunderbolt is the hottest phone in Verizon's stable and its blazing fast 4G LTE speeds are a big reason why many people are choosing it over the iPhone 4. In this speed test, you can clearly see that the Thunderbolt trounces the iPhone 4.
Andru Edwards of Gearlive ran the test near Seattle. As you can see in the video, the Thunderbolt 4G LTE is more than four times faster than the iPhone 4 in the download department and more than eight times faster in uploading data.
When the HTC Thunderbolt launched, we ran our own Speedtest.net tests in San Francisco and had similar results. The video above shows the iPhone 4 running Speedtest at a mall, where there happens to be both an Apple and Verizon store.  The 3G speeds are pretty respectable and miles ahead of what we experienced in San Francisco a year ago.
And here's what running the test on the Thunderbolt on Verizon's 4G LTE network at the same location.
While speed may not matter a whole lot to users that primarily use their smartphones for checking email or browsing lightweight web sites, it does make a big difference when transmitting large files, viewing complex sites or streaming video. Perhaps the biggest advantage of having a 4G LTE phone is when it shares its Internet connection with notebooks, iPads and other WiFi devices.
The iPhone 4 is an excellent device, but there are several reasons to choose the HTC Thunderbolt. You can read our recent review tat details 10 reasons the HTC Thunderbolt is better than the iPhone 4.

This article may contain affiliate links. Click here for more details.