HTC Titan II vs. Nokia Lumia 900
AT&T is about to be the first carrier in the United States to land two 4G LTE Windows Phones and we thought it would be appropriate to compare them to each other. The phones we speak of are the HTC Titan II, a handset that features an absolutely massive display and the Nokia Lumia 900, which will be the Finnish company's first foray into the 4G LTE arena.
Both devices were announced back at CES 2012 in Las Vegas and we came away impressed with both of them as they each bring some unique things to the table. Of course, while that's fantastic, it makes a decision on which one to pick up a difficult one.
Well, we're here to help make that choice a little easier (hopefully) by outlining the strengths and weaknesses of each handset and then tossing them into the arena for a fight to the death.
OK, that last part is obviously not true.
Who would hurt a smartphone?
Anyway, without further ado, here is a breakdown of the HTC Titan II Windows Phone against the Nokia Lumia 900 Windows Phone, both for AT&T's next-generation 4G LTE network.
Hands-on Video
In the video below, you can check out the HTC Titan II. We were able to spend some hands-on time with it at CES 2012 and we came away pretty elated.
We are also spend some time with the Lumia 900, a device we awarded our Best of Show award for CES 2012. Needless to say, we were thrilled with Nokia's offering and think it could make a big splash here in the U.S.
Hardware
As we mentioned before, Nokia fully intends to launch the Lumia 900 as its flagship device here in the United States and it's easy to see why. It's a gorgeous smartphone from a hardware standpoint. It's sleek, it's easy to hold, and it doesn't feel cheap.
There are some other impressive things on board as well.
It sports a 4.3″ AMOLED ClearBlack display, a single core 1GHz processor, a large 1830 mAh battery, and an 8-megapixel camera with a wide aperture sensor and Carl Zeiss optics, and a 1.3MP front-facing camera. It'll also have a 1830 mAh battery.
The Nokia Lumia 900 is a big smartphone but it pales in comparison to the HTC Titan II.
If you're familiar with the original HTC Titan, the Titan II picks off where its predecessor left off sporting an absolute monstrous 4.7-inch display.
It will also have a Qualcomm 1.5 GHz Snapdragon S2 processor, 1730 mAh battery – bigger than the one found on the original, 512MB of RAM, a whopping 16MP rear camera with a f/2.6 wide angle lens and dual LED flash and a 1.3MP front-facing camera.
So here's the deal. Both feature displays that are good, but sport lower resolution then  top of the line smartphones like the Samsung Galaxy Nexus or HTC Rezound. That is to say, they aren't HD.
They both have fairly large batteries in order to handle AT&T's 4G LTE network.
The HTC Titan II measures in at 13mm thick, the Lumia 900 is only a few inches thinner with a 11.5mm thin design. And both feature single-core processors.
That leaves us with two major differences. The cameras and the screen size. While we haven't been able to extensively test either camera, we will say this. Nokia is known for the high-quality cameras it puts into its phones and this one, with its Carl Zeiss lens, should be no different.
That being said, the Titan II is packing an impressive one as well. But as of right now, we're going to have to consider the cameras a wash. So, that leaves one major difference.
Both displays are pretty darn big and so it's going to come down to personal preference. Do you need the extra space that the Titan II provides?
Or are you comfortable with the 4.3-inch display on the Lumia 900?
It's up to you.

Connectivity
Both the HTC Titan II and the Lumia 900 are supported by AT&T's 4G LTE network. That means that if you're an area that's blanketed with LTE, you'll see data speeds that are up to 10 times faster than normal speeds on 3G.
Now, unfortunately, AT&T's network isn't as widespread as Verizon's which means that many of you, if you buy one of these, will have to use it on AT&T's HSPA+ 4G network. It's fast, but it's not as fast as LTE.
Here is a list of the markets where AT&T's 4G LTE network is currently available:
Austin, TX
Athens, GA
Atlanta, GA
Baltimore, MD
Boston, MA
Charlotte, NC
Chapel Hill, NC,
Chicago, IL
Dallas-Fort Worth, TX
Houston, TX
Indianapolis, IN
Kansas City; MO
Las Vegas; NV
New York City metro area
Oakland, CA
Oklahoma City, OK
Orlando, FL
Phoenix, AZ
Raleigh, NC
San Antonio, TX
San Diego, CA
San Francisco, CA
San Jose. CA
San Juan, Puerto Rico
Washington, D.C.
In its defense, AT&T's network is growing and the carrier will be making a rapid expansion over the course of 2012 so don't be surprised to see a few more markets added to this list by the time these devices hit the market.
Release Date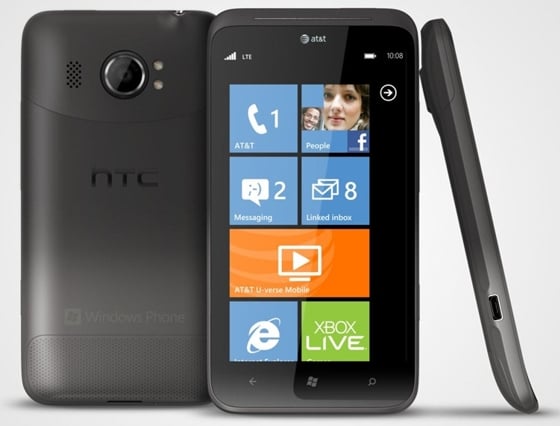 Even though AT&T has announced both the Lumia 900 and the Titan II, it hasn't given either an official release date. Luckily, sleuths have managed to track down a release date for both phones which coincidentally falls on the same day.
Which day might that be?
Right now, that's the only rumored date and it's one that makes a lot of sense as both devices will likely be launching with Microsoft's Windows Phone Tango update that is currently being tested for release.
Pricing
Like the release dates, AT&T, HTC and Nokia have remained mum on the prices that will be attached to the Lumia 900 and the Titan II.
The Nokia Lumia 900 on-contract price is rumored to be $99. Nokia has made it clear that it will be pricing its Windows Phones aggressively here in the United States and if you need evidence of that, look no further then the Lumia 710 for T-Mobile.
It has been out a month and it is already free at some retailers.
So, this $99 price is definitely realistic.
As for the Titan II, it's rumored to cost $199.99 which, if true, is an absolute shame as it really offers nothing that justifies the extra $100. Of course, this is just a rumor but don't be surprised if we see this large of a price difference go down when it's all said and done next month.
Software
As it stands, both devices are Windows Phone 7.5 Mango devices. But there is a definite chance that that could change by the time March rolls around. That's because Microsoft is prepping an update, dubbed Windows Phone Tang0, that might end up being the software that these devices run right out of the box.
What does that mean?
Not as much as the Windows Phone 8 Apollo update, but there should be some goodies on board.
Verdict
We never said there would be a clear winner here but based on rumor pricing, the Lumia 900 looks to be the better option.
Both have what appear to be great cameras. They both will run either Windows Phone Mango or Windows Phone Tango. Both have access to 4G LTE speeds. And both feature decent displays with single-core processors.
The two major differences lie with the display size.
The Titan II has a massive 4.7-inch display, which may end up being too big for some of you. The Lumia 900 boasts 4.3-inch display. Just for reference, the iPhone has a 3.5-inch display.
These are no joke.
In addition, there might be a wide difference in price. While still rumor, the Lumia 900 is apparently going to check in with a $99 on-contract price while the Titan II is rumored to have a $199.99 on-contract price.
If true, we have a feeling a lot of you will be priced out by the HTC Titan II.

This article may contain affiliate links. Click here for more details.