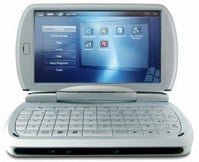 A tip from Pro-crastinator in the GottaBeMobile.com Forums lets us know that mobile phone maker HTC might be getting into the Ultra-Mobile PC market. This would certainly be an interesting development. HTC is quietly huge in mobile cellphones (producing phones branded by others) and if they could leverage some of that strength into the market with some sort of coverged mobile device, or just a UMPC, it would be big news. Here's some more reading on the subject.
And thanks to Matt Faulkner for digging up the very interesting picture.

As an Amazon Associate I earn from qualifying purchases.