HTC Two (M8) Rumor Roundup: What We Know So Far
This year HTC changed everything regarding how they looked at smartphones. Instead of flooding the market with a few top-tier options and a slew of budget devices, we received one single flagship smartphone. HTC stuck to its guns, and delivered a quality smartphone that many can comfortably call the best smartphone of 2013.
The HTC One was an awesome device. Bringing a brand new all aluminum unibody design, the first truly excellent speakers to a smartphone, something others should copy, and a brand new approach to the mobile camera. It won award after award, but what's next? That of course, if the new HTC Two, which has also been called the HTC One Two, and is currently a device being developed under the codename HTC M8. We know plenty already, but read on for all the reports and rumors roundup to help you understand what's next for the ailing company.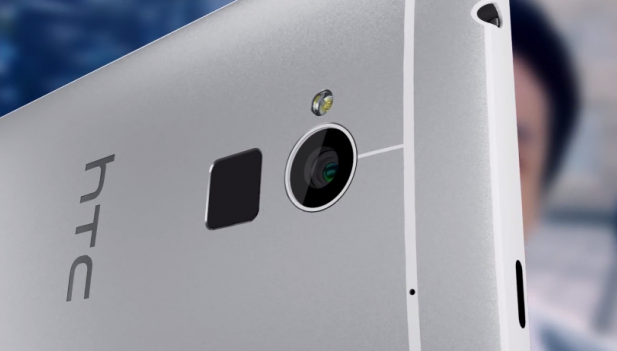 The company looks to build on the legacy that is the flagship HTC One by delivering a similar product all around, which was excellent, but improving and upgrading key areas. The HTC One was an evolution for the smartphone manufacturer, and they look to continue that new direction, not change it again. The formula worked and now they need to continue to improve it, and polish everything off. From the hardware to the custom HTC Sense UI software.
Just like the original iPhone and even the first Samsung Galaxy S smartphone, the One is the new face of HTC, and the HTC Two will build on that momentum and hopefully bring the smartphone company back to dominance. While the successor to the ONE hasn't been officially confirmed, we've gathered so many reports and leaks over the past month or two, that the picture is quite clear.
Specs & Design
The hardware and design of the HTC One was exceptional. Answering the call many Samsung owners have been hoping for, by giving us a unibody aluminum frame in a perfectly sized package, rather than cheap plastics. We won't debate which is better, but we all can agree on which feels better, and gives you that feeling of a premium device. The HTC One clearly wins that battle.
Read: HTC One Two Specs Confirmed as Rumors Swirl
The upcoming HTC Two is set to look nearly identical to the original One, if rumors are to be believed, only they'll add a few key tweaks and changes for the better, and to keep up with the fast moving tech advances. The display will increase from 4.7-inch to 5, which will compete with the Galaxy S4 and 5, and potentially a new iPhone 6. The resolution would be perfectly acceptable at a beautiful 1920 x 1200, but we could even see HTC stretch into the 2k category.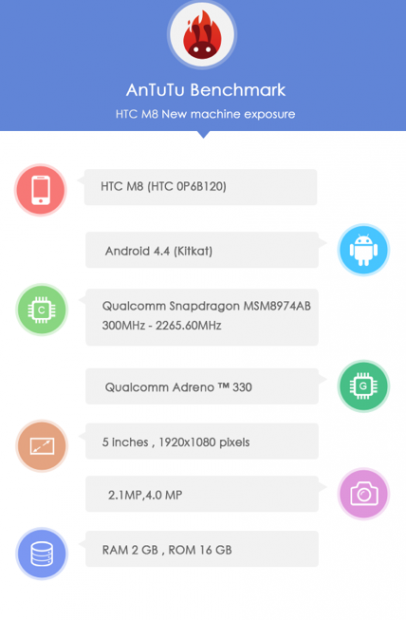 Recent benchmark results have reportedly confirmed the details, although considered still in the testing phases, the final product could be somewhat different. Not to mention countless new reports have changed the tone to include better specs than what we see above. That being said, it's reported the new HTC Two (M8) will come with Android 4.4.2 KitKat, and a brand new Sense UI 6.0 on board. The processor will be improved to a 2.3 GHz Snapdragon 800, like the Galaxy Note 3, and come with 2GB of RAM.
However, new reports suggest the Snapdragon 805. Offering a 2.5 GHz quad-core and 3GB of RAM, as well as the same 16GB of storage, and an improved 10 megapixel "UltraPixel" camera, instead of the 4 MP option in the HTC One.
The HTC One and One Max have one of the best camera experiencing around, and HTC looks to focus on that, the display, and improving the awesome front facing speakers moving forward. Although Beats Audio integration will be gone, and no one will miss it. Hopefully the 16GB of storage downgrade from 32 is because we'll have expandable storage, and the larger display should give more room for a larger 3,300 mAh battery.
Then, there's one more major addition, and that is a fingerprint scanner. The image above is the first leak of the HTC Two, showing a similar albeit bigger frame, and a new cutout for the fingerprint sensor on back, above the camera. This seems too high for most users, and likely this is only a prototype. We don't believe this to be the final design. Following Apple, we're hoping the HTC logo on the front gets a fingerprint sensor, just like this awesome concept (read: not real) video shown below.
Being an early look at what fans "hope" the HTC Two will be, it still gives us a great idea of what to expect, considering they've incorporated many of the rumors and confirmed specs we've heard thus far.
Software
The HTC One ushered in a new era for the Android OS on HTC smartphones. Finally giving HTC Sense UI the overhaul it truly needed. While the custom interface skin is still rather intrusive, it's extremely smooth, fast, stable, and actually benefits the user. Rather than just making Android look different. HTC Blinkfeed is one of the most powerful news aggregators around, similar to Flipboard, and the camera features and HTC Zoe highlight videos were truly exceptional.
The HTC Two is expected to arrive with Android 4.4.2 KitKat on board, have all the fullscreen and enhanced features included, but also benefit from another slightly redesigned and overhauled HTC Sense UI 6.0 to keep things pretty. HTC's been tight-lipped on what to expect with the new Sense (nuisance) but surely they have a lot planned to compete with Apple and Samsung.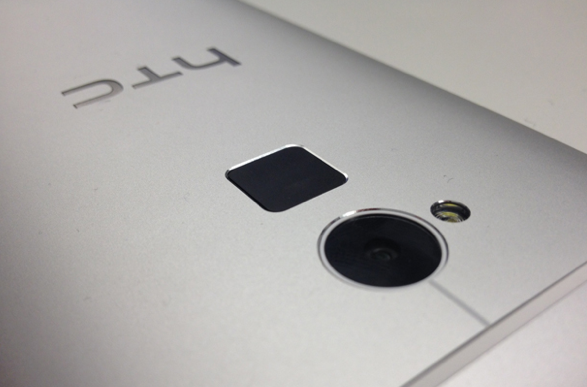 One major part of the software will have to do with that new fingerprint sensor too. Of course, like Apple, it will bring a certain level of security to the new smartphone, but HTC also wants it to have many functions. The One Max can make each finger open a certain app, like shortcuts. Essentially using your ring finger to unlock the phone right into the dialer, for example, which is powerful and extremely useful.
We don't know exactly what to expect from HTC, but the new Sense UI 6.0 will be more than just about looks.
Release Date
What is essential for a successful launch is timing. Well, at least when talking about HTC. We know Samsung and Apple will sell millions no matter when they release a new flagship, but with HTC still fighting for our hands and pockets timing is and will be everything. As a result, HTC has one huge advantage going for them, that hopefully they'll deliver on, and that is the release date.
The release date was rumored and then confirmed to be in early February. Not just an announcement, but a release date. Meaning we could see the HTC Two in stores and on carrier shelves by the end of February for US carriers. This was backed up by a UK judge with HTC in the courtroom, even though things are acceptable to changes. If anything, we'll see a February announcement and most US carriers will rush to launch in late February or the first week of March.
So why is this important? It will beat Samsung to market with the Galaxy S5. Rumors state Samsung is also aiming to release the new Galaxy S5 quicker than last year, as most Galaxy S launches have came in late April or May, and they might need to speed up the launch in order to compete with HTC. If the HTC Two launches with stunning specs and some new features we've never seen, before the Galaxy S5, HTC will have a huge advantage heading into 2014, and they'll need it.
Read: Galaxy S5 Camera Set to Take Center Stage
With Samsung, HTC, and LG all fighting for the top spot on Android we're looking forward to an excellent 2014 full of impressive Android smartphones.
Carriers
Following Apple and then Samsung's lead, HTC delivered the same smartphone to all carriers in the US this year. Something they haven't done in the past. Releasing a different device for each carrier is tough, costs tons of money, and the upkeep and software maintenance has been draining the bank. The HTC One launched on almost all US carriers, eventually even Verizon, and the new HTC Two will do the same.
According to the almost always accurate @evleaks, the HTC Two (M8) will be available on all major US carriers. Starting with AT&T and then Verizon, followed by T-Mobile, Sprint and eventually regional carriers. Maybe this time Verizon won't be a few months late, but we'll have to wait and see. If it isn't an iPhone or a DROID, they don't play as nice.
At this point the final details are still quite limited, but given what we've heard and know so far HTC is poised to have an excellent Q1 2014 full of the HTC Two at Mobile World Congress 2014 in Barcelona, Spain.
Naming
Currently most reports are calling this new phone the HTC One 2, or HTC One Two, but we honestly don't see such a ridiculous name being released. Then again, there is such as thing as the Motorola XYBOARD, so anything is possible. HTC M8 is the codename, and most likely early next year the company will release the stunning HTC Two for the masses. That's our guess at least.
At the moment, almost all of the above details are based on speculation, rumors, and a few verified leaks. It's highly possible that much of this will change by the time the M8 launches, and we'll keep you up to date with any changes as they happen. It will be interesting to see how the HTC M8 matches up to the Galaxy S5, and surely we'll be taking a look at both.

As an Amazon Associate I earn from qualifying purchases.