HTC Vigor Rumor Roundup: Features, Release Date, Software
The smoke surrounding the iPhone 4S has dissipated. Samsung has finally released a teaser video for the upcoming Nexus Prime, which it will be announced on October 11th and will more than likely be the first phone with Android Ice Cream Sandwich. And while we still have a couple of days before CTIA San Diego and the Prime, I know for a fact that many of you out there will be asking yourself this question on October 12th:
"What's next?"
Luckily, there seems to be a fairly clear cut answer to that question, and the answer is the HTC Vigor.
If there was an Android phone that could give the Nexus Prime a run for its money as top dog, the HTC Vigor is it. If what we've heard about it is true, the Vigor aims to be the 4G LTE beast that the HTC ThunderBolt should have been. And if the Nexus Prime for some reason doesn't have a 4G LTE option?
Well, then the HTC Vigor will most certainly be the phone that takes the crown from the Motorola Droid Bionic, the ruler of the Droids.
Why?
Well, let's break it down.
Announcement
Unfortunately, the HTC Vigor doesn't have any sort of rumored announcement date at this time. Yes, HTC has an event taking place tomorrow, but it's likely going to be the launch pad for a device called the HTC Sensation XL and another way for HTC to hype up Beats Audio. Would it be shocking to see HTC announce the HTC Vigor at the event? In a word, yes.
So don't get your hopes up.
However, the Vigor has been rumored to be launching in October, which means that if an announcement doesn't happen tomorrow it will likely happen in the next couple of weeks.
After all, the Nexus Prime both needs and deserves center stage. It's the first phone coming out with Android Ice Cream Sandwich.
Carrier(s)
The HTC Vigor, whether you like it or not, is destined for Verizon and its tiered data plans. Luckily, it won't just be a 3G device. That's right, the HTC Vigor is all but confirmed to be a Verizon 4G LTE smartphone.
We've seen it pass through the FCC with an LTE radio. We've seen it leak out in photos that confirm its 4G LTE capabilities. And we've even seen it show up on Verizon's website as the HTC Vigor.
Whether or not that's its real name is up for debate though.
Hardware
The hardware is the bread and butter of the HTC Vigor. Until recently, we had been a little unsure of the device's makeup. The stuff that we had heard, though, was exciting. Luckily, those specs and more were confirmed by a series of images that leaked out showing off what the Vigor is going to have on board.
Besides a fantastic looking form factor, we also have a 1.5GHz dual-core processor, a 4.3-inch HD display, 8MP rear camera, 2MP front facing camera, 1GB of RAM and 4G LTE.
Again, all of that is all but confirmed by Verizon and we think it's safe to assume that this will be what is on board the Vigor when it finally gets official.
That processor blows the Droid Bionic's out of the water. So does the display. So does the front-facing camera.
Yes, folks, the Vigor is a beast.
Pricing
Much like the phone's name and release date, the pricing of the HTC Vigor at this time remains a complete mystery. However, we can make an educated guess can't we? Seeing as though this a Verizon bound device with 4G LTE, I fully expect Big Red to try and charge $300 for it at launch. A mistake? Absolutely. But then again, whoever is running the 4G LTE show at Verizon has absolutely no clue how to connect with the market.
That being said, it will likely be around $250 or so at retailers.
Until it starts dropping like the Droid Bionic did.
Let's hope Verizon finally wakes up and decides to do something different with the HTC Vigor. They have to, right? Especially with the iPhone 3GS going free at AT&T and the pricing of iPhone 4 and iPhone 4S being as competitive as it is.
Release Date
The rumors point to two possible release dates for the HTC Vigor. The first, October 13th. That date came from a document that proclaimed the HTC Vigor to be the HTC Droid Incredible HD. It's now October 5th and there hasn't been much else swirling around about this date which isn't reassuring, especially since this is a Verizon smartphone we are talking about here.
Normally, there is an avalanche of evidence that leaks out prior to launch day and we just have not seen that from the Vigor. That makes me skeptical about the 13th, unless it's announced tomorrow.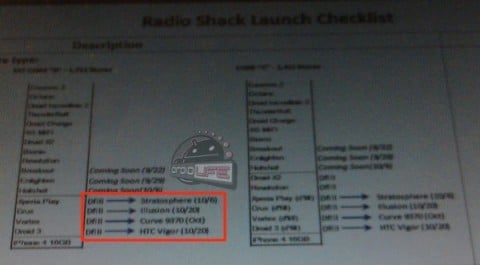 The second date is October 20th. A little more credible in my opinion but still flimsy. The evidence came from an internal Radio Shack document. Sort of credible. Plans for smartphones change often and I'd feel much more comfortable if this information was coming from Verizon or HTC.
Nexus Prime is rumored to be coming out on November 3rd and if I had to guess, I'd say that the HTC Vigor won't be announced until late October, maybe later so as not to interfere with the Nexus Prime's launch.
It's also curious that we didn't see it listed on the latest Verizon release date leak.
Software
Sadly, leaks indicate that the HTC Vigor will not have Android Ice Cream Sandwich at launch. A travesty to be sure but it was to be expected with the Nexus Prime launching so early in the year.
Instead, it appears that the Vigor will have Android 2.3.4 or Android 2.3.5 Gingerbread on board at launch and will also have the new HTC Sense 3.5 over the top of it as well. Those who love UIs and those who love HTC Sense in particular will be excited. Those who want the vanilla experience of Android will be more impressed with the Nexus Prime.
In its defense, HTC Sense 3.5 is looking like a pretty awesome piece of software.