Windows Phone 8X by HTC Review (HTC 8X)
Having been a long-time Microsoft partner in the Windows Mobile era, HTC is returning to the roots that made it big by once again being a major Windows Phone partner with the release of the Windows Phone 8X by HTC smartphone, otherwise referred to as the HTC 8X. The device catapults Windows Phone into a level playing field with the big boys with specs that are competitive with iOS and Android, including high resolution HD display, multi-core processors, and an elegant design. And given that Windows Phone 8 is the second major software revision of Microsoft's mobile platform, the OS has had some time to mature and come into its own. Does the 8X deliver, and is this a good alternative to iOS and Android out there? Read on to find out in our review of the HTC 8X.
Pros

Beautiful design and solid construction
4G LTE, multi-core CPUs competitive with rival high-end smartphones, HSPA+ on T-Mobile.
Great battery life
Growing app catalog thanks to shared kernel with Windows 8, RT
Elegant UI with tiles and hubs make the 8X consistent with Windows 8 and Microsoft Surface
Xbox Music allows for subscription streaming and a la carte downloads

Cons

Non-expandable storage, must rely on cloud
Only 8 GB, 16 GB capacities; no 32 GB option
Non-removable battery
Camera performance is mediocre for flagship phone
No 'smart search' features to compete with Google Now
No voice-guided GPS navigation
Purchased TV shows, movies cannot be downloaded directly on phone; must be synchronized via PC
Limited voice commands, search capabilities; not as 'smart' as Siri or Google Now.
HTC 8X | $199 | AT&T, T-Mobile, Verizon

HTC 8X Review Guide

Related News & Info. 
HTC 8X Video Review
We will update this section with our video review of the HTC 8X later. For now, enjoy the written review and be sure to check with GottaBeMobile.com for the video review this week.
HTC 8X Design
The HTC 8X borrows its straight lines and subtly rounded corners from the minimalistic Metro UI on the phone. In fact, according to Microsoft and HTC designers, the 8X is inspired by Windows Phone's Live Tiles. The phone will come in a variety of bright colors as well as black, and there are theming options inside the OS to give the Live Tiles a matching color to the hardware.
On the front, there is a large piece of glass that sits on top the unibody plastic body and curves slightly at the edges to meet the body, giving it a nice finish. Unlike the Nokia Lumia 800 where the screen curves out, the screen here is flat and the edges slope down a little to meet with the unibody frame. A large 4.3-inch 720p HD display dominates the front of the device and to the top you have an ultra-wide angle lens for the front-facing camera.
A nice touch is that the speaker grill sits in an island of glass, similar to Apple's iPhone design. And the grill's color matches the paint color of the phone. Sitting in the grill, but to the right, is an LED notification light.
On the bottom, you have capacitive touch Windows Phone navigation keys for back, home, and search.
On the back, you have a flat center back and edges that taper making it nice to hold. The design is similar to what HTC employed on the HTC Vivid, which was available on AT&T's 4G LTE network.
The back is coated in a soft-touch material and the unibody construction means that you do not have access to the battery or expandable storage, similar to the One X.
An 8-megapixel camera with LED flash sits on the top and you have the rear loud speakers towards the bottom.
On the upper left spine, you have a micro SIM card tray, which is accessible via a removal tool found in the box.
On the top edge, you have a button for power and a headphone jack.
On the left spine, you have the volume rocker at the top and at the bottom you have a dual-stage camera shutter button.
On the bottom center, you have a port for a micro USB connection, though it seems like the connector appears to be in the reverse direction of many other devices.
Overall, the clean lines and beautiful soft-touch color of the HTC 8X make for a stunning design that's simple and elegant, and the subtle tapering edges creates an ergonomic feel.
Display
HTC has been known for its brilliant displays, and the 8X's screen is no exception. With a 4.3-inch screen, the 8X seems to be bucking trends for bigger and larger screens, especially when the device is compared next to the Titan and Titan II that preceded it. The more modest screen size makes sense too, given that you cannot instantly download videos through Xbox on your phone–you'll have to sync or stream through services like Netflix for instant gratification–and there is a more limited number of e-book apps for the platform. Still, there may be some gamers who may yearn for larger phones as Android is pushing towards the 5-inch space.
The Super LCD display with 720p HD resolution displays colors beautifully in images and text and offers a fairly wide viewing angle.
The screen is definitely one of the top displays we've seen. Though it's short of the the quality of the One X's display on AT&T's 4G LTE network, it's still miles ahead of many other phones. Viewing angle on the 8X is not quite as good as that on the One X, but it still offers a pretty wide viewing angle. Still, the screen is beautiful and you'll be pleasantly surprised by how rich the bold Live Tile colors pop on the display. Even the smallest of text is rendered crisply thanks to the high pixel count.
HTC uses Super LCD 2.0 display technology for the screen so you won't have the over-saturated colors that are found on Super AMOLED screens like those on Samsung's phones. The downside is that blacks are deep and dark, though not as dark as can be on an OLED screen.
Dual-Core Processor & LTE Performance
Powered by a dual-core Snapdragon S4 processor along with a 4G LTE radio, the model that we're testing is for AT&T's network in the U.S. Windows Phone 8 is the first time that the platform is allowing multi-core processors and display resolutions higher than the WVGA standard that Windows Phone 7.x was limited too, which makes the HTC 8X competitive against some of the latest Android devices. In the past, Microsoft had played up the fluidity of its OS, saying that it's not the number of cores that dictate performance, which is fine but the average consumer will go for the 'more is better' mantra and end up choosing rival products.
At the end of the day, a dual-core CPU alongside LTE support makes the HTC 8X a powerful device. Though it's curious to see Microsoft choosing a dual-core processor design to standardize on for high-end devices–like the 8X and the rival Lumia 920 from Nokia–in an era where Android phones are pushing for quad-core performance. Regardless, the 8X is a zippy device and there wasn't any discernible stutter.
What I did notice is that some apps still lag when you first open them, and that was a problem we had observed with the Lumia 800 and 900 in the past. This is due to the fact that when you open an app, background information gets updated before the app is available to the end-user to use. The issue isn't as bad as it was before and the delay is ever so slight. Many of the native apps launch quickly, but a few third-party apps still stutter for a bit. However, thanks to the low-latency performance and quick speeds of 4G LTE on AT&T's network, the delays aren't as bad as it used to be and background information is refreshed rather quickly.
Webpages loaded quickly and streaming audio was fine. At the time of this writing, third-party Pandora music app isn't yet available for Windows Phone 8, but is promised to be coming.
The one thing that I wish my 8X came with is more storage. At this time, users can choose between 8 GB or 16 GB of storage, though what's available to end-users is much less than this amount as the operating system takes up some space. Microsoft says that with 7 GB of free cloud storage on SkyDrive and streaming capabilities of Xbox Music, users shouldn't have too much trouble. Where you'll encounter problems is if you pre-load movies or TV shows by synchronizing with your PC as videos do take up a bit of storage.
SkyDrive can automatically upload images captured with your 8X camera so you can view them on a Windows 8 system without having to manually synchronize your picture. And unlike iOS' Photostream where images are temporarily stored for 30 days, SkyDrive's upload is permanent until you delete it or manage it some other way.
Battery Life
Battery life for Windows Phone 8 is really good and I was impressed to be able to use the phone moderately over LTE and not have to charge the phone for a day and a half. The phone recharged relatively quickly.
There isn't much to write about battery life–it's good and the phone works as it should. I did have an incident regarding the 8X where I left the device to charge overnight on a nightstand and woke up to find the phone scorching hot. I unplugged the device and turned it completely off for fifteen minutes, and all was fine. The overheating never appeared again since then.
Call Quality and Audio
Call quality was loud and good, both through the earpiece speaker and the loud speaker. The loud speaker is plenty loud when cranked up and Beats Audio integration sounds good when paired with headphones of your choice.
Cameras
HTC and Microsoft are promoting the HTC 8X's cameras, especially the ultra-wide angle front-facing camera. On the front, that means that for video calls, especially when paired with Skype, you'll be able to squeeze more faces into the conversation and this opens up group chats to family and friends.
On the rear, you have an 8-megapixel camera. And while HTC has been working on improving its imaging chops with devices like the One X for AT&T, the HTC 8X's camera falls short when compared to other flagship devices. In low light environments, pictures are noticeably dimmer and more grainy than when compared to the iPhone 5's camera or the Samsung Galaxy S III's shooter–we'll have to wait to compare performance with the competing Nokia Lumia 920 that also runs Windows Phone 8.
Also, when shooting at a bright object in the dark, there's a lot of flaring with the lens, and we saw that when we shot some street lights at dusk in downtown, an issue that wasn't present on the iPhone 5.
In daytime, pictures captured under bright light were great. The camera's interface is simple and uncluttered, but the simplification also means that some features get omitted as well, such as filters and scene modes that are present on the One X and the Galaxy S III and there is no panoramic capture mode on the 8X.
That said, HTC bundled an app called Photo Enhancer that adds some filters post-processing. The app gives users a nice alternative to the popular Instagram app, which isn't currently available for this platform.
In terms of photo lenses, like the Hubs on Windows Phone, Microsoft allows third-party apps to tap into the Camera as a 'Hub,' meaning that apps like CNN can insert their CNN iReport app inside the the camera app so users don't need to launch the citizen-journalist feature from inside the CNN app. Over time, more apps will tap into the Lenses feature inside the camera, but the feature is limited currently to a few apps.
My big complaint with the camera deals with touch to focus. While Windows Phone has touch to focus where you can tap anywhere on the screen to set your focus, similar to iOS and Android, the platform handles this slightly differently. When you touch to focus, the camera will automatically attempt to focus and then automatically capture the image–on the iPhone 5, the process is done in two steps and the user will have to manually activate the shutter to take the picture. This means that whether or not the image is actually in focus on the 8X, the camera will automatically capture it.
This is fine in most situations, but for people who like to take macro photography of flowers or small objects, you don't know if you're too close to the subject and if the camera can actually focus at that distance. Regardless of the focus, an image would still be captured.
All in all, the camera could be better for an important flagship device–low light performance could be improved, the lens could be sharpened to eliminate flares, and more features could be inserted into the camera app, such as filters and panoramic image capture to stay competitive with the recently unveiled Nexus 4, which has a 360-degree photo capture app.
Additionally, the camera can also record 1080p HD videos at 30 frames per second, similar to most high-end smartphones.
Sample Images.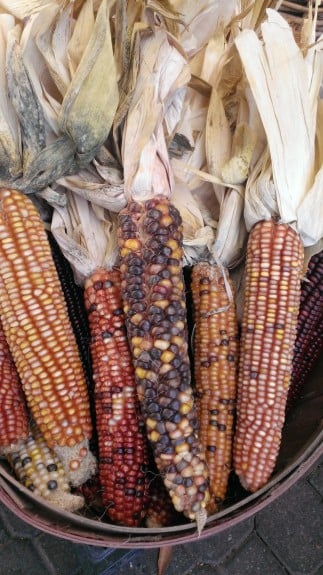 Software and Apps
Windows Phone 8 is more of a slight evolution of the Windows Phone platform, with Microsoft refining subtle things on the inside. On the outside, the big noticeable difference between this and previous iterations of the platform is that the homescreen can support more Live Tiles at a glance due to the fact that users can now shrink some Live Tiles to fit more in. The tiles have also gained some badges for notifications, with the number of alerts prominently displayed on the tile where you have notifications awaiting, such as the E-Mail and Facebook tiles.
Live Tiles & Live Lock Screen. Speaking of Live Tiles, Windows Phone 8 now also supports a Live Lock Screen, giving users the ability to cycle through their lockscreen wallpaper with Facebook images and display Facebook calendars and notifications directly on the home screen. It's a nice touch, but notifications still feel incomplete without a complete overview of all notifications in a single screen, similar to iOS' Notification Center or the notification pull-down on Android.
Curiously, though, for being called Live Tiles, few of them actually update and animate in the background. You'll still see upcoming appointments in the Calendar tile, as you would a widget on Android, and you'll still see the number of outstanding notifications requiring your attention, but it won't for example, cycle you through the subject lines of unread emails or scroll through unread text messages. As to the animated tiles, they move and change for a little glitz, but don't add value, such as the animated Games hub or the peek-a-boo Me hub.
Tiles & Hubs. Apps are organized accordingly on the home screen in their own Tiles, which are similar to shortcut icons. You can pin apps to the homescreen and resize them now. Certain content go into their own Hub, which is like a collection. For instance, in the Photos hub, you'll not only have access to your camera roll, but you'll also have access to other photo editing apps that you've downloaded from Windows Phone Marketplace–the Hubs know to group apps together to make it easy based on categories. You'll also be able to view photos from Twitter and Facebook as well inside this hub. Likewise, for the Office hub, you'll have access to mobile versions of Word, Excel, and Powerpoint, as well as the cloud like SkyDrive.
Controls. Microsoft had announced two sets of controls for Windows Phone 8–Data Sense, for control of how much data you use, and Kid's Corner, for parental control. The first will debut first on Verizon Wireless and will likely need to interact with carrier billing systems for compatibility so it's unclear which carriers will fully support the feature, but it's a nice idea as it allows users to see which apps are using how much data.
The second set of controls is for parents and is known as Kid's Corner. Essentially, when enabled, you can give your phone to your kids and give them a more restricted access of the phone to approved games and apps. This way, you know they won't be accidentally texting or calling people, or racking up on data charges. Microsoft's own Joe Belfiore showed off Kid's Corner on stage at the Windows Phone 8 launch event with his own three kids.
Kid's Corner. When enabled, Kid's Corner has its own lock screen. Swipe up from your home lockscreen and enter your PIN to unlock the full capabilities of your phone, or swipe left and enter the Kid's Corner lockscreen.
With Kid's Corner enabled, you can swipe up to unlock the phone. You give access to select videos, games, apps, and content that kids will have access to. It's essentially like accessing certain features of your phone without requiring a PIN code.
Entertainment. The Music and Videos hub gives you access to all your downloaded video or music apps (like Pandora, iHeartRadio, and YouTube), as well as music and content you've downloaded from Xbox Music Store. The unfortunate thing about this is that you can't download videos–such as movies or TV shows–directly from your device, even if it's connected to WiFi. You'll have to connect to your computer to transfer purchased content over, which is inconvenient if you find yourself stuck at an airport without a laptop and want instant gratification in watching a flick.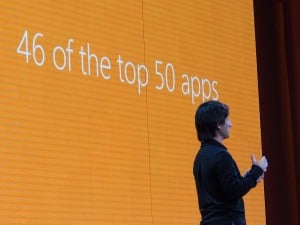 Third-Party Apps. As far as third-party apps go, Microsoft is promising that you'll find the top 46 of 50 apps available for other platforms coming to Windows Phone 8. While Windows Phone 8's app library isn't as robust as Android or iOS, the platform still delivers on popular favorites such as Kayak, Yelp, Kindle, Netflix, Hulu Plus, Groupon, Living Social, and Open Table. More apps are coming, including a new version of Pandora. Games such as Fruit Ninja, Angry Birds, and more are available as well and these are grouped into the Xbox Games hub.
Skype. Microsoft is promising a new version of Skype that brings the push experience to a new frontier. According to the company, Skype won't be running in the background and will not use up battery, but if you have a new video chat request or Skype call, it will get pushed still to your mobile. The Skype integration will help Windows Phone compete against FaceTime on iOS and Google Hangout with Google Plus on Android.
Social. The social experience, though improved, remains confusing on Windows Phone 8. By default, Windows Phone 8 aggregates feeds from Facebook, Twitter, and LinkedIn into the 'Me' hub, so you won't need third-party apps. You can view messages and post new messages, but if you want to look up additional information, view more photos from a particular user's photo album, or get more out of your experience, you'll still need to download the corresponding apps. So now when you post to your Facebook wall, for example, you'll have to decide if you want to go through the Facebook app or through the Me hub. Notifications for these social apps have improved and are a welcomed addition as you see how many outstanding notifications you have directly on the Live Tile.
Web Compression. Internet Explorer on Windows Phone 8 promises to be leaner and more efficient and Microsoft is promising that you'll get up to 45 percent more web browsing on the same data plan thanks to smart compression technology. It's not unlike what Nokia has been doing with Symbian's web browser or what RIM has implemented with its BlackBerry platform.
Room. A nice way to share with a few close people–whether it's family, friends or co-workers–is through Rooms. Here, Microsoft allows users to share calendars, notes, pictures, and files so that you can have a personal space to interact with contacts. It's like Dropbox meets Twitter meets shared Photostream meets Facebook in a simple interface that's consistent with the Metro UI. Share your notes, shopping lists, and to-do items easily so if your husband is out grocery shopping, he'll know what to pick up and if you're doing laundry, you'll also remember to pick up stuff from the dry cleaners.
By default, Microsoft sets up a Family Room for users and you can add additional rooms and manage users so you can share with your groups. It's like group SMS, but expanded with more capabilities.
As I am the only one in my circle to have a Windows Phone 8 device, I was not able to test out the capabilities of Rooms at this time.
Compatibility Issues. Microsoft is trying to expand its app catalogue, both for Windows Phone 8 and Windows 8 by using the same code kernel between both platforms. This means that developers who create apps for Windows 8 can easily port the same app to Windows Phone 8 without having to do much work in re-writing apps. That will definitely help both platforms catch up to Apple and Google, with the former boasting over 775,000 apps in its App Store while the latter is now touting 700,000 apps.
There is also a downside to this. Apps that were written for Windows Phone 7 may need to be re-compiled or fixed before they are compatible with Windows Phone 8. For example, my favorite paid turn-by-turn GPS app, Navigon, which was available for Windows Phone 7, is not yet compatible with Windows Phone 8 at the time of this writing, meaning I don't have turn by turn directions on the HTC 8X as the platform still doesn't support voice-guided navigation instructions, lagging behind iOS' Maps app and Google Maps with Navigation on Android. Users of Nokia's device will have access to that company's free Nokia Drive app.
What's Still Missing
In the several days that I've been using the HTC 8X as my main phone, I've been pleasantly surprised by how fluid and easy it is to get accustomed to. Microsoft is promoting the OS as more intelligent and a quicker way to access your information, primarily through UI elements as Live Tiles, People Hub, and other Hubs. However, in use, for my own needs, it's not necessarily more intelligent as it is a different method of accessing and grouping information. Sure, having two home screens (one for Tiles and Hubs and the other for the app drawer) is definitely easier to know where you're at in the UI than Android's multi-homescreen approach, but there's still a lot that Microsoft could improve on to catch up with rival platforms.
Search. Bing search is excellent, but with Google expanding its voice search to include intelligent cards and information based on location, search history and user patterns through its flagship Google Now app on Android 4.1 or later, Microsoft needs to make its voice search app more intelligent to keep up in the search space.
Reminders. Sure, you can set a cloud-based voice reminder and have it synchronized to Windows 8 devices as well automatically, but iOS has been doing that for some time now with its ecosystem. Microsoft will need to add location and other smart features to reminder other than a time-based reminder function to stay competitive.
Voice-Guided Turn-by-Turn Navigation. Even Apple, which did not have a mapping history, is venturing into this space. With Microsoft and Nokia's prominent partnership, it's really a shame that Microsoft, with its history behind Bing Maps, isn't taking the mapping experience further. For now, drivers will have to read the instructions for navigation as there is no voice guidance at this time. Partner Nokia has an app called Nokia Drive, but that's limited only to Nokia Lumia Windows Phone devices at this time. You're left with third-party options in the paid Marketplace when they become available for Windows Phone 8. Navigon is already promising an update that will make its app compatible with the new OS.
Centralized Notifications. With the Windows Phone 8, you'll have pop-up notifications and banner notifications at the top whenever you get a new push notification, but you won't have a centralized notification system where you can quickly glance at all your alerts in the same place. What the platform is missing is something similar to the pull down Notification Center on iOS and the Android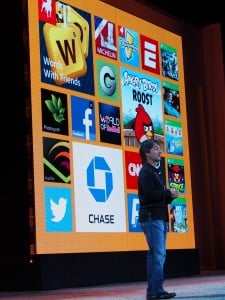 Third-Party Apps. I am throwing this one in here because it's always been a complaint in the past. Today, it's less of a complaint as Microsoft is promising the top 46 of 50 apps on any platform will be made available for Windows Phone 8 moving forward–a bold proclamation indeed and we'll still have to see how quickly that happens. Big name apps like Epicurious for recipes, Yelp for reviews, Open Table for reservations, Netflix for streaming videos, and apps like Twitter and Facebook are all already available. We'll definitely begin seeing Microsoft flex its muscles with third-party apps as Windows 8, Windows RT, and Windows Phone 8 all share the same kernel, meaning an app developed for one platform can easily be ported to work on all other Microsoft platforms, saving developers time and opening up the market for their apps.
Camera. Given HTC's imaging prowess on the One X, the company's camera implementation on the 8X is just abysmal and harkens back to cameras on early smartphones running on Windows Mobile. Come on, HTC, it's 2012! Light flares, soft focus, and mediocre low light performance shouldn't be issues on a flagship model on a rising platform.
Conclusion
For a flagship Windows Phone 8 smartphone and a hero device for that platform, the HTC 8X delivers an elegant and robust user experience. It's solidly constructed and ergonomic to hold. From a hardware perspective, HTC has done a great job creating a minimalist and modern design. It's the software still that may be the big barrier for Windows Phone adoption as the platform still trails behind popular rivals iOS and Android in some key areas, including search, voice commands, and voice-guided navigation. With the 8X, you'll have basic voice commands, but the engine isn't quite as smart as Google Now is nor will voice search be as elegant as Siri in integrating specific cards like sports scores. At this time, unlike Apple's iOS Maps and Google Maps, there is still no native voice-guided turn-by-turn directions. And while the software is more refined, it just seems that Microsoft is just catching up to rivals, but with Windows Phone 8, it's still clear that the platform still hasn't fully caught up quite just yet.

As an Amazon Associate I earn from qualifying purchases.