Huawei Now Releasing Android 4.0 Upgrade to 7-Inch MediaPad Tablets
Huawei is now making the Android 4.0 Ice Cream Sandwich available to owners of the MediaPad 7-inch tablet. According to reports, the software update is not available as an over-the-air update at this time and users must download the update first to their computers in order to upgrade the MediaPad from its Honeycomb OS. In the U.S., the MediaPad originally launched with 4G HSPA+ on T-Mobile USA's network as the T-Mobile Springboard 4G tablet by Huawei, and the Chinese manufacturer had subsequently launched the MediaPad on AT&T through more limited channels on that carrier's 4G HSPA+ network as the AT&T MediaPad.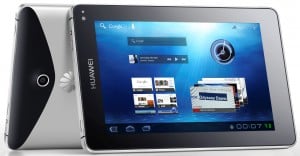 To download the update, users can visit Huawei's website.
The MediaPad became the first tablet with Android 3.2 Honeycomb when it debuted and brought Google's Honeycomb operating system, which originally was only available for slates with 10-inch screens, down to a 7-inch form factor. The tablet is well constructed with a unibody aluminum shell and has a high 1280 X 800-pixel display resolution. As a more premium offering with dual-core Snapdragon processing, 1 GB RAM, and an elegant design, the MediaPad was very affordably priced on T-Mobile USA's network and marks Huawei's transition from a low-cost budget manufacturer of device to one that is entering the premium tier. The MediaPad effectively competes with the Galaxy Tab 7.0 Plus on T-Mobile's network.
At this time, it's unclear when and if T-Mobile USA and AT&T will be rolling out the Android 4.0 Ice Cream Sandwich to their branded-MediaPad offerings.
More recently at Mobile World Congress in late February, Huawei announced that it would be expanding its MediaPad franchise to include a quad-core 10-inch tablet.

This article may contain affiliate links. Click here for more details.