Huawei isn't a well-known name in the US market so they're trying to grab attention with decent budget friendly phones like the new Huawei P8 Lite. It costs just $250 unlocked and includes dual SIM card slots and a decent set of specs for the price. Travelers who often use both a domestic and a separate international SIM card will appreciate this budget phone, since it lets them install both SIMs in one phone without swapping. It's also worth a look for people who carry two phones.
But can a budget phone satisfy users with enough quality, features and performance compared to a more expensive phone?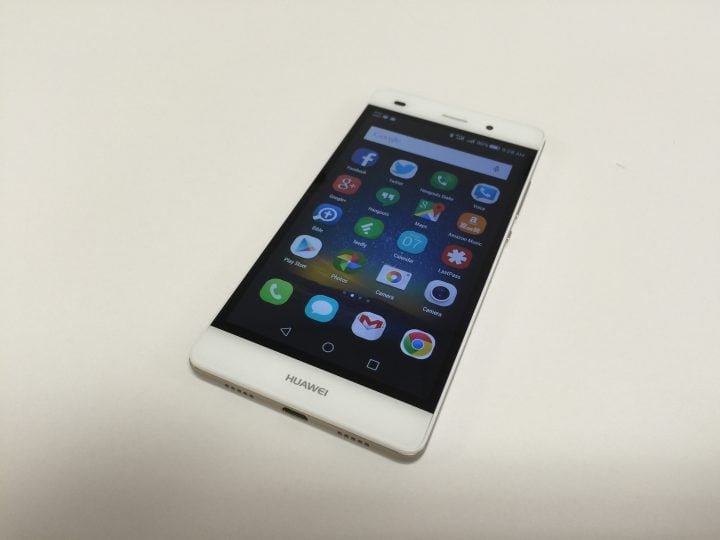 Huawei P8 Lite Review Summary
Our video review will give you a summary of the features on the Huawei P8 Lite ($249.99) dual-sim Android phone and what we liked and didn't like.
In short, the Huawei P8 Lite packs some nice features in a budget phone that's useful for travelers and people who normally carry two phones but not a lot of cash.
What we like: Huawei built this budget phone to last, gave it nice battery life and the EMUI Android launcher will help iPhone users make the switch to Android, since it looks like iOS.
What we don't like: The phone's still running Kit Kat with no Lollipop update. The 1280×720 resolution is low for a modern phone. Phone call audio makes it hard for others to understand what you're saying in loud places.
Bottom line: If a user doesn't need the latest greatest, wants to get into Android from iPhone and needs two lines in one phone, the $250 price makes the P8 Lite an attractive option. That's a pretty small group of people, though.
[ratingbox]
Huawei P8 Lite Screen and Multimedia
The screen on the Huawei P8 Lite looks bright and beautiful, but the low 1280×720 resolution might scare more discriminating users away. We wish it had a 1080p screen. The smaller 5-inch screen packs the pixels into a small screen, making the pixel density 294ppi.
At this price many average users probably won't mind the low resolution. It looks fine and displays color as well as any budget phone. Streaming video or snapshots look good on the bright colorful screen.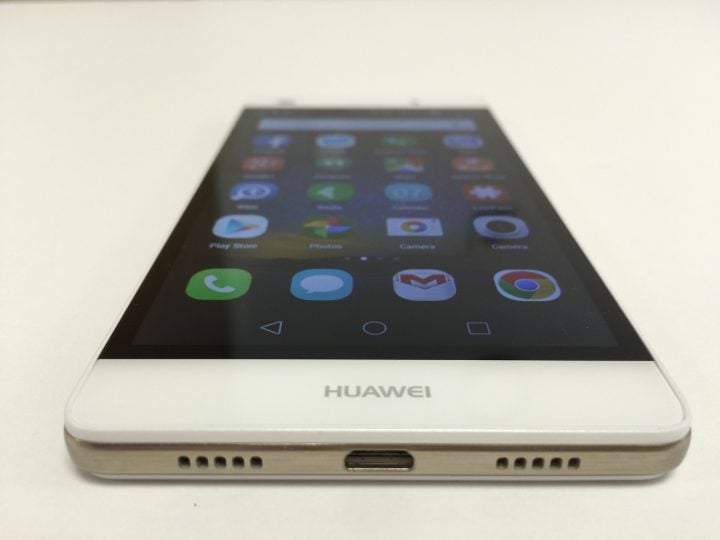 We get an accurate and responsive touch screen with a fluid user-interface. A 5-inch screen may not make the best streaming device, but if you don't mind the size of the screen it streams video well. Video display looks bright enough, except outdoor light. Audio coming out of the two speakers along the bottom edge sounds decently loud for most situations. Plug in earbuds and the audio improves dramatically.
Audio in phone calls doesn't sound good. People strained to understand me when I was in a loud environment. That's pretty bad for a phone, but those who seldom make calls may not care.
Huawei P8 Lite Hardware and Design
The first time I opened the Huawei P8 Lite the words iPhone 5 came to mind. The sharp edges and rounded corners are reminiscent of Apple's popular older models, however it's not just a design knock-off. First, the P8 Lite measures only 7.7mm thin, less than the older iPhones. It also carries a larger 5-inch screen.
We reviewed the white Huawei P8 Lite, but it also comes in black. The white front bezel feels smooth and the back cover, which doesn't come off, feels slightly textured. The faux aluminum edges give it bit of elegance from a distance, but feel plastic and cheap while holding it.
The P8 shouldn't break easily, but it's a budget phone. Don't expect a lot of cases from third-party makers. Still, head over to Amazon and you'll find plenty of $7-$12 cases to keep the phone protected.
On the top phone edge we find the headphone jack along with a hole for a mic. The left edge includes no buttons or ports.
On the right edge there are the two SIM card slots, the power button and volume rocker. One of the SIM cards fits a nano-SIM while the other holds a micro-SIM. Those who only need one SIM card can use the other slot to hold a micro-SD card with up to 128GB of space.
The power button placement takes getting used to. It seems unnatural to put it in the middle of the right side instead of near the top or along the top edge.
The Huawei P8 Lite certainly comes with budget hardware, but it's not screaming cheap. From a distance, people won't notice that you're carrying around a $250 phone. For years Samsung gave us plastic phones that feel about the same. Samsung's plastic phones cost twice to three times what Huawei charges for similar quality.
Huawei P8 Lite Camera
The camera gives us 13MP for still images and includes an f2.2 aperture rating, which means it will take decent photos even in low light. The 13MP will give relatively detailed images but only in a 4:3 ratio. Change the image resolution to 10MP in order to get a 16:9 ratio. Either way, that's usually enough pixels to crop a photo.
I tested the camera on a recent vacation and here are some samples.
The camera comes with live filters, which the user can preview before taking a shot. Tap on the tear drop icon next tot he shutter release.
Her are some sample shots using the filters.
Don't try to shoot feature films with the video camera, but the 720p video quality will give users decent home movies. Open settings to bump up to 1080p. Here's a 720p sample.
The Huawei P8 Lite camera pleasantly surprised us with above average still image quality and average video quality.
The software on the P8 Lite camera offers plenty of modes for people specialized in shooting.
The shooting modes selection screen opens via the icon on the top right of the screen. It includes the following modes:
Panorama – lets the user capture a wide panorama of a scene by moving the phone from side to side
HDR – takes multiple quick images and combines them into one photo with both dark and light parts of the scene in detail
Audio note – for adding a note to a shot that you can export as a video
Best photo – takes a series of shots and then selects the best one
All focus – shoots images and then lets the user tap to select what's in focus after taking the shot
Watermark – adds a date, time and location watermark to the photo
Settings – brings up the camera settings for things like resolution, GPS tags, and more.
Huawei P8 Lite Performance and Battery Life
The user-interface on the Huawei P8 Lite responds quickly when tapping the screen. It swipes from screen to screen and scrolls long webpages without any stalling. Flick to scroll down and it flows quickly down the page without a hiccup. It switches between apps quickly and the phone handles memory management well.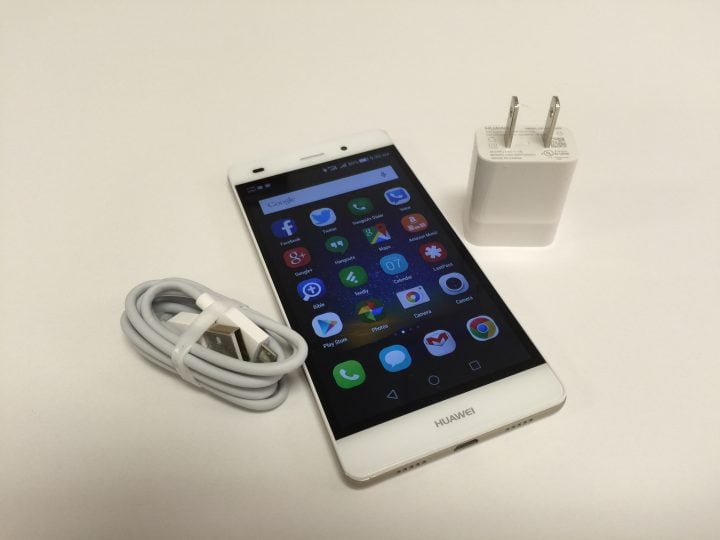 The 2200mAh battery charges within a couple of hours. It's permanent, so users can't swap out the battery. The phone lasts throughout the day with normal usage. For example, I unplugged the phone at about 8:00 a.m. one day and at 5:30 p.m. the battery indicator read 50%. Streaming a movie from my Google Play Movies library drained the battery 20% after an hour. The phone gives the user above average battery life for most uses.
Huawei P8 Lite Software
Huawei's EMUI 3.0 hides the stock Kit Kat Android experience, making it look a lot like iOS. Sadly, the phone doesn't run the latest version of EMUI or Android.
The home screen holds all the phone's app icons like iOS. People used to the iPhone user-interface will feel comfortable using EMUI. To hide apps the user must create a folder by dragging one app icon onto another. I did this to hide all of the crapware installed.
Swipe down from the top of the screen to see notifications and the settings shortcuts. You'll find buttons for Wi-Fi, Bluetooth, sound, a flashlight and more. This also holds the phone's Settings button.
Another set of shortcuts appears when the user swipes up from the bottom of the screen. They only come up while on the lock screen.
The phone runs Android 4.4.4 instead of 5.0 or later, meaning it ships with a version of Android already 2 generations behind. If Huawei doesn't update the phone before Android 6.0 ships later this year, it will be 3 generations behind.
As stated, there's a lot of crapware installed, plus all the major Google apps. I like Phone Manager, a utility that keeps the phone running at peak performance by clearing apps from memory, cleaning up temporary files to free up some space and locking unwanted built-in apps. It's useful and we get a simple clean user-interface.
Unlike most Android home screen launchers, the user can't remove apps from the home screen. That's incredibly annoying and reason enough to install another launcher, like the Google Now Launcher. You'll get a better Android experience.
Huawei P8 Lite Bottom Line
The Huawei P8 Lite appeals to a narrow group of phone customers. Travelers who need a domestic and international SIM card in one phone should take a look at the Huawei P8 Lite. If, however, they want a better quality phone with metal construction and higher res screen, then they should check out the more expensive Huawei P8 which costs three times the price.
iPhone switchers who want to try out an Android phone without spending a lot of money will want to take a look at the P8 Lite too. In fact, most recent iPhones will sell on eBay or Amazon for more than the $250 the P8 Lite costs.
Finally, Buyers who need a phone and can't take advantage of a cheaper upgrade from their GSM carrier can get a decent budget phone with good performance, a nice camera and bright screen for far less than they could get most other phones.
Don't bother with the Huawei P8 Lite if you hate plastic phones, out of date versions of Android, or low resolution screens. Also, if you use your phone as a phone, then find another one since you'll sound horrible to people talking to you. For these reasons we can't recommend the Huawei P8 Lite to very many people.

This article may contain affiliate links. Click here for more details.