Huawei's Quad-Core K3V2 Processor Tops Benchmarking Charts, Leaves Others In Its Dust
Alongside the announcement of the new Huawei Ascend D quad XL smartphone, the rising Chinese smartphone manufacturer that is gunning for Samsung and HTC also unveiled its own proprietary applications processor that will power the smartphone. Huawei is developing its own quad-core K3V2 ARM-based applications processor, similar to what Samsung had done with the Exynos chipset line, and early benchmark of the Ascend D quad XL, which makes use of K3V2, shows that the phone outperforms other phone models with competing dual-core and quad-core processors.
The Basemark ES benchmark test was used to compare Huawei's first foray into the ARM processor does admirably well.
When compared to rival NVIDIA's quad-core Tegra 3 processor, which debuted on a number of smartphones late last month at the Mobile World Congress trade show, the K3V2 shows a considerable lead. When compared to Samsung's dual-core Exynos chipset over clocked to 2 GHz speeds on the Galaxy Note smartphone, the K3V2 scores a minor edge with its quad-core performance.
Huawei's K3V2 applications processor also packs in a powerful graphics engine with 16 cores. In Nenamark 2 3D OpenGL graphics test, the K3V2 edges out Qualcomm's Snapdragon S4 by nearly 7 frames per second.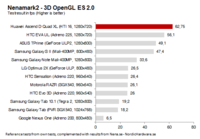 Huawei says that the phone will begin to be available starting this June. The device will feature a 4.5-inch 720p HD IPS+ display and is expected to undercut competitors in pricing despite offering stellar performance. According to the company,. the Ascend D series line, which includes a dual-core model, a standard quad-core edition, and like the Droid RAZR Maxx, the XL model that boasts a more capacious battery, will be priced anywhere between 20 to 50 percent less than competing models.
With an aggressive attention to performance, an acute eye for detail, and an affordable price, the Ascend D series and the K3V2 will definitely help Huawei propel itself into the big leagues.
Via: Phone Arena