Hudway Puts Heads Up Display on Your Windshield
Navigation Apps are a popular category for the smartphone set. Plug them in, set your destination and you're off. The addition of traffic and other roadside alert data has made including them a fact of life on smartphones. There are a variety of ways to use Navigation Apps on your drive. Automobile manufacturers are adding Bluetooth connectivity to most cars, some even as standard equipment instead of as an option. This will probably lead to a decline in the mounting bracket market eventually.
But do Navigation Apps solve all of your routing problems? Not necessarily. One such App that aims to solve a very specific need is an iOS App called Hudway. An Android version is promised to be rolling out sometime in the future.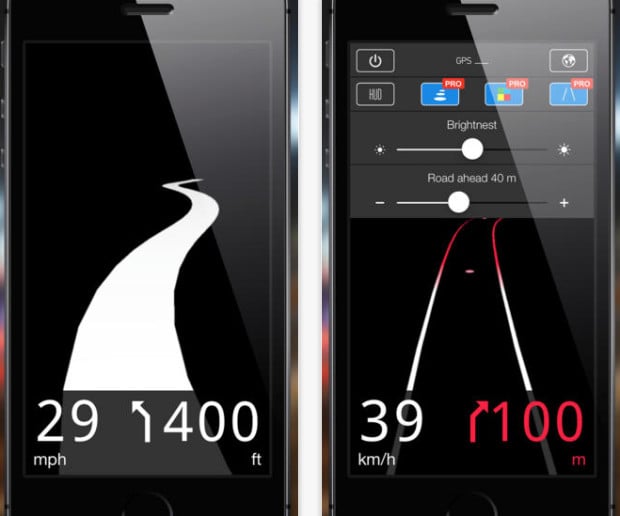 Hudway's stated single purpose is to provide you with a Heads Up Display look at the road ahead in inclement weather or hazardous driving conditions. Foggy nights or rainy days, the idea is to help you see where that next turn might be down the road. While the App can be used in a conventional mounted bracket, the attraction here is that it can also be used without any extra hardware to place a heads up display of the road ahead on your windshield. The idea is to keep you from taking your eye off of the road in risky driving conditions.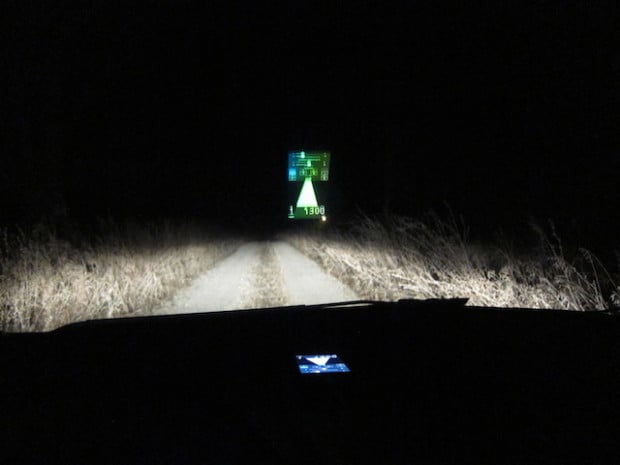 That sounds cool, and in some cases it is. But Hudway's strengths are also some of its weaknesses.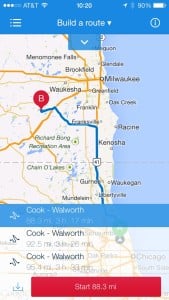 First there is the navigation factor. In order to use Hudway you need to plan your route ahead of time. Keep in mind that Hudway is not a conventional GPS system. You won't be adjusting your route on the fly. While you're connected via an Internet connection you plug in your destination and build your route. Hudway grabs map data from Google or Apple and stores the route for you. This is both a strength and weakness. As a strength this allows you to use the route data if you're offline, say heading down a road in a rural area. As a weakness, if you need to alter your route, or you get off course, Hudway will have a hard time trying to reroute you to your destination the way most GPS Apps do.
So, don't think of this as a GPS App. Think of it as a single purpose rough weather navigation App. To my way of thinking this App would be most useful if you were able to simply turn it on without a pre-planned destination and have the road ahead data available as you travel.
In the right conditions the heads up display projecting data on your windshield works better than I thought. You simply lay your iPhone on your dashboard after flipping the App into HUD mode and you'll see what's on your screen reflected on your windshield. The challenges here are that in urban locations with lots of streetlights and head and tail lights competing for your attention, it is difficult if not impossible to see the heads up display data. In my testing I found that Hudway works best in rural conditions and at night. Even on gray fog bound days it is difficult to see the heads up display on my windshield. Note that you'll also want to find some way to mount and secure your iPhone on your dash to keep it from sliding from place to place.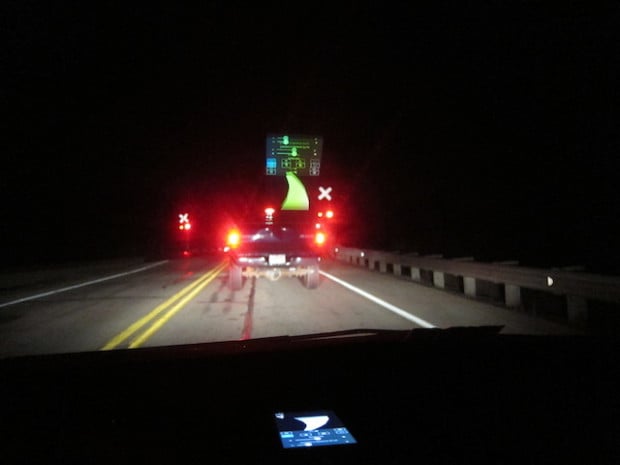 When in an optimal viewing conditions Hudway gives you an outline of the road ahead and your travel speed and distance data to the next major turn, reflected on your windshield. Again, you don't have to use the App in heads up display mode. You can mount it in a bracket and use it just like any normal navigation app, which in normal weather or day light conditions is the only way to use the App.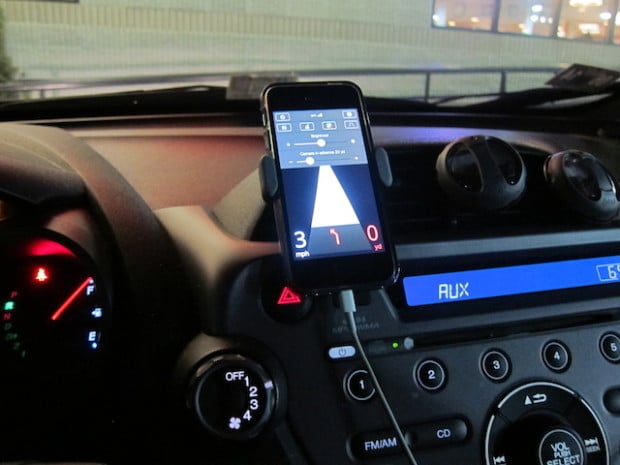 That sort of defeats the App's purpose, but if you need that kind of driving assistance it could be useful.
Hudway is free in the App Store. There are in-App purchases that allow you to get rid of ads and also bring the addition of color to the App so that the outline of a dangerous curve in the road ahead will turn red instead of staying white.
I'm posting the promotional video here for Hudway because as you can see my photography efforts were pretty miserable when trying to take pictures while testing the App.