Unbelievable Destiny 2.0 Weapons Changes Incoming
Video game developer Bungie Studios is prepping a Destiny 2.0 update that'll mean huge changes for the many weapons and armaments in the game. Though the developer is aiming to better balance gameplay with the changes, it could end up sparking a player backlash.
Bungie announced the coming Destiny 2.0 changes in a post on it's Community Blog earlier this web. All told, with Destiny 2.0, Bungie is changing a lot of what long time fans have become familiar with. The developer says that it won't unleash a few of these upgrades to satisfy victims of some exploits. Instead, its serving every Destiny 2.0 weapon change at exactly the same time. It's even lowering the base stats for some weapons. Destiny The Taken King will launch with these new weapons changes. The Taken King is the huge expansion back set to arrive in stores on September 15th.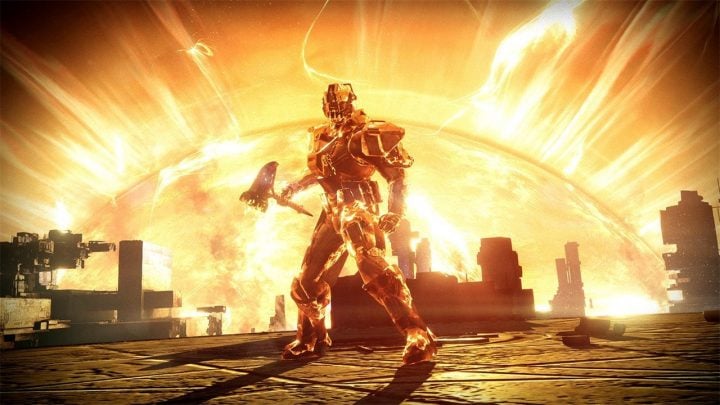 Read: Destiny The Taken King Release Date Revealed
The Auto Rifle in Destiny is getting more damage and a damage boost against enemies that aren't player controlled. To offset that, Bungie has made it so that being close to the weapon doesn't do as much damage as being a bit further away. This is in keeping with the Auto Rifle's goal as being a mid-range weapon. Bungie says it's also tweaked stability of the Auto Rifle so players will need to be a bit more skilled to take multiple shots from it.
Scout Rifles are also among the weapons getting a base increase as far as damaged is concerned. Bungie now lists the Scout Rifle as high rate of fire, but this change doesn't effect a Guardian with full health in PVP. Magazine size has been increased and its accuracy has been reduced. It's 5% more effective against non-human players.
The Pulse Rifle has been fined tune too. It now does 2.5% less base damage than it did before. When playing against another player it'll now take 2 or 3 shots to get a kill. Bungie also decreased stability with repeated shots and increased the amount of shots you can take with the weapon's standard magazine.
Bungie says that it noticed some users were able to forge long-range weapons seriously more effective in combat than what they'd intended. To fix that, Destiny 2.0 contains some pretty big changes for shotguns. When combined with high range stats, shot accuracy is reduced 30%. Bungie further reduced Precision Damage by 10% and reduced damage against non-player enemies by 10%.
The list of Destiny 2.0 weapons changes is very, very extensive. In total players can expect, Fusion Rifles, Sniper Rifles and Rocket Launchers to all be affected too. Destiny isn't necessarily holding back when it comes to tuning exotic weapons either. Hardlight is getting an increase in stability, Necrochasm is getting improved stability too. The Last Word, Thorn, Hawkmoon, Ice Breaker, Black Hammer, Lord of Wolves and Ghallarhorn are all getting tweaks.
"We reduced the base stats value of a few target stats across various weapon types," the blog goes on to say. Overall brand new weapons will have less stability starting out. Players will have the option to mod these weapons and make up for that new deficient going forward. Bungie is absolutely clear about these changes only applying to new weapons it has coming with its next major update. Bungie has lowered the stat perks for weapons already in the game too. The company says the change will force users to create a power house weapon with a meaningful trade-off, which wasn't something that players were forced to do before.
Read: Destiny The Taken King: 5 Things Buyers Need to Know
To be clear, the Destiny 2.0 changes will launch alongside The Taken King but not be dependent on it. Even users who don't purchase the expansion will see these changes.

This article may contain affiliate links. Click here for more details.