Huge Destiny Update Teased for Later This Year
Last year's huge online multiplayer first-person shooter Destiny is already in the midst of an update, but it appears that what players are getting could pale in comparison to what's coming down the road. Destiny publisher Activision just revealed that there's another update to Destiny in the works and it could be bigger than anything we've seen for the game in the past, including the House of Wolves expansion.
Activision made references to a huge expansion coming to Destiny repeatedly during its earnings call this week. Earnings calls are aimed at analysts and investors, because it's them who set forecasts and make predictions on future sales and profits.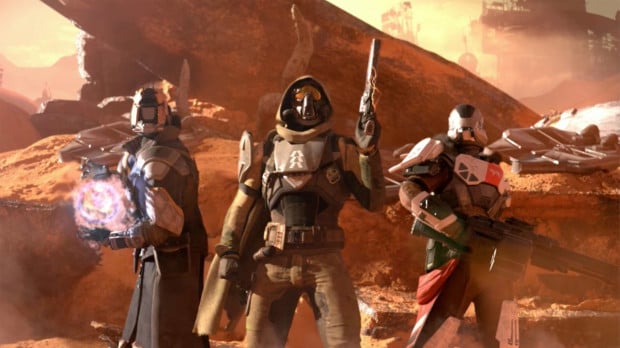 Activision executives told everyone on the earnings call that this new Destiny expansion will arrive for everyone sometime this fall, according to a report from GameInformer. The publisher didn't provide a lot of information about this new expansion besides confirming it's existence and describing it as a "major update." Some are already speculating that this Destiny update will be called "The Taken King," as it's a name that Bungie recently submitted for trademark approval.
Destiny launched last year to slightly lukewarm acclaim. In the game, players become a Guardian, one of humanity's last warriors in one of its last remaining outposts. Throughout the game they team up with their friends, going on raids to earn special gear, uncovering new mysteries about what happened to get humanity into the dire position that it's in and making new allies and enemies. Destiny is a role-playing game, but it's built specifically for video game consoles, with simpler controls and first-person shooting combat.
It's entirely possible that Bungie and Activision could release the update for all users free of charge. It's also possible that the two companies could settle on giving this surprise add-on to all Destiny Expansion Pass owners, even though the didn't know there'd be a third update when they purchased the pass.
Even before the game launched Bungie, who developed the game, revealed a Destiny Expansion Pass that got buyers two major expansion pack releases. The Dark Below launched late last year for Xbox and PlayStation gamers. Bungie is only weeks away from following up the The Dark Below with that second Destiny update, House of Wolves. These previously released updates are important because it appears Destiny players might end up paying extra for whatever new expansion is coming to Destiny this fall. Many assumed that Bungie was done creating add-on content for Destiny since the Expansion Pass only indicated that there were two updates. The Destiny Expansion Pass is still on sale for $35 through the Xbox Store and PlayStation Network.
Read: Surprise Destiny House of Wolves Add-On Teased
For now, Activision and Bungie are focusing on promoting House of Wolves, which launches on May 19th. House of Wolves adds a new social zone and non-playable characters to interact with, finally giving a players somewhere to stretch their legs beyond Tower social zone that launched with the game. Destiny players spend hours crafting their gear, which is why they weren't too happy when Destiny's first update arrived and made the gear they'd earned obsolete. A crafting update in House of Wolves makes it possible for users to update their gear as their character evolves. Besides the weapons upgrades Bungie has two new game modes planned for House of Wolves.
New and used copies of Destiny start at $34.99 at GameStop.

As an Amazon Associate I earn from qualifying purchases.