Huge iPhone 6 Deal Lands on Virgin Mobile
If you're looking for a great iPhone 6 deal on an off-contract model, Virgin Mobile is the place to look.
Virgin Mobile eliminated the iPhone completely from its inventory earlier this year, but Apple's smartphone is back on the pre-paid carrier with a deal that you probably won't be able to resist.
Customers who go with Virgin Mobile can get a 16GB iPhone 6 for just $549, which is a whole $100 off the normal price tag. Furthermore, the 16GB iPhone 6 Plus is down to $649, which is the same normal price as the iPhone 6.
However, the iPhone 6 isn't the only iPhone that Virgin Mobile has in stock. If you're looking for a cheaper option, you can grab an 8GB iPhone 5c for just $299, making it one of the cheapest off-contract iPhone deals we've seen in a long time.
Virgin Mobile has offered some of the best off-contract deals, period. They offered the iPhone 5s last year for just $385, as well as the 16GB iPhone 5c for $315, making it one of the best deals for those particular iPhone models at the time, especially since they were the latest iPhone models for Apple when the deal was live.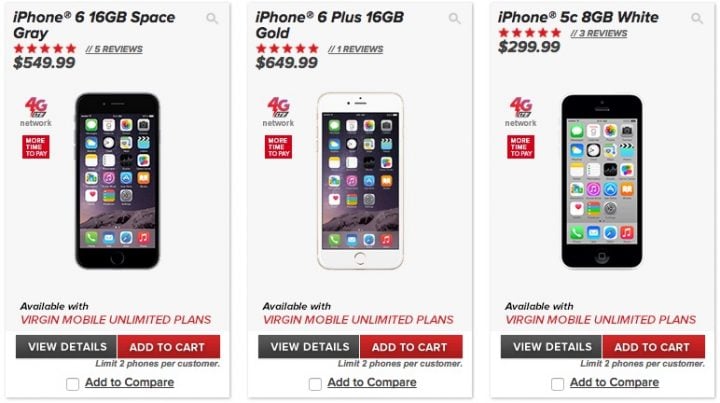 On top of these kinds of deals from Virgin Mobile, plans start at just $20 per month, so you could easily save a ton of money by going with Virgin instead of one of the big guys, but you'll likely give up the ample coverage that Verizon and AT&T have.
Unfortunately, today's deal with the iPhone 6, iPhone 6 Plus, and the iPhone 5c, the iPhone 6 models only come in 16GB sizes and the iPhone 5c is only available in 8GB and in White.
The only downside is that you'll have to activate the iPhone on Virgin Mobile, so you can't buy an iPhone 6 on Virgin's website and then turn around to another carrier and activate it there. Still, though, it's a great deal and going with Virgin can save you some serious cash if you've been wanting to go with a pre-paid carrier.
Of course, if you're looking for other iPhone 6 deals, August has already been a fruitful month for that.
For instance, Best Buy is selling the iPhone 6 and iPhone 6 Plus for $100 off after you sign a two-year contract with Sprint or Verizon.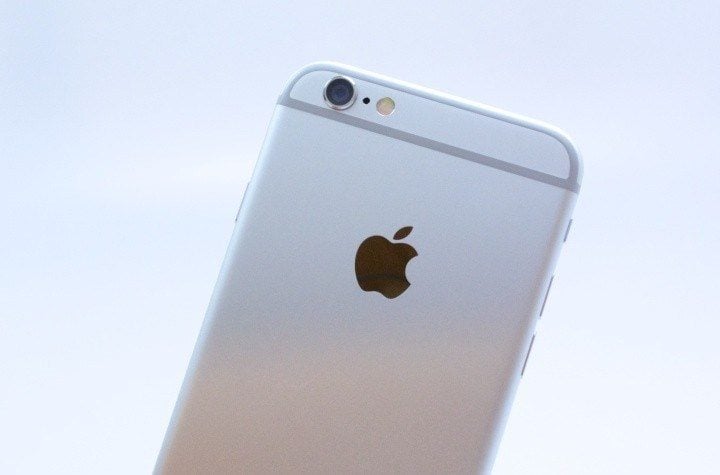 With T-Mobile, consumers can buy an iPhone 6 or iPhone 6 Plus right now for $0 down and only $15 per month for the 16GB iPhone 6 model. Then you can upgrade to the iPhone 6s or the iPhone 6s Plus by the end of the year without changing anything with your plan or payments.
You'll have to trade in your iPhone 6 when you do eventually upgrade to the iPhone 6s, but we think that's a fair deal.
Target and Walmart are also offering some pretty good deals on Apple's latest smartphone, including $20 off at Target and at least $125 off refurbished iPhone 6 models.
We should see more and more iPhone 6 deals appear as we get closer to the release of the iPhone 6s and iPhone 6s Plus, which will most likely arrive in September like past iPhone models.
The iPhone 6s is said to be a slight refresh over the iPhone 6, coming with the same overall design and form factor, but having a few new features. This includes a Force Touch display (just like on the Apple Watch), a reinforced shell to prevent bending, and the usual performance boosts to make the fastest iPhone yet.
As for specifics, it's likely that the iPhone 6s will come with an Apple A9 64-bit Processor, maybe a memory upgrade to 2GB, better cameras, and possibly added support for NFC.
Other than that, the iPhone 6s should remain fairly similar to the iPhone 6, but we'll have to wait and see what Apple comes up with later this year.