Huge Moto X Deal Arrives as Moto X+1 Release Nears
With more and more reports starting to emerge regarding the successor to the original Moto X from last year, we're now seeing yet another deal arrive offering last years flagship smartphone at a heavy discount. The Moto X launched in 2013 full of customization choices and was an instant hit, and now it can be yours for $100 off.
Over the past few months more and more details have slowly arrived about what's currently being called the Moto X+1, Motorola's next customizable and flagship smartphone running Android. While we still don't know all the details, new deals for the original Moto X have ignited the rumor mills once again of an August release date for the Moto X+1.
Read: Moto X+1 Leak Reveals Galaxy S5 Competitor
This week Motorola revealed a brand new deal and discount for the original Moto X. Offering the impressive smartphone for $100 off, making it just $299 outright, no contracts required all through the company's MotoMaker.com website. We've seen this deal before, but for those that missed out we have all the details and promo code below.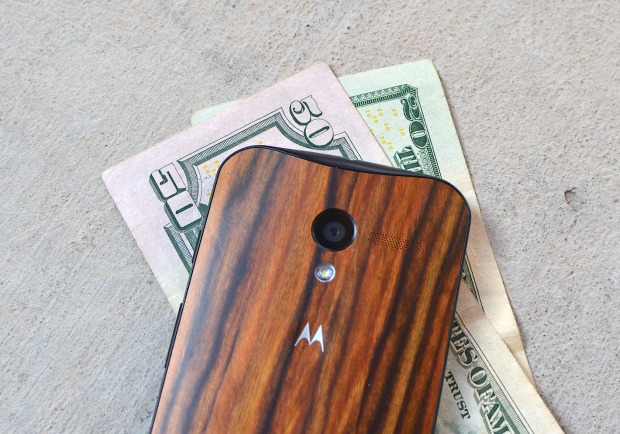 Earlier this week SlickDeals confirmed that Motorola was hosting another impressive deal for the popular Moto X, and buyers only have a few days left to get in on this excellent offer. Motorola is delivering the Moto X on all carriers in the United States for just $299. And that's without a contract. When compared to $599 outright price of most flagship smartphones this is a pretty compelling offer, even if it isn't a flagship smartphone compared to what's available in 2014.
Using the promo code "MBXISMOT" on the official MotoMaker.com website buyers will instantly get $100 off the 16GB Moto X, regularly priced at $399. Making it one of the best smartphones for under $300. However, the 32GB option is discounted even higher and the same promo code drops the price of the 32GB and Developer Edition by $125, making them only $325.
Last but certainly not least is the newest Moto X option to become available to buyers. The same promo code will get huge savings off the 64GB Moto X, making it $375 and delivering a savings of over $125. Paying just $375 for a 64GB flagship smartphone is unheard of, and this is certainly a deal users won't want to pass up, even if a new Moto X+1 is coming soon.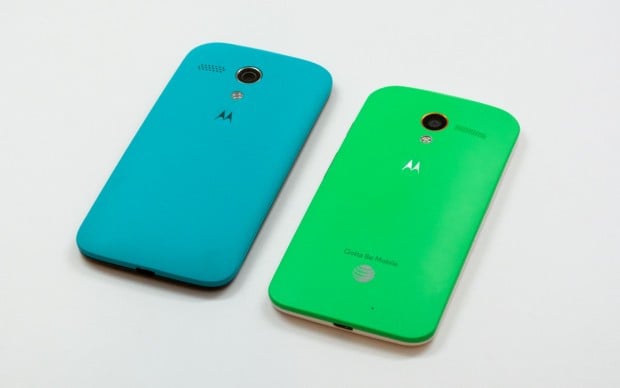 The MotoMaker.com "MBXISMOT" promo code is only valid until July 23rd, so prospective buyers only have today and tomorrow to decide if the smartphone is right for them. The Moto X is still a top-end smartphone, even if it doesn't have specs like the LG G3 or Galaxy S5.
Coming equipped with a 4.7-inch 720p HD display, Motorola X8 computing system with 1GB of RAM and tons of storage options, and of course all the customization of MotoMaker.com. Some of those include over 18 custom colors, accent colors, engravings, wood backs in Teek, Walnut, Bamboo and more. Wood backs are $25 extra, while custom color options are completely free.
Read: Moto X in Walnut Wood Hands-on Video
So is this deal worth it? Absolutely. Buyers will be getting an impressive smartphone that's likely going to be upgraded and maintained by Motorola for years to come. The Moto X was the first non-Nexus device to be updated to Android 4.4 KitKat, and it's already seeing the latest Android 4.4.4 KitKat release in most regions.
That all being said, a new Motorola smartphone is on the horizon. Simply being called the Moto X+1 for now, we're not fully sure what to expect, but plenty of leaks give us a good idea. The Moto X+1 was recently spotted already running Android L, but we're hearing it'll debut with Android 4.4.4 KitKat sometime in August.
The Moto X+1 will reportedly offer a 5.2-inch 1080p HD display, quad-core Snapdragon 800 processor with 2GB of RAM and Motorola's computing chip for hands-free and voice control functions made popular on the Moto X, and an improved 12 megapixel camera around back. There are still a lot of details missing, but from what we know thus far the Moto X+1 could be another excellent and well-rounded smartphone later this summer. One which will likely undercut the Galaxy S5, LG G3, and iPhone 6 when it comes to price.
Latest reports and rumors suggest the Moto X+1 could arrive sometime around the middle of August to take on the competition, but that's yet to be confirmed. We'll know more soon enough, but you'll have to decide now if the Moto X deal above is worth it, as it ends tomorrow.

This article may contain affiliate links. Click here for more details.