Huge Moto X Deal Extended for Limited Time
The Moto X has some strong competition from the Samsung Galaxy S5, LG G3, and HTC One M8, but none of them can compete with it when it comes to price. Over the past few months Moto X deals have came and gone, but this week the biggest one yet offering $125 in savings has been extended for those who've missed out.
Last month Motorola started offering a deal delivering $100 in savings for the Moto X, making it just $299 without a contract. Essentially being one of the best price/performance options available. A similar deal is also going on now for the Moto G.
Read: Moto X Android 4.4.4 KitKat Update Hits the US
The Moto X was a surprise when it arrived in August of 2013 with nearly 18 different custom color options, accent colors, customizable wood backs, and even engravings, and now that it's on sale it may be worth another look.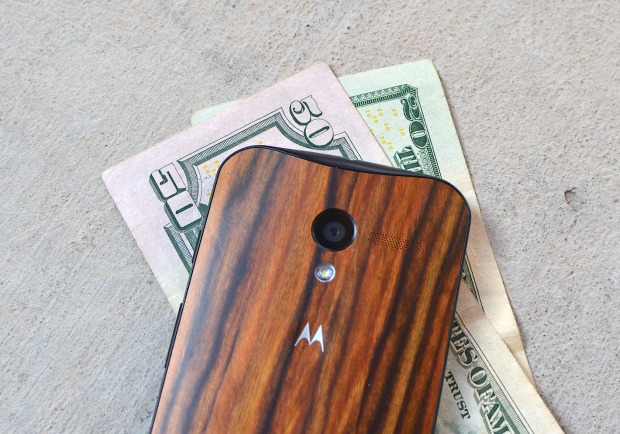 Over the past few months we've been hearing more and more reports of a new Motorola smartphone in the works to replace the original Moto X, which could be what has sparked all these deals. With that being said, if you'd rather not wait to see what else the company has planned with the new Moto X+1 (or Moto X2) this current Moto X deal is your best bet.
The original deal was expected to end on July 31st, but this week Motorola announced they've extended the deal until August 7th. Meaning buyers have another two days to decide if this is the right smartphone for them, at the right price.
Until August 7th at midnight Motorola is offering the impressive Moto X from all major US carriers for just $299, contract free. This is $100 less than the usual $399 price tag for the 16GB version. At the same time, the deal also extends to all other variants available. The 32 and 64GB Moto X are both $125 off, delivering even bigger savings, making them the best choice.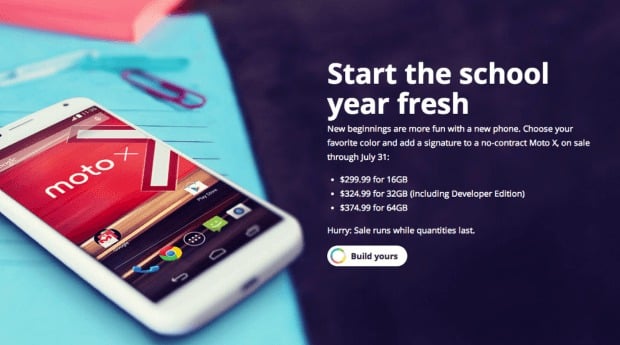 As you can see above the 32GB model is $325 down from $450, and the best deal of them all is the 64GB Moto X is now less than the 16GB has been for the past 11 months, coming in at just $374. Buyers can't find a 64GB Android smartphone running the latest Android 4.4 KitKat for that price anywhere, so this is pretty impressive.
As a reminder, the deal includes developer edition handsets, as well as complimentary customization through MotoMaker.com as usual. The custom Bamboo, Ebony, Teak, and Walnut wood backs are an extra $25.
Read: Moto X in Walnut Wood Hands-on Video
Again, the Moto X deal mentioned above ends at 11:59 EST on August 7th, so you have just less than two days to make up your mind on whether or not you'll partake in this back to school summer sale.
Recently more reports have surfaced that a new Moto X+1 is coming at the end of the month, so users should either opt for this deal, or what to see what else is coming soon from Motorola. Rumors have it the Moto X+1 or Moto X2 will come with a bigger 5.2-inch 1080p HD display, up from 4.7-inches on the original. A new Snapdragon 800 quad-core processor with 2GB of RAM, 12 megapixel camera, Android 4.4.4 KitKat, 2,900 mAh battery, and lastly dual front-facing speakers.
All the same customization features we've seen from Motorola will be included, and rumors suggest an array of new leather options will also be available at launch. The Moto X arrived in August of 2013, and we're expecting something similar in 2014 for the successor, as well as the highly anticipated Moto 360 Android Wear smartwatch.

This article may contain affiliate links. Click here for more details.