Huge PS4 Price Cut Is Official
Sony, makers of the PS4 video game console, isn't waiting for Microsoft's slew of Xbox One games to have a huge impact on sales. This morning the company made the rumored PS4 price cut official. Starting soon, the world's best-selling, current-generation video game console will cost shoppers just $349 in some territories.
Sony confirmed the big PS4 price cut this morning in a post on its PlayStation Blog. Launched back in 2013, Sony has kept ahead of Xbox One sales with a mix high-profile game bundles and smart marketing. In fact, the console has performed very well considering Microsoft slashed the price of the Xbox One to $349, bundled games and introduced an Xbox One with double the PS4's storage for the same $399.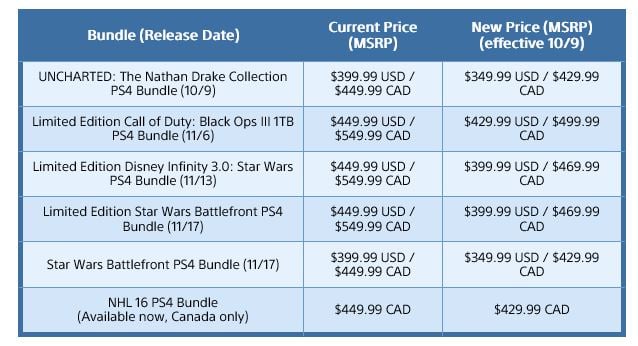 The PS4 price cut is effective tomorrow October 9th. Shoppers in the United States can look forward to paying just $349.99 for a PS4 Uncharted: The Nathan Drake Collection Bundle that costs $399 today. This price cut affects all other PS4 bundles as well. Pre-ordering The Limited Edition Call of Duty: Black Ops 3 PS4 Bundle with 1TB of storage costs $449 today. Beginning tomorrow the bundle will cost $429.99. The Limited Edition Disney Infinity 3.0 Star Wars PS4 Bundle arriving on October 13th previously cost $449 to pre-order. Now that bundle is just $399. Sony is also charging $399 for the Limited Edition Star Wars Battlefront PS4 Bundle. The basic Star Wars Battlefront PS4 Bundle will cost $349 instead of the $399 Sony said it would at release a few weeks ago.
"Our goal at PlayStation has always been to provide the best gameplay experiences at the best value, and we feel this new compelling price will open the doors to even more gamers that have yet to purchase a system," Sony's John Koller says in today's blog post. Koller is absolutely right; lowering the cost of game consoles typically does bring in a flood of new users who weren't able or willing to purchase at higher prices.
"I had honestly been holding off buying a PS4 in hopes of it getting a price drop sometime soon, so this is great news! $50 may not seem like much to some people, but hey a save is a save," one commenter on Sony's blog notes.
Sony launched the PS4 with a price tag of $399, a price that's been stable since then. Microsoft launched the Xbox One with a price of $499. Microsoft argued that families and gamers would see the extra value they were getting with the Xbox One's Kinect Sensor and Xbox Live. The $349 and $399 Xbox One bundles Microsoft introduced after launch don't include a Kinect sensor at all.
It's unclear how Sony plans to handle the new pricing for people who purchased their consoles this week or last. Theoretically, shoppers can return their PS4 bundle to the store they purchased it to get a refund, then repurchase that same bundle at the lower price tomorrow. That's not the ideal situation though, as many retailers charge a restocking fee for opened electronics. Most major retailers do offer Price Guarantees that let users get some money back if they should happen to find the same thing they purchased for a cheaper price in-store somewhere else. At those retailers, getting extra money back from the PS4 price cut should be straightforward.
PS4 fans abroad should note that Sony hasn't introduced a PS4 price cut in all regions. In fact, today's pricing changes are only effective in the United States and Canada. We're still waiting to see if Sony Computer Entertainment Europe lowers the price of the PS4 in its territories.
We also don't know for sure if this PS4 price cut will keep the PS4 immune to the onslaught of bundles and exclusive games coming to the Xbox One this holiday season. Microsoft has already released Forza 6 and plans to begin selling Halo 5: Guardians and Rise of the Tomb Raider before the holiday season concludes.

This article may contain affiliate links. Click here for more details.