Huge Splatoon Update Details Revealed
Nintendo, makers of the Wii U and Nintendo 3DS, are gearing up for a huge Splatoon update on August 5th.
A television ad that aired in Japan this week details all of the features Nintendo plans to add with an upcoming Splatoon update. Splatoon launched back in May. It's the company's first online arena shooter that can compete with the likes of Titanfall and other well-known shooters for the Xbox One and PS4.
According to the advertisement, the a Splatoon update will include a mini paint gun, called the Splatling. The Splatling will add some rapid fire mechanics to the already nuanced gameplay. To stop players from having to refuel the giant sprayer too much, the mini paint gun will include a barreled canister to hold more paint. In Splatoon, players are tasked with covering as much of the area as they can in their team's colored ink. To refill their guns, players have to transform back into a squid and roll through their team's ink again.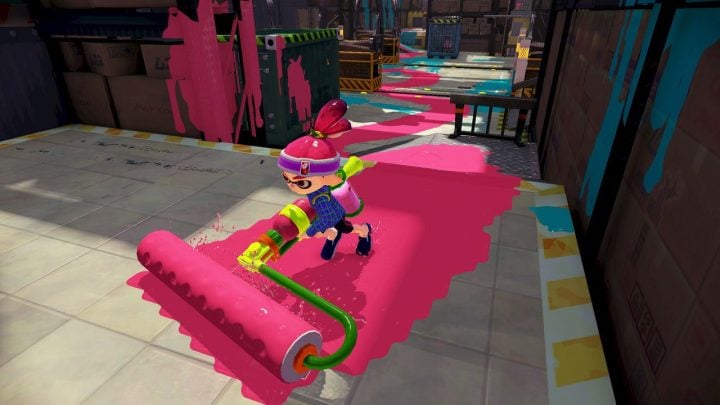 Read: Splatoon – 5 Fun Things to Know
There's another new weapon in the Splatoon update called the Slosher. The Slosher isn't a figurative name. It's literally a bucket full of paint that players can dump on each other. It's designed for close-range combat and fires at a slower rate than the other paint guns in the game. The gun won't do players much good on targets are farther away, but will have a major impact on how the game is played.
Of all the new weapons being introduced in the Splatoon update, the Rainmaker is the most exciting. The single shot paint gun fires a whirlwind of paint in a team's color. We don't get to see how large of an area gets covered by the Rainmaker since it isn't shown until the end of the trailer for the Splatoon update.
A frame by frame breakdown of the trailer by GameExplain reveals all of these weapons plus points out that there are two never-before-seen levels shown in the Splatoon update trailer. The first is an apartment complex that has lots of vertical surface area to slather in paint. More surface area is good, since you can cover an entire floor in paint and still lose a match if the other team covered every other surface. This Splatoon update will also feature a bridge that forces players into tight spaces. Presumably, this level will make for some very action-packed multiplayer.
Separately, GameInformer has revealed other Splatoon updates coming to users on August 5th. Among the other updates, players can expect some modes updates when the update arrives. Specifically, players will be able to get together with friends and play Splatoon in private battles that no one else can participate in. It's a basic feature of most multiplayer games, but Splatoon launched in May without it for whatever reason. Not having the feature was certainly a blemish on an otherwise great multiplayer experience. Up to eight players can participate in private Splatoon matches.
Read: Why & Where You Should Buy a Splatoon Amiibo
Tons of new gear to customize one's Splatoon character is coming too.
In Splatoon players level up overtime. The higher level your character is, the more experience you've had with the games different modes and levels. Today Splatoon has a level cap of 20, meaning even more experience players stop gaining rank when they reach level 20. This Splatoon update raises that level cap to 50, giving players plenty of room to grow their character over the remaining summer months.
This Splatoon update is completely for those who already own a copy of the game for their Wii U. Users who don't own a Wii U can purchase the game with a console at Best Buy for $299. Splatoon alone costs $60.

This article may contain affiliate links. Click here for more details.