Huge Xbox One Deal Arrives Packing Savings & More
The Microsoft Store, Microsoft's dedicated retail website and chain of outlets, is the best place to purchase an Xbox One entertainment console for the foreseeable future. This week the Microsoft Store website rolled out a huge Xbox One deal, packing both $50 promotional codes and free games.
For now, anyone and everyone in the United States can take advantage of the Microsoft Store's Xbox One deal. Microsoft has divided the savings into multiple offers all available at the same time for the next few hours, depending on which console you purchase.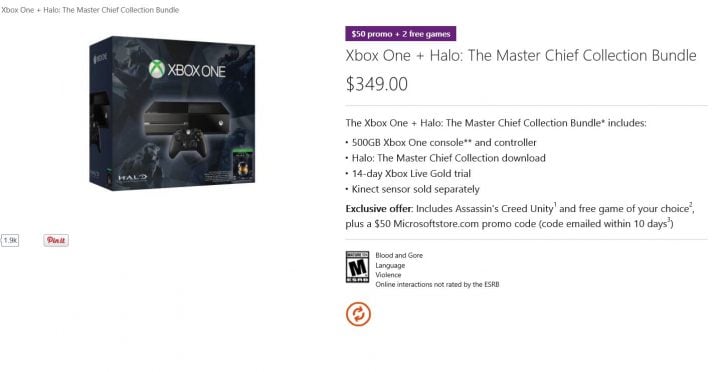 The Xbox One Halo: The Master Chief Collection Bundle without a Kinect sensor normally costs $349. It still does at the Microsoft Store, but the retailer is giving users a $50 promotional code that can be used to purchase anything on the Microsoft Store website once they've received their console. In addition, Microsoft is including copies of last year's Assassin's Creed Unity and a free game of their choice.
The Microsoft Store is offering the same deal to anyone who purchases the Assassin's Creed Xbox One with Kinect bundle. The bundle still costs $499, its regular retail price, but on top of that shoppers get four free games since the Assassin's Creed bundle already includes digital downloads for Assassin's Creed Unity and  Assassin's Creed 4: Black Flag. This version of the console also comes bundled with a digital copy of Dance Central Spotlight.
New games for the Xbox One cost $60. That plus the $50 in promotion credit guarantee buyers at least $110 in savings.
The basic Xbox One and Kinect Bundle for $499 is also eligible for the promotional code and free games. Another Xbox One deal includes a Refurbished Xbox One with Kinect Bundle for $379 and a free game. There's even an Xbox One deal for those who just want the plain console without any extras. That deal includes just the $50 promotional code.
To best take advantage of these Xbox One deals shoppers will need to move quickly. Certain parts of these Xbox One deals expire at different times.
The promotional code included in most of these Xbox One deals runs out today. Microsoft says that it'll email users the code within 10 days of their purchase. The parts of the deal that gets users a free game of their choice runs until July 6th, a little under a week from today. Microsoft is only guaranteeing free copies of Assassin's Creed Unity until October 31st.
All told, these Xbox One deals are great for anyone already considering picking the console or adding another to their household. Every Xbox One console included in these deals has an Xbox One Chat Headset and an Xbox One Wireless Controller inside. Each also has a 500GB hard drive, half of what the new $399 Xbox One with 1TB of storage includes. The promotional code can be used on anything that the Microsoft Store sells. Microsoft says that users forfeit the remaining balance of the promotional code when they use it. As such, it's great for picking up an extra wireless controller or another Xbox One game for a newly purchased system. All Xbox One consoles don't come with a Kinect sensor like the original did. The Kinect sensor is great for giving your console voice commands, video chatting, audio chatting in games without a headset and motion gaming. The Xbox One also uses the device to communicate with cable boxes and televisions for the console's Live TV features.
Read: 5 Xbox One Accessories to Complete Your gaming Experience
Every Xbox One deal is available online and in every Microsoft Store retail location. So far, no other retailers have stepped up to match these deals or provide anything close to the savings that users get by purchasing these bundles.

As an Amazon Associate I earn from qualifying purchases.