Hugh Sung: Making Music In His Life With Ink
As a theatre artist I believe wholeheartedly that Tablet PCs offer a tremendous benefit to those in the performing arts. Hugh Sung lives that everyday as a musician. Take a look at Hugh's musical Life With Ink.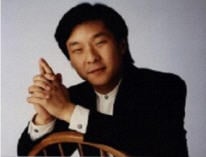 It's funny to note how some of the greatest artistic endeavors can be hobbled by some of the most primitive obstacles. Take, for example, the paper bound music book. Classical musicians have been relying on plant pulp and ink to record, store, and transmit the greatest achievements of musical thought for hundreds of years. A testament to the longevity of the paper technology, to be certain, but perhaps also a reason why it is so difficult for musicians today to break free from its inherent limitations, such as physical bulk (a library of paper music can quickly take up an enormous amount of space and weight), physical storage ("i know i have that piece of music around here somewhere …"), and – the bane of all performers – the dreaded page turn.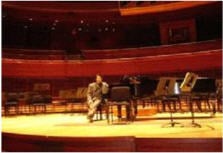 I'm a classical pianist on the faculty of The Curtis Institute of Music as one of its Resident Pianists, and as its Director of Student Recitals. Although i play solo recitals and concertos with various orchestras, my specialty is collaborative instrumental literature, which simply means that i accompany other musicians who play instruments like the violin, flute, trombone, and whatnot. In fact, it is precisely because of the nature of my work that i've been particularly frustrated with the limitations of paper medium. Collaborative pianists have to work with copious volumes of music on a daily basis – learning new literature, playing standard works that cover centuries of composers, rehearsing and performing with multiple musicians – all of which quickly adds up to musical information overload.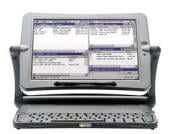 Despite the limitations of digital technology, I had been eying slate computers as a possible alternative to the limitations of paper music ever since Microsoft's old Windows CE operating system appeared on the stylish Vadem Clio C-1000, an early (circa 1999?) touchscreen pen-based pda with an innovative design that allowed it to convert from a traditional clamshell laptop to a slate with the display flipped over the keyboard and secured with two side arm hinges. Unfortunately, the hinges had bulbous protrusions that wouldn't allow the unit to stand securely in portrait mode, but my appetite was whetted!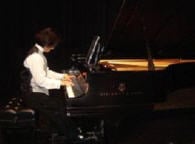 Fast forward a number of years, and enter the Tablet PC, which has radically expanded my capabilities as a musician far beyond what i had initially expected. My first tablet pc was the Toshiba Portege M205-S810 convertible. I was really impressed with the image quality of my scanned music (i could see the wrinkles of the page, even the difference between pencil lead and printed notes!), the smoothness of the digital ink (feels like a Mont Blanc that never runs dry and is completely erasable), and the fact that i could fold the swivel the screen over the keyboard for a perfect portrait fit on the piano music rack. I was immediately sold on the concept! I've since upgraded several times to different models, finally settling on the pure slate design as my Tablet PC of choice. I currently perform all my rehearsals, lessons and concerts on my Fujitsu Stylistic ST5022D. For concerts, I use the extended battery to ensure power for a full 2-hour recital (the extended battery is capable of at least 4-5 hours at the brightest screen setting).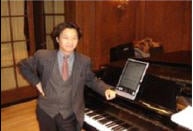 PDF Annotator has proven to be indispensible as my music reader of choice, enabling me to open and mark up music scores with digital ink in PDF formats (the most common type available from online vendors) and to "turn" pages quite speedily. Vendors such as CD Sheet Music and EveryNote.com have enabled me to quickly fill up my digital library with virtually every major classical music composition, from the complete piano works of Chopin and Beethoven, to all of the major sonatas and concertos for Violin, Flute, and a host of other orchestral instruments. A wonderful portable camera scanner device from Justice Vision Systems has enabled me to quickly scan in digital images of my paper library.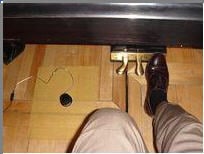 Finding a programmable footswitch to turn pages was more challenging, but i was able to come up with a variety of USB-based solutions, from the X-Keys (a 3-pedal system made by P.I. Engineering), to a single footswitch made by Delcom Engineering, to my current custom modification of a Griffin PowerMate Multimedia controller seated in a wooden cradle i made myself. Now, i'm able to perform any piece of music without disruption, as my hands no longer need to leave the keyboard to turn the virtual pages, and i don't have to count on a nervous page turner to leap up at the right moment!
It's hard to appreciate how the subtleties of this wonderful pen-based windows xp computer solve so many problems for the classical musician apart from the context of the issues I've raised above, but in this device I've solved my library, storage, annotation and page-turning issues, all in one fell swoop! As difficult as it is to explain to many of my tech-averse classical music colleagues about the incredible advantages the Tablet PC offers as a viable musical tool, I'm hoping to convince by example day in and day out from rehearsals, lessons, the concert stage, and more recently from the recording studio.
You can follow Hugh Sung's musical and ink exploits here.