Hugo spends some with the R400 Tablet PC and Jon Dee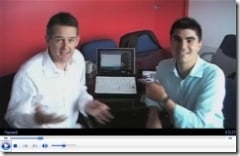 Ever the infectious Tablet PC evangelist, Hugo has met his match with Jon Dee, founder of Planet Ark and an environmentalist who sees a lot of potential with Tablet PCs and protecting the environment.
Check out Hugo's latest video where he demos the R400 Tablet PC and spends some time with Jon Dee.

This article may contain affiliate links. Click here for more details.