Hulu Plus Arrives on Windows Phone
Users of Microsoft's Windows Phone 8 operating system will finally be able to take advantage of their Hulu Plus subscription.
Hulu Plus for Windows Phone, which should be available sometime today according to The Verge, allows users to enjoy the service's streaming content on their Windows Phone devices. In addition to streaming television shows that are made available the day after they air on broadcast television, the app will also allow subscribers to stream movies, movie trailers, and clips.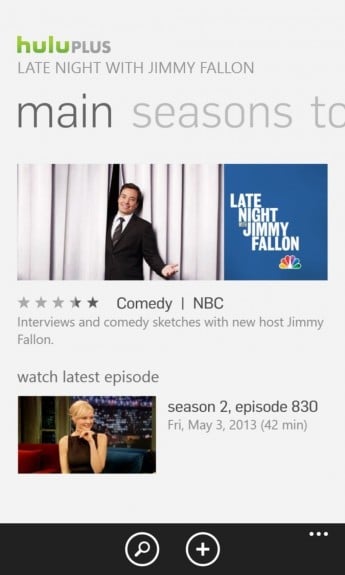 Read: Hulu Plus for Apple TV Arrives With Little Fanfare
Hulu Plus first arrived for Android users in March of last year, and has been available to iPad, iPhone and Apple TV devices for some time. It should be noted that although Hulu does offer a free version of their streaming service online, the company does not make that capability available to users outside of their desktop internet browsers. A $7.99 Hulu Plus subscription is required to enjoy any content using the service's apps.
The arrival of Hulu Plus for Windows Phone users comes mid-way through what appears to be an active campaign to solidify the Windows Phone Store's status as the number three application store behind Apple's iTunes App Store and the Google Play Store. Recently updated or released apps include LinkedIn, OpenTable, Vibr and Facebook.
Read: Wikipedia App For Windows Phone Named The Next App Star by Microsoft
According to the company, the Windows Phone Store already houses 45 of the top 50 most used applications on other platforms. That's a clear win as the company looks to establish Windows Phone as the default alternative for users who don't want to buy into the closed ecosystem of Apple's iPhone, and want a more cohesive experience than what Google's Android can offer.
In addition to funding the development of Windows Phone applications, the company also recently concluded its Next App Star promotion. The contest was designed to encourage the development of full-featured, Windows Phone-centric applications that have things like Live Tiles and lockscreen support.
Now that Windows Phone is starting to gain a more robust catalogue of top-tier applications, the company's efforts may now turn to getting these applications the moment they are launched, as is the case with iOS and Android.