Hulu Plus iOS App Adds Support for Google Chromecast
Hulu Plus lets you use the iOS app to get access to the online video streaming site, and offers up recently aired television shows and some older shows and movies. It now works with the Google Chromecast, a streaming device released earlier this year by Google. Android users can already use Hulu Plus on their devices with the Chromecast, as the update also hit the Google Play Store.
Google announced that once the new version of Hulu Plus gets installed on an iPad or iPhone, the user can wirelessly send the video stream of their favorite show or movie to a TV connected to a Google Chromecast device. The app lets the user begin the stream and then switch to another app while they watch the video on their TV through the Chromecast. That's not possible with Apple's AirPlay.
https://youtu.be/xTLDMl-plnA
The Google Chromecast costs just $35, which likely led to the device's popularity when released after Google I/O this summer. The device connects through an HDMI cable. The installer must also connect a USB cable for power using a USB/AC adapter. Then can also connect the USB cable to a TV's USB port, which works when the TV's port sends enough power to run the Chromecast. The USB cable only powers the device when connected to the TV and doesn't work like other USB devices connected to a TV that let users play video, music or slide shows of photos from USB storage.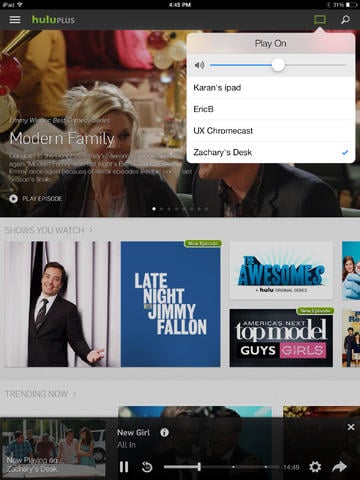 Hulu Plus requires a monthly subscription costing $7.95/month. Even after the subscription fee it streams ads dispersed throughout the video and viewers can't fast forward through them, like they could with a DVR. Hulu Plus promised support for the Google Chromecast when the device launched earlier this year.
Netflix also works with the Chromecast. The service, like Hulu Plus, streams movies and TV show through a connected device, like the Chromecast, Apple TV and many other set-top boxes or smart TVs and DVD or Blu-ray players. Netflix was a launch partner with Google and came with three months free to early adopters. Netflix and Google stopped offering the free three months soon after launch due to overwhelming demand from buyers.
Chromecast owners can also stream their media purchased from Google's Play, like users of iTunes now can do with an Apple TV, thanks to cloud storage of the media. Users begin streaming a video or music from a tablet or phone running the latest version of Android.
Hopefully other video streaming services, like the TV network apps from ABC or HBO, will start supporting the service soon. And if Google will let third-party apps send content to a TV or projector via Chromecast this will make the device more like an Apple TV with AirPlay support.

As an Amazon Associate I earn from qualifying purchases.