Hundreds of Thousands Watch Samsung Galaxy S4 Launch Live on YouTube
Samsung is in the midst of announcing the long-awaited Galaxy S4 at Radio City Music Hall, a venue with just over 6,000 seats. That's quite a bit of room to accommodate industry insiders and Samsung fans, but that's just a tiny fraction of the more than 400,000 people watching the Galaxy S4 unveiling live on YouTube.
When the Galaxy S4 was first shown on the auditorium's large screen there were more than 420,000 viewers. The number of viewers is growing steadily as the event carries on. This is quite different from how Apple handles major launch events. Apple hasn't streamed its latest iPhone and iPad releases, instead opting to publish them after the events concluded. While Apple has streamed events live on its own site sin the past, viewers were forced to use an iOS device or Mac to watch the live streams.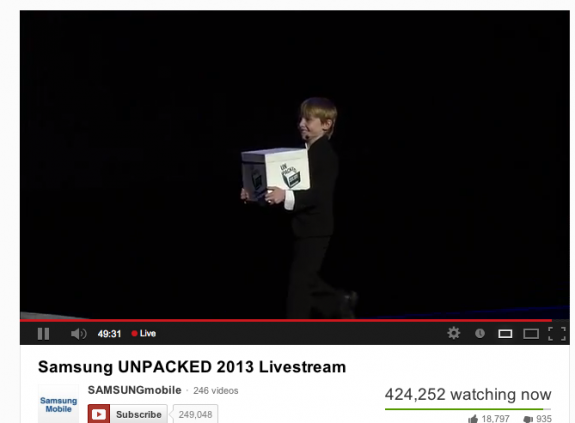 Apple invites relatively few journallists and guests to its product launches. It sometimes limits the number of attendees to less than 300 guests, partially because its headquarters' auditorium is quite small. on the other hand, Samsung opened the door to a wider audience, including fans registered through technology enthusiast site GDGT.
The Samsun Galaxy S4 is being billed as a 'Life Companion.' It is just 7.9mm thin, yet stronger than its predecessor according to Samsung. Its Super HD AMOLED Display measures a full 5-inches and features 441 pixels per inch. The 4G LTE capable phone will support download speeds of up to 100 MB/s and uploads of 50 MB/s. It features a 13 MP camera for improved photo and video capture.
The Galaxy S4 is the most anticipated Android phones of 2013 so far. It will compete directly with other companies' flagship devices such as the iPhone 5 and HTC One. It will also compete with Apple's next iPhone, which is rumored to roll out in time for the 2013 holiday season.

The Galaxy S4 launch event can be viewed live in the YouTube player above.
Stay tuned for more Galaxy S4 coverage, which you can follow by clicking here.

As an Amazon Associate I earn from qualifying purchases.