Hybrid E-Ink, AMOLED Display Technology Aims to Conserve Battery Life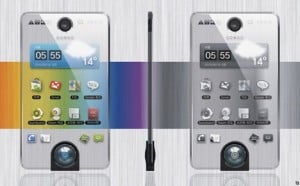 We've heard of varying screen technologies that are being developed and emerging that helps to reduce power drain and improve sunlight visibility, including color e-ink, Pixel Qi screens, AMOLED and Super AMOLED technologies, and those from Qualcomm in the form of the Mirasol displays. However, a new hybrid display aims to improve battery life in mobile devices by marrying the best features of AMOLED and electronic ink technology.
When powered on, the AMOLED display will be employed, which promises vibrant colors, deep blacks as only colored and white pixels would be turned on rather than having the whole display lit up like a traditional LCD screen, and fast refresh rates for videos. However, when the phone enters standby mode, the device will switch to electronic ink, which sips power and only consume power when the screen is refreshed, offering longer standby time while giving users access to important or quick information, such as time and weather, notifications, and other alerts. E-ink has been employed on digital readers like the Amazon Kindle and the Barnes & Noble Nook, and promises readability under direct sunlight while having low power drain.
Whether this hybrid concept gets commercialized is unclear at the moment, but it does offer another alternative as mobile users look for innovative ways to get maximum power while at the same time maximizing the device's untethered time by offering better battery life.
Via: Ubergizmo

As an Amazon Associate I earn from qualifying purchases.