I want this notebook stand – Minifit XL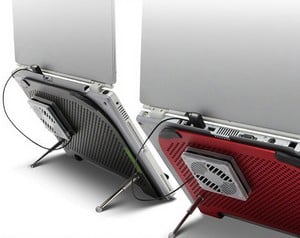 As a result of being a hardcore Tablet PC fanatic, I'm always on the lookout for a good notebook stand, but it isn't easy to find one that can handle usage in both convertible and slate modes. Standard notebook stands usually aren't adjustable enough. I've tried book stands, but they aren't designed with ports and cables in mind. This Minifit XL, however, could be the best I've seen.
Its big draw is the moveable fan. Instead of being fixed, it can be moved to anywhere on the surface, allowing you to send cooling air where it is most needed. But in addition to that, it has feet that can likewise be repositioned, allowing for many different angles, from a slight incline to a nearly upright easel-like angle. The makers even mention its potential use as a book stand. I definitely want to give this stand a try.
Via Gizmodo ↑ Red Ferret ↑ Cradia

As an Amazon Associate I earn from qualifying purchases.