iAudition 2.0 Records and Uploads MP3s from iPhone
iAudition 2.o records audio on your iPhone. It then allows you to quickly edit the resulting file and either send it via email or post it to an FTP server as an MP3 file, which makes it a great tool for mobile recording. The makers claim it's the first app that will send MP3 files from your iPhone. While I found a few others that also save files as MP3, the real benefit comes from uploading an MP3 via FTP. Many podcasters use services like Stitcher that require you to upload an MP3 file to an FTP site, which then automatically makes the episode of the podcast available via RSS to listeners. A couple of podcasters I enjoy recommend the app, including Today in iOS. I can see why they recommend it based on my short testing of the app.
The video below includes audio recorded with the app:
I'm not a podcaster, but I do use my iPhone for audio recording of things like voice notes and sometimes I use it to record my public speaking at church. iAudition works well for these purposes using the built-in mic, but would produce even better quality if you used a mic like the iRig Mic ($59.99), which plugs into your headphone jack. You could use the app and mic as a mobile recording device for audio interviews or even to record audio, which you could later add to video shot with a DSLR that doesn't have audio inputs, like my Nikon D3100.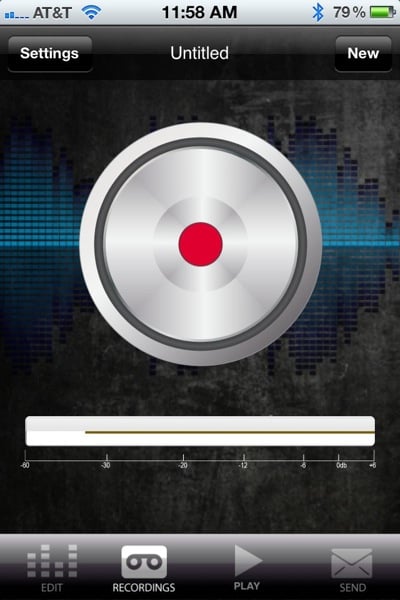 The app opens to reveal a simple recording interface. Create a new recording by taping the large red record button and, when finished, hit the button again to stop it. You can just save and send it, or choose to edit the audio, cutting and splicing audio and moving snippets around. The editing interface takes some getting used to, but with practice is easy to use. It displays waveforms to help with editing.
You can set it to record and then go about your business, opening other apps as it records in the background, which is a new feature in version 2. You could you have your script or written copy in Pages and read it while the app records what you say in the background.
Also new to version 2: the use of the accelerometer to rotate the screen. You can invert your iPhone and speak into the built-in mic on the bottom and the interface will rotate 180 degrees so that the display is right side up even though your iPhone is upside down.
In version 2.0 the app also sends MP3 files over FTP, which as we said above, is a boon to podcasters. The email function integrates with the address book so you can quickly send MP3 files to others.
A few of things I'd like to see included:
Integration with iCloud
Multi-track recording
Integration with DropBox, SugarSync or other cloud storage/backup services
Filtering of audio for background noise
As expected the update is free. The app can be purchased in the iTunes App Store for $5.99. I recommend it, a step above the iOS Voice Memo app for those who need more than just a simple audio recorder.
Pros
Easy and simple interface
Good audio quality
Sends as MP3 to both Email and FTP
Editing built-into the app
Rotates so you can use phone upside down to record with built-in mic
Cons
No multi-track recording
No integration with iCloud or other cloud services
No filtering of audio for things like background noise

As an Amazon Associate I earn from qualifying purchases.