iBattz Mojo Refuel iPhone 5 Battery Case Uses Replaceable Batteries
The first iPhone 5 battery case to integrate with the phone's Lightning port comes from a surprising company: iBattz.
At CES iBattz announced its new Mojo Refuel for the iPhone 5 which connects to the iPhone 5 without the need for an extra cable. The iPhone slides into the case and is held secure by a plastic rings that attaches to the case.
Read more CES 2013 mobile news here
Unlike most iPhone battery cases the Mojo Refuel lets users swap out batteries in the case itself. iBattz ships the Mojo Refuel with two i9300 batteries, each with a capacity of 2500 mAh. Ironically the i9300 batteries are the same batteries that Samsung uses in the Galaxy S3, the iPhone 5's biggest competitor.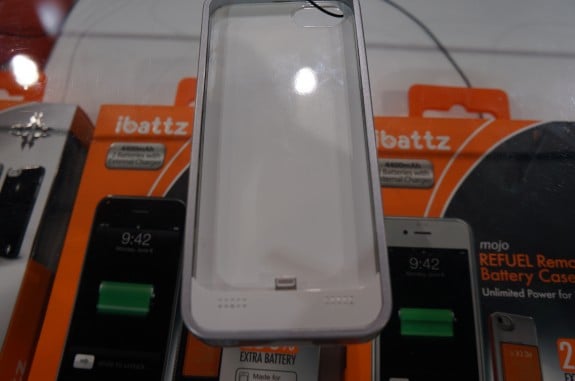 iBattz claims the case will give iPhone 5 users 250 percent more battery power than what's included in the iPhone 5 itself. That number seems right as the battery inside the iPhone 5 is 1440 mAh, which is just over half the size of each i9300 battery included in the Mojo Refuel.
The accessory maker also offers a more durable version of the Refuel Removable Battery Case which it calles the Mojo Armor. The sled that holds the interchangeable batteries is the same in the Armor version, but the outside is different.
The Armor Removable Battery Case adds a silicon case and a hard screen protector to the iPhone 5. The case is very similar to cases from Otterbox, except it's made to fit around the iPhone 5 and the battery case.
If there's any downside to the iBattz Mojo Refuel for users who need a lot of battery life, it is that not all headphones will work with the device. The battery case extends a few centimeters below the iPhone 5, with a hole cut out to reach the headphones jack. Apple's EarPods may fit inside the hole, but headphones with larger or L-shaped plugs simple won't work with the iBattz Mojo Refuel without an adapter of some sort.
The iBattz Mojo Refuel will sell for $89 when it ships next month, and the Mojo Armor will sell for $99.90.

As an Amazon Associate I earn from qualifying purchases.