ibattz Mojo Treble Review: Geek's Swiss Army Charger Keychain
For convenient universal charging, the ibattz Mojo Treble Key with Card Reader is hard to beat, even if its name doesn't really describe what it does.
They can't call it the Geek's Swiss Army Charger, but that's what it is.
In one useful accessory I get a key chain, a USB charger that connects to either 30-pin Dock Connector or micro-USB devices, and a micro-SD card reader. Oh, and it also adds a pin to open the iPhone or iPad SIM card tray for those who like to swap theirs between two phones. It fits on a key chain and doesn't take up a lot of room or add weight.
Closed, the ibattz Mojo Treble Key with Card Reader resembles an average sized dental floss box and weights about the same. Pull it apart to show the charger connectors, the SIM card pin and the micros-SD card reader. ibattz designed this little accessory well, with a ton of functionality in a small footprint.
I got really excited when I thought it might let me import pictures from the micro-SD card to an iPad via the dock connector. It doesn't, which is too bad.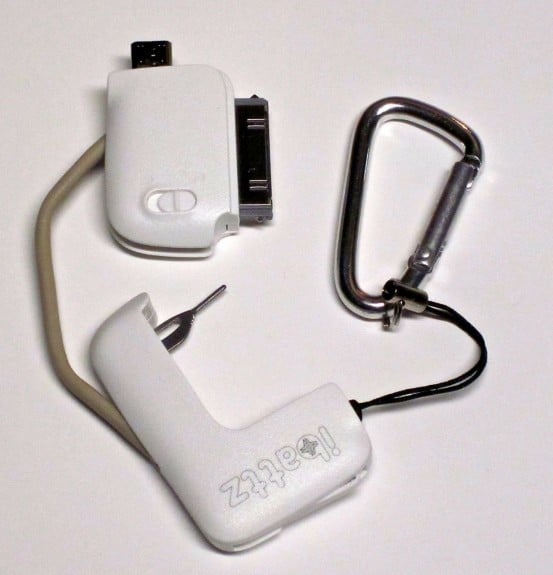 ibattz Mojo Treble Key with Card Reader Weaknesses
The ibattz Mojo Treble Key with Card Reader suffers from some weaknesses. The 30-pin dock connector barely fits into my New iPad. I had to really force it to fit. This fall Apple might deprecate the old faithful 30-pin connector making accessories like this useless.
The micro-SD card slot rests inside the grove that holds the wire making it recessed too much to pull it out with my fingers. They put a tiny slot that pushes it out using the SIM card pin. I wish it would come out easier.
I wish the charge/sync switch wasn't necessary. I know I'm going to forget that it's in charge mode while I'm trying to sync it or the other way around.
Value and Availability
I'm not one to get too excited about a syncing accessory or charging tool, but this device gives me so much in such a small footprint, that I found myself showing it off to people. I recommend that anyone who needs both iOS and micro-USB charging go get one now. At only $29.95 its still worth the cost even if you plan to upgrade to the new iPhone which likely will use a different dock connector.
For someone who swaps a SIM card often, go get one. People who need to carry around a micro-SD card reader should get one too. Alone, each of the functions makes this thing worth the price. Since it does all three, it's a no-brainer for many mobile users.
The ibattz Mojo Treble Key with Card Reader comes in black or white for $29.95 direct or at Amazon in black and white.

This article may contain affiliate links. Click here for more details.