iBookstore Comes to Desktop iTunes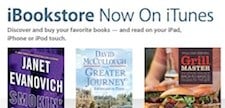 Apple has made some changes on the server side to incorporate the iBookstore for iBooks purchases on iTunes on the desktop on Mac and Windows versions of iTunes. Previously, though users can manage EPUB and PDF e-books through iTunes, users cannot access the store for downloading and purchasing new books on the desktop–this task was solely done on the iPad, iPod Touch, and iPhone. Now, like music, videos, movies, TV shows, and podcasts, the iBookstore gets its own category on iTunes.
With the iTunes integration, users can now browse and shop for new books without needing to have an iOS device. However, as iTunes doesn't 'play' or open the e-books, users still need an iOS device to read iBookstore-purchased e-books. Perhaps, in the future, Apple may create a Mac app to read purchases made through iBookstore and the magazine store called Newstand.
Hopefully, with iBookstore getting integrated into iTunes, Newstand may see a similar treatment in the feature.
Via: TUAW