iCade Mobile iPhone Gamepad Now Shipping for $80
Ion's iCade Mobile that we first saw, and gave an award to, at CES 2012 is now available for purchase for $80.
According to TechCrunch, the iCade Mobile is shipping along with the iCade Core, a new arcade-style unit for the iPad. The iCade Mobile attaches to the iPhone, and adds a d-pad, four face buttons, and four shoulder buttons. The device connects to the iPhone via Bluetooth, and uses AA batteries.
The iCade Mobile supports over 100 games including Super Mega Worm, which is in most photos of the device. The iPhone fits inside a case in the middle of the device and can swivel, which makes the gamepad work with games that function in both landscape and portrait.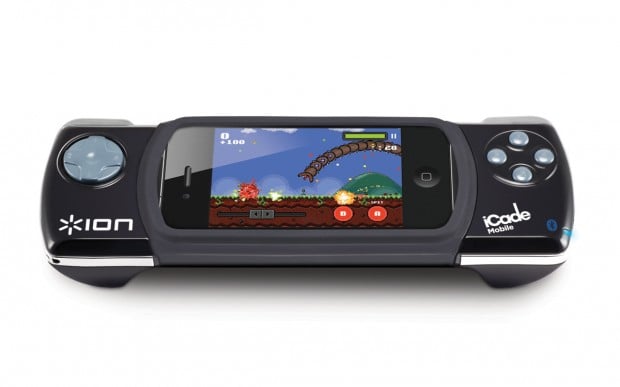 The iCade Mobile does make it easier to play some games, but only on the games that support it. Unfortunately there's no standard for gamepads for any mobile device. Some users might play a few of the more than 100 games that support the iCade Mobile, but it's likely that they don't. For $80, it's tough to recommend for just a few games. Potential buyers should check their games to make sure they support the device before buying one.
The iCade Core for iPad supports a larger number of games, however. The arcade stick has support for more than 400 games, which is even more than the original iCade. Most of those games are likely arcade shooters in the vein of Asteroids. The iPad device sells for $100, which is still expensive, but it's larger collection of supported games makes it easier to recommend.

As an Amazon Associate I earn from qualifying purchases.