iCloud: How to Disable Automatic Upload to Photo Stream
If you configured Photo Stream for iCloud on your Mac or Windows PC the way we showed you how, you might want to tweak something – automatic upload. This feature takes any picture that you add to iPhoto or Aperture and automatically sends it to iCloud. This will help you sync your photos between two or more Macs. However, if you don't want to upload that huge collection of RAW files or have all those pictures you just imported from your camera into iPhoto/Aperture to clogging your Photo Stream album on your iOS devices, then you can turn it off in one of two ways.
Turn Off Automatic Upload
Whether you use iPhoto or Aperture, this works the same way. Open the application's Preferences by choosing the application name from the OS X menu bar and click on Preferences. Choose Photo Stream from the six tabs and uncheck the bottom box like below.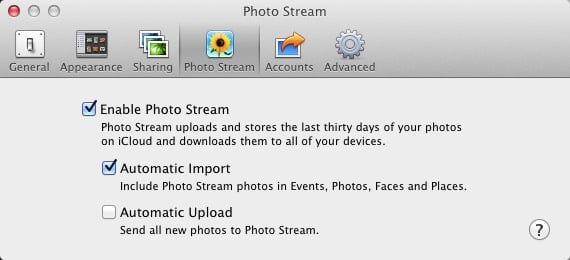 Now, photos you take with your iOS device will still be automatically imported into your photo software, but any pictures you add to the software from a camera or some other source won't clog your iCloud storage.
Shut Down Photo Stream
A more drastic alternative would be to just turn off Photo Stream by disabling it in your Settings app. Maybe you have no interest in using Photo Stream to sync photos from your iOS device either. This will save you some space.
On the Mac, go to Settings. Then click on iCloud and uncheck Photo Stream. You will again see a warning like the one below. If you still want to turn it off, choose Turn off Photo Stream.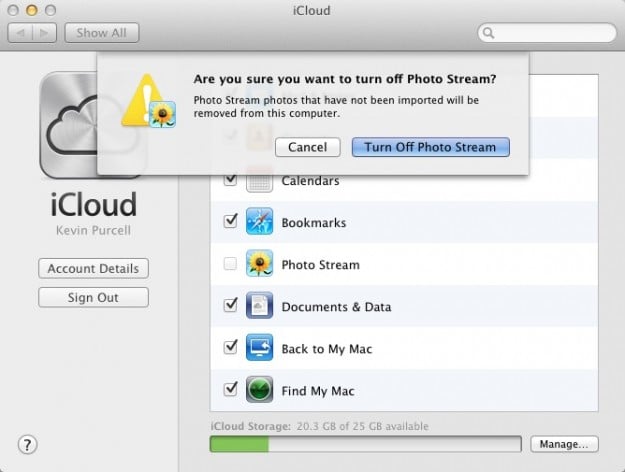 As an Amazon Associate I earn from qualifying purchases.