How To Get iCloud's Photo Stream Working On A Windows PC
Now that you've downloaded iOS 5 to your iPad (well, hopefully…) you can sign up for an iCloud account and start syncing and backing up your data across devices. This includes Photo Stream, which automatically saves all the pictures you take on your iPad or iPhone to the cloud and to synced devices.
Though iCloud functionality is baked in to Mac OS X Lion, Windows users can get in on this, too (for free). Here's how.
(Have a Mac? Read: How to Setup iCloud's Photo Stream on Mac)
My first assumption was that iTunes would handle the syncing for iCloud, but that's not so. Windows users must download the iCloud Control Panel, a free utility compatible with Windows Vista (Service Pack 2) and Windows 7.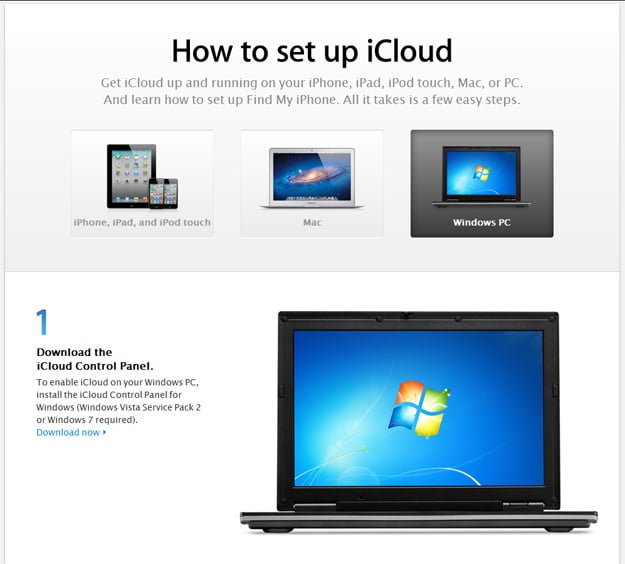 The download page also lists Internet Explorer 8 and Outlook 2007 or newer as requirements, but that's only if you want to sync bookmarks or mail/contacts/calendar data. You don't need them if you just want Photo Stream.
While it's downloading and installing, go to your iPad and/or iPhone and ensure that Photo Stream is on.
Once the iCloud Control Panel is downloaded and installed, open it from the install finish menu or go to Control Panel > Network and Internet > iCloud to get to the settings.
Check the box next to Photo Stream, then click Options. Here you'll see where synced images will end up and where you can put images to upload to iCloud and any other connected devices. You can change it from the default — say if you want to sync all the images in your Pictures folder.
And that's it. Once you start adding images to the folder for uploads, you'll see them on other iCloud devices a few minutes later. When you take pictures or screenshots with the iPhone or iPad, they'll also appear on other devices in a few minutes (as long as you're connected to WiFi).
There does not appear to be a way to force iCloud to upload or refresh or anything on the PC. But you can go to the iCloud settings to jumpstart a backup on the phone or tablet.
Another note: Photo Stream will only sync the images taken on your iPhone or iPad after you set it up and turn it on. So if you have existing images, they won't sync.
I find it interesting that Windows users can get this utility for free. Whereas on the Mac, in order to get iCloud syncing you have to upgrade to OS X Lion, which costs $30. One of the few times PCs get the advantage over Macs with iDevices.