iCloud Storage Prices Are Way Cheaper Now
Alongside the announcement of the new iPhone 6s, iPad Pro, and the new Apple TV, Apple has also revealed good news for iCloud storage prices, which are now way cheaper.
iCloud has been a staple of the iOS and OS X experience since its release in 2011, giving users the ability to sync data across devices, back up their iPhones wirelessly to the cloud, store their photos in the cloud to free up space on the iPhone, and even use Find My iPhone to locate a lost or stolen iPhone.
While most app data doesn't take up a lot of space in iCloud, it can add up over time. And once you add photos to the mix, your iCloud storage can quickly run out.
Apple gives you 5GB of iCloud storage for free, but that really isn't a lot of space to play around with. Just having a lot of photos can easily fill up that 5GB without a problem, so your only option at that point is to buy additional iCloud storage.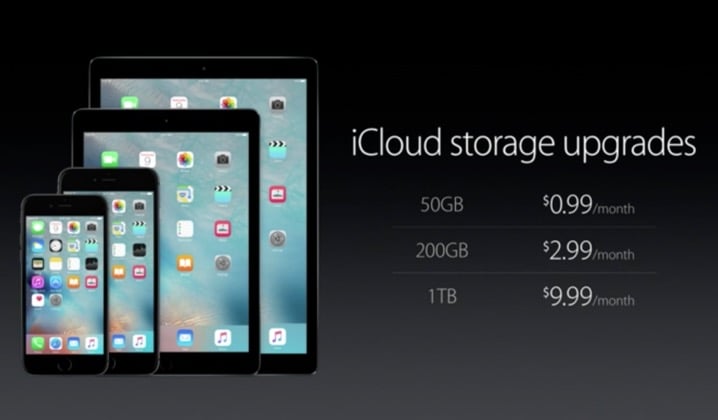 Luckily, Apple has provided better prices for its iCloud storage, and while you won't necessarily pay less money per month for the lowest tier, you'll get a lot more storage for your hard-earned buck.
For just $0.99 per month, you can now get 50GB of iCloud Storage. For $2.99 per month you'll now get 200GB of storage, and for $9.99 per month you'll get a whopping 1TB of iCloud storage. This is a big jump from what Apple used to offer, giving you only 20GB for $0.99 per month, 200GB for $3.99, and 1TB costing $19.99 per month. The 1TB tier is easily the biggest discount, cutting the price in half and saving you $10 per month.
However, this new change means that Apple has done away with the 500GB storage tier that was priced at $9.99 per month, so it's either you get 200GB of storage or go all the way up to 1TB, which really isn't thrilling if you really liked the 500GB tier, but at least you can now get double the storage for the same cost.
This couldn't come at a better time, as the iPhone still comes in a 16GB storage flavor, and photo and video will only continue to increase as quality gets better, which it clearly has with the iPhone 6s. The new device comes with the best iPhone camera yet, and Apple is betting on photo enthusiasts to upgrade to the new iPhone 6s in order to get those new camera capabilities.
The iPhone 6s now comes with a 12-megapixel camera instead of the 8-megapixel camera that's on the iPhone 6, which means larger photos that will take up more space on your iPhone. Furthermore, the iPhone 6s can now record 4K video, which is much better than 1080p video, but it also takes up more storage space, especially the longer the videos are.
There's even a feature called Live Photos, which takes a second-and-a-half of video along with every photo that you take in order to animate the photo in a way whenever you press down on the image. It's a cool feature that can easily be turned off, but many users will most likely enjoy using it, and with it turned on, that's another thing that will take up precious storage, so if you're thinking about getting a 16GB iPhone 6s, you might want to think about upgrading the iCloud storage in order to store all your photos and videos. The good news is that iCloud storage prices are better than ever.
This isn't too surprising, though, as cloud storage prices in general have some heavy competition, and many cloud storage services have been lowering prices in order to compete.
In fact, in a recent comparison that we did on several cloud storage services, Apple was one of the worst deals as far as paid plans were concerned, but now with the new iCloud prices, things are looking more competitive than ever.