iCloud Storage Upgrade Pricing Announced
Apple announced iCloud storage upgrade pricing at its iPhone event at its Cupertino headquarters today. We've known for a while that the first 5GB will be complimentary, but now we know that iCloud upgrades will start at just $20 per year.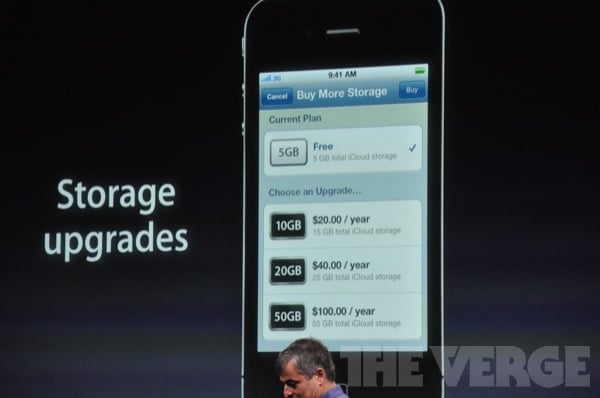 iCloud is Apple's new mobile service that makes it easier to backup data and share content between iOS devices and computers. With iCloud, iOS 5 users will be able to store documents on Apple's remote servers, access their iTunes library from anywhere and view photos taken from their iPhones on any other device.
The first 5GB are free, but data hogs will burn through that limit with large multimedia libraries. Fortunately, music that's already in Apple's extensive music library won't be counted against the 5GB limit.
The additional storage can be purchased directly from your iPod Touch, iPhone or iPad and will be usable instantly. It's important to note that the upgrades are in addition to the free 5GB of storage. That means you'll get a total of 15GB of iCloud storage for just $20 a year. That's a real bargain. If that's not enough for you, Apple will offer a 20GB upgrade for $40 per year and 50GB upgrade for $100 per year.
Unlike many other cloud services, Apple is not offering a sliding scale. Typically, cloud services charge less the larger you go. Apple is simply charging $2 per GB per year no matter how much you want.

As an Amazon Associate I earn from qualifying purchases.