9 iCloud Apps: iCloud Stores and Wirelessly Syncs to Your Devices
Steve Jobs took the stage at the end of the WWDC conference to unveil iCloud, a way to store and sync your content to all of your devices without wires. iCloud will replace mobileMe and will include a collection of new iCloud apps and support for third party apps. iCloud is available for free and includes 9 apps at the start. iCloud will work on PC and Mac.
iCloud will ship alongside iOS 5 in the fall.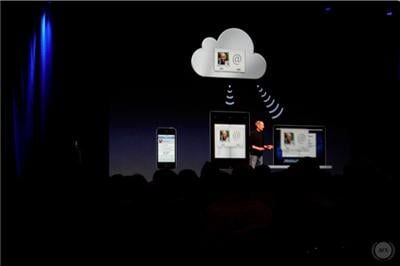 Image Via Ars
iCloud Apps
Contacts – Your contacts will be synced to the cloud and shared between all of your devices.
Calendars – Calendars in the cloud supports calendars in the cloud, shared calendars and calendars pushed to all of your devices.
Mail – The new Mail service will include an @me.com account, with no ads.
App Store – Your apps can be downloaded right to your new devices.
iBooks – your book purchases and places are stored across your devices.
Backup – Daily backups of your apps, music, camera roll, app data and more over WiFi.
Documents in the Cloud – You can download your documents, like a Keynote document and edit it on your iOS devices.
Photo Steam – A new built in feature will move your photos to the cloud so that you can easily share them with others on your iPad, iPhone and iPod touch as well as Apple TV. How Apple will handle photos – "We're going to store the last 1000 photos on your device. On your Mac or PC, we'll store all of them. And on the server, we'll store them for 30 days."
iTunes in the Cloud – Shows you all your songs, albums and artists you have purchased and download to your device. These will only work for music you purchase from iTunes.
Developing story. For more Apple news from WWDC including iOS 5, iCloud and Mac OS X Lion, follow our Apple News.

As an Amazon Associate I earn from qualifying purchases.