High on Apple's iCloud: Top 5 Reasons to Care Even If You're Not a Music Lover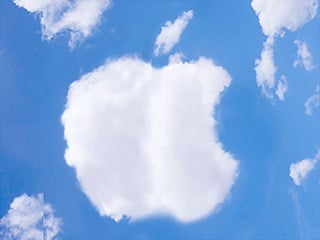 Apple did an unusual thing to satiate hunger about iOS and OS X news coming out of WWDC this year, which is slated to happen next week: it prematurely announced the iCloud service ahead of Steve Jobs' keynote on June 6th at 10 AM Pacific Time. So what to expect of iCloud? We've been talking about iTunes streaming, cloud storage, music streaming, and a digital locker for some time now at GottaBeMobile, and here are the top five things that may shape iCloud, though some of these items may take time to happen:
1. iTunes Streaming Frees Flash Storage for Other Content: As Apple has signed, or is nearing signing, deals with the four major music studios–at least three studios are reportedly confirmed through leaks and the fourth one that's holding up the deal is Universal–iCloud will bring with it streaming of music. The service will most likely be tightly integrated into iOS 5 along with Mac OS X Lion and will help to shape the future of music as users can now stream their entire music collection anywhere where they have Internet access, whether it be through a mobile broadband connection, via AT&T and Verizon Wireless in the case of the iPhone and iPad, or through WiFi on their Mac notebooks.
The significance of streaming music is that it frees up space on the device. Apple has worked hard to maintain the same price for iPhones through each successive generation while at the same bolstering the amount of flash storage on the device, which can get costly. With the ability to download music, PDFs, magazines, movies, TV shows, e-books, podcasts, and the hundreds of thousands of apps on the go, storage is getting to be a scarce commodity on the iPhone, which tops out at 32 GB, and the iPad, which maxes out at 64 GB. As iOS users begin to hoard apps and digital content, freeing up space for music allows for users to have storage to download other apps and buy other products through iTunes.
But don't expect iCloud to be similar to Amazon's Cloud Player or Google Music, both of which have launched their online music ahead of iCloud. Simplicity will be key here, and users can find their music to be mirrored to the cloud so no manual uploading is necessary, unlike with the rivals.
iTunes will scan a user's music library and mirror the songs present on a  user'shard drive to the cloud, regardless of where a user acquired the song from.
2. Videos Coming After Music: Music may be just a tipping point for the cloud. With Apple's larger clout with music companies as the company's iTunes download service occupies a significant market share, Apple probably has more room for negotiations in this arena. Additionally, as Amazon and Google proceeded to launch their own music services without the blessings of record studios, Apple's cautious approach is more favorably seen by the labels. It would try to replicate its experience with music in the cloud and apply lessons learned to Hollywood with movies and TV shows next.
Apple is already said to be in negotiation with Hollywood about movie streaming, and it's unclear if it can ink agreements prior to the June 6th keynote, but with music already sealed for an iCloud service, you can expect Apple to maximize its investment in the North Carolina data center with more services.
3. Photo Streaming, Video Sharing, iWork Collaboration: Another area that requires a lot of storage is in user-generated content, such as photos and videos captured on the iPhone. Wouldn't it be great to offload some of that content to the cloud to free up space to capture more content? As the iPhone gets more megapixels in each future revision to support higher quality cameras, the cloud could serve not just a repository for photo and video storage, but as a means to share that service with friends.
On the desktop and through its Mobile Me service, Apple already offers cloud-based storage for iPhotos. Users can create their own webpage and upload photos to their Mobile Me-hosted website and share galleries, albums, and videos with friends, or mark those galleries as private and require a password so that only select users can access those pictures. Potentially, the same experience can be afforded to the iPhone so users can quickly upload and share photos on the go.
iOS 5 is rumored to support deep integration with Twitter so users can upload pictures directly to Twitter, much like how users can now upload videos directly to YouTube, and Apple may not want to rely on rivals like Facebook, Google, and Twitter in the future as it could potentially enter the social network arena in its own way through a photo and video sharing service.
Additionally, with the recent launch of iWork–Pages, Keynote, and Numbers–apps for the iPhone, Apple could potentially leverage iCloud as a cloud-based collaboration center and documents sharing site to rival Microsoft's cloud-based Office or Google Docs. Primitive iWork collaboration is already being tested on the OS X editions of the those apps, and as tablets become more powerful, it would be a natural extension to offer an integrated sharing solution for Apple's Office alternatives.
4. Push, Pull, Wireless Activations, and OTA Software Updates: The next version of iOS, called iOS 5, is expected to support over the air software updates, a first for the platform. This process would untether a user from the computer to receive iOS software updates and patches. Apple can 'push' these updates out to users over the air to be installed on the iPhone directly, rather than have the user connect to iTunes to download the update. The process would be akin to Android's software update mechanism, if speculations prove accurate.
With Apple having the ability to push software out, there could be other implications for push notifications as well, which is also expected to get an overhaul with iOS 5. Apple could leverage its new data center to better enhance push notifications, deliver them reliably and in a timely manner, and also use push for alert users, for example, that a new software update is available for download so users can go in and pull the software update themselves.
So with updates now being an untethered experience, the one area that's still tethered is the activation process. Upon purchase, Apple requires users to connect to iTunes to activate their iPhones before use. Perhaps iCloud can allow users to complete that process on the device without having to connect to iTunes for a seamless, wireless experience that's cloud-based much like Google's Android devices.
5. Maps and Other Services: Though Google had just announced that it had renewed a partnership for Google Maps on the iPhone, Apple is already toying with some mapping and location ideas. Location-based services will be the next venture for mobile advertising, something that Apple's trying to compete against Google with its own iAds, and utilizing location to both provide valuable insight for advertisers and also deliver added value for end users will be the goal of Apple. Apple's been rumored in the past to be working on a traffic overlay for either Google Maps on the iPhone or a custom mapping solution. The company had acquired Poly9 and it could potentially license mapping data from either TomTom's TeleAtlas or Nokia's Navteq or fly solo and build its own mapping data.
Going into the mapping space may pit Apple against Google Offers, Facebook Places, Foursquare, Google Maps, and other GPS services. It could potentially help Apple build a database for later NFC services, like what Google is doing with Google Maps and Google Offers.