iCloud's Web Interface Now in Beta, Storage Pricing Detailed
With the flood of iPhone 5 rumors we get clobbered with every week, it's refreshing to get some solid news about another exciting Apple launch that is approaching. Developers (and non-devs who have registered for an iCloud account) can now access Apple's web portal for the upcoming iCloud (as reported by 9to5Mac) at iCloud.com.
Any fears that anyone previously had that iCloud wouldn't have a thorough web component can be relinquished. The beta shows us an assortment of very iPad-like web apps. They cover most app categories that are set to incorporate iCloud. Pricing for extra iCloud storage has been revealed as well.
Web apps for Mail, Contacts, Calendar, Contacts, iWork, and Find My Phone are all there. They all look nearly identical to their corresponding iPad apps. There is even an app-switcher, which looks just like the multitasking switcher on iOS:
Of course
iCloud
 – Apple's foray into cloud syncing and storage – is set to launch this Fall (alongside the iPhone 5). It will bring background syncing among all Apple devices that are registered to the same iCloud account. While devices are Apple's focus with iCloud, they are showing that they aren't going to neglect web access.
The extra iCloud room breaks down as $20/year for an extra 10GB (15GB total), $40/yr. for an extra 20GB, and $100/yr. for an extra 50GB. This excludes photos and iTunes Match music.
Mail
Apple's iCloud Mail will be free to all users who have a device running iOS 5. Storage is limited to 5GB (shared with other iCloud services), but additional storage can be purchased.
Will users bail on Gmail and use iCloud as their primary email account? While limited storage could be a hindrance for attachment-happy emailers, it won't likely be too big of a problem for most (provided they aren't filling up their iCloud accounts with other services). As iCloud uses the same @me.com addresses that were previously the domain of MobileMe (R.I.P.), many users could find this as an attractive email service.
The web mail interface also revealed that iCloud mail (as well as calendar and contacts) will be accessible on other devices, as well as other email clients. The imap and smtp settings are listed as follows: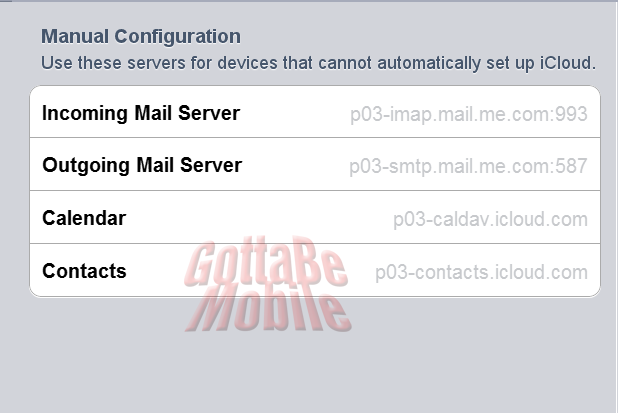 iWork
Apple's "Google Docs Killer" comes in the form of syncing of iWork apps. If you're writing an essay in Pages on your iPad, open the app on your MacBook and it will be waiting. The same goes for your iPhone, iMac, or any other Apple device you have Pages installed on.
As the beta release today shows us, there will be an interface for viewing these iWork documents on the web as well. It isn't clear if web editing will be possible, but we would wager 'no.' Apple is selling devices, not web pages. The web functionality is likely provided as an extra convenience for Apple device owners who use iCloud. The web never has been (and likely never will be) an end in itself for Apple.
Photo Stream Missing
One notable exception to the iCloud web apps is Photo Stream. Apple's service, that allows the automatic background syncing of images, may not end up having a web portal. This would make sense, as Apple has no interest in turning it into another Flickr or Picasa. Again, the focus is on iDevices and Macs. Perhaps they saw web access for Photo Stream as having the potential to become something more than they wanted it to be.
iCloud, Anyone?
Based on today's sneak preview, it looks like iCloud will be the complete service that we had hoped it would be. Unlike Google, who makes their bones from web advertising, Apple wants you using apps on their devices more than the web. Seeing that they opted not to skip web access for most iCloud services is likely to make many happy.
Are you looking forward to iCloud's official launch this fall? Will it make you more likely to switch exclusively to Apple devices? Let us know in the comments, won't you.