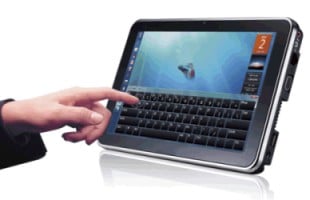 Calling it "iLET," short for Internet tablet, Haleron Technologies is offering a 10.1″ slate for pre-order with availability listed as January 15. Bad Photoshopping aside, it looks okay. I appreciate that it runs Windows 7, so I can properly call it a Tablet PC, but it's not going to be a star tablet of 2010 either.
Tech-spec-wise, it's nothing spectacular: 1.66GHz Intel Atom N450, multi-touch optional 10.1″ touchscreen at 1024×600 resolution, 2GB memory, 802.11a/b/g, Bluetooth, and a variety of drive options from 160GB HDD to 160GB SSD. However, it fits all this in a 2.2 pound package that includes optional 3G connectivity for data and voice.
They push the integrated phone as the key differentiator, though I'm not sure it's as great as they want it to be. First, standard battery life is 3 hours, which is a real hindrance on talk time. The larger battery option bumps that to six hours, but that's still pretty tight. It's also not clear if the tablet must be running in full Windows 7 to take and make calls. They do list a "Cellular OS" as an added feature, but I don't know if that eliminates the need for a full boot.
Base price is $419, which is reasonable for a slate running Windows 7 (appears to be at least Home Premium), but 3G tacks on another $100 (plus another $50 for quad-band) and options can more than double the price. Kind of pricey at that level, but the base unit could be worth it.
Via Liliputing